4. april 2022
The New Digilent Analog Discovery PRO 5000 series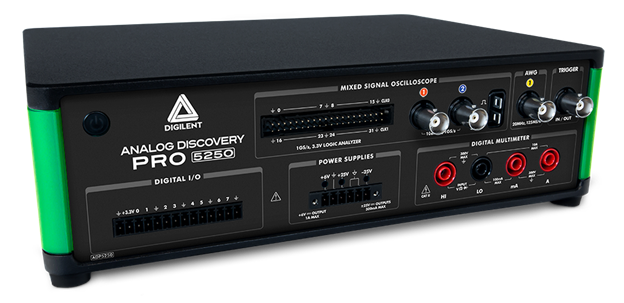 All-In-One 1GS/s 100MHz MSO, Function Generator, Power Supply, and DMM
Bolster your benchtop with the biggest, baddest, and boldest Analog Discovery yet
After debuted the popular Analog Discovery Pro 3000 series, Digilent is pushing the boundaries even further and bringing the ADP5250, higher sample rate and bandwidth, and a more rugged design to the Analog Discovery Pro family, keeping the free highly-rated WaveForms application software at the controls.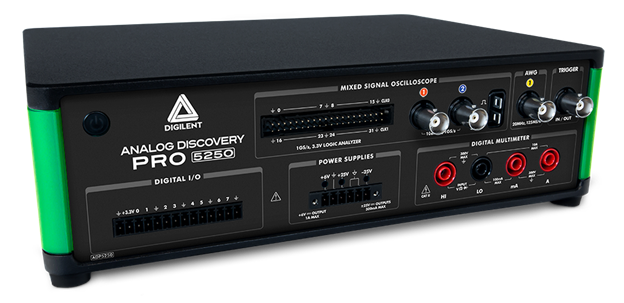 Higher Sample Rate and Bandwidth Mixed Signal Oscilloscope
Designed to combine a complete set of instruments into a flexible and programmable device, the ADP5250 features a mixed-signal oscilloscope with two 100 MHz, up to 1 GS/s analog input channels, one waveform generator with up to with up to 20 MHz sine output, 34 digital channels at a sample rate of up to 100 MS/s, a tri-output power supply capable of up to 25 V, an external trigger, and a built-in programmable DMM.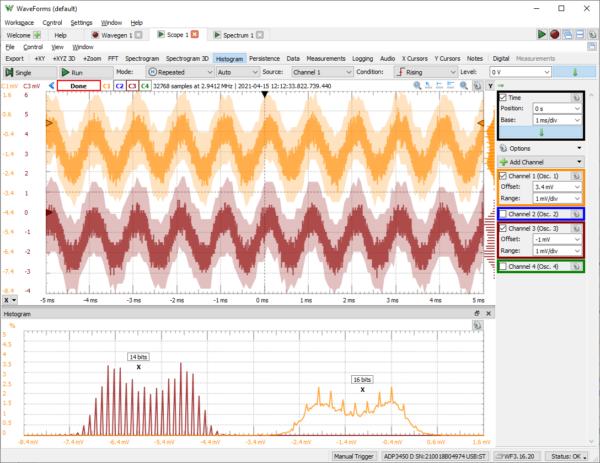 Ultimate All-In-One Test System
Analog Discovery Pro devices feature a variety of advanced triggering options. Instruments within WaveForms can be cross-triggered, for example, by activating an oscilloscope capture based on a received and decoded digital protocol.
In addition, external signals can trigger events using the dedicated external trigger input/output. Our free WaveForms software provides these features configurable in the instruments themselves, or for more control or automation in one of the available scripting interfaces. The following instruments are available in the WaveForms application for the ADP5250:
| | |
| --- | --- |
| · Oscilloscope | · Logic Analyzer |
| · Waveform Generator | · Static I/O |
| · Power Supplies | · Spectrum Analyzer |
| · DMM | · Network Analyzer |
| | · Impedance Analyzer |
Note: The ADP5250 is Windows® only.
WaveForms Software Applications
WaveForms is the free software application for the ADP5250 and enables use of the available analog and digital instruments. The software has been refined by customer feedback for over 10 years and features a computer and laptop friendly user interface that has the feel of traditional benchtop software. The device communicates with WaveForms via a USB connection to your computer, allowing users to capture, record, analyze, and generate mixed signal and mixed domain waveforms. WaveForms can be downloaded and installed in under 60 seconds and can be tested without hardware using its demo mode feature. In addition to the use of instruments in the application, the WaveForms application has a script editor tool, which allows custom scripting of the instrument in JavaScript. WaveForms is designed to be run on a laptop or desktop computer.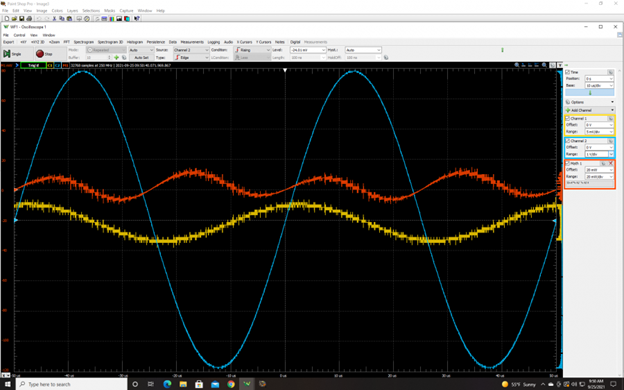 For even more customization potential, the WaveForms Software Development Kit (SDK) can be used to create custom applications and scripts in Python®, C, and additional languages. While not officially supported, the ADP5250 is also compatible with NI's VirtualBench C API and VirtualBench LabVIEW™ VIs.
Check out the Analog Discovery Pro 5000 series Resource Center for more guides, tutorials, and applications.
Digilent Analog Discovery Pro ADP5250 is also available in Elfa Distrelec.