11. marts 2022
Apacer's SLC-liteX Optimizes 3D NAND SSDs to Reach the Industry's Highest 100K PE Cycles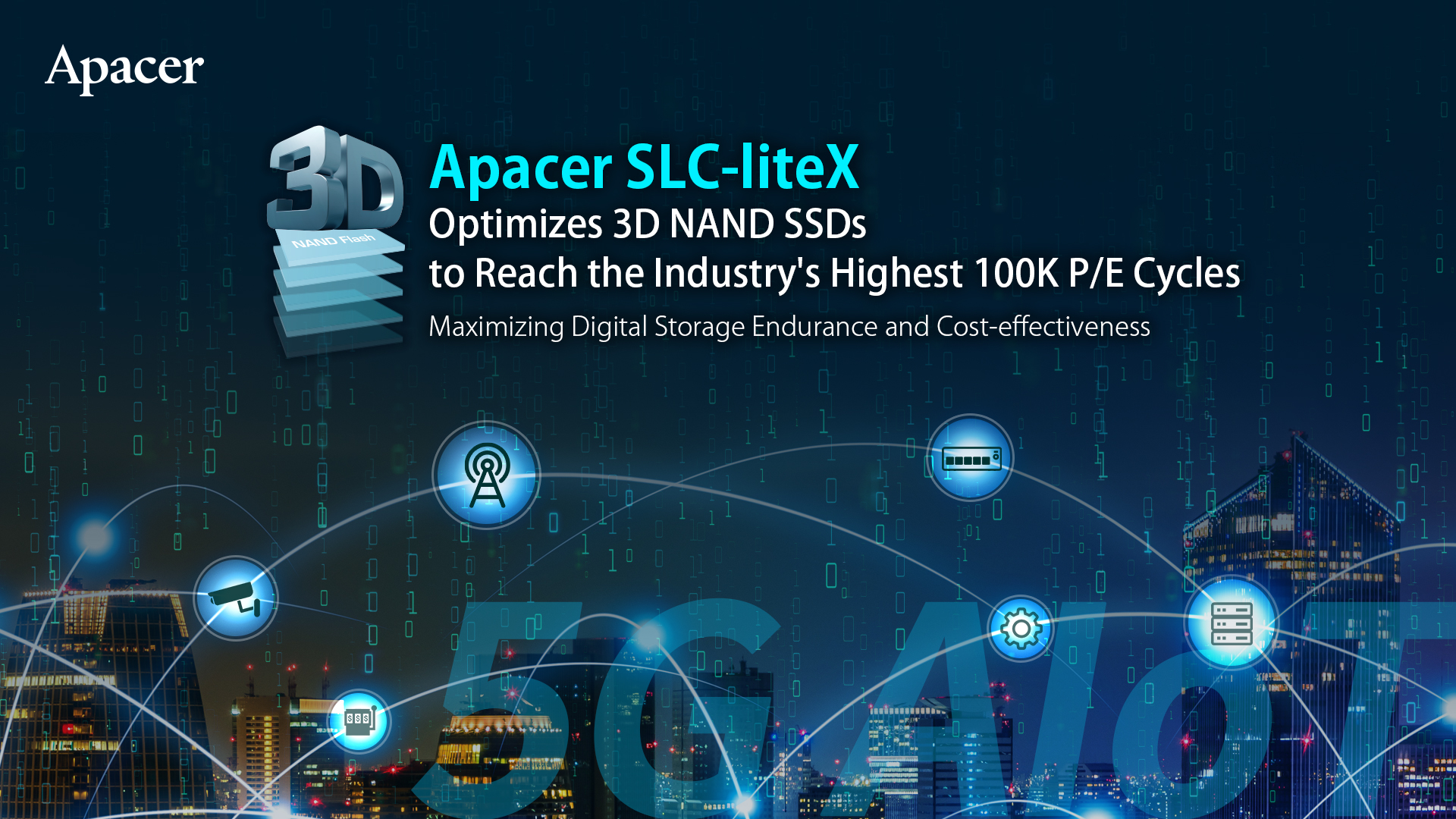 100,000 P/E Cycles Reached
Apacer's 3D NAND SSDs Deliver the Highest Endurance Available
Apacer has taken 3D NAND Flash optimization to new heights. Today, it announces the release of SLC-liteX industrial SSDs that can provide an incredible 100,000 P/E cycles. That's 3 to 33 times higher than competing 2D MLC or 3D TLC products can offer. 5G and AIoT manufacturers who are invested in large-scale data collection and analysis, including those demanding higher capacities, higher performance and higher endurance, will quickly see the advantages of this development. According to Allied Market Research, "the global 3D NAND flash memory market size was valued at $12.38 billion in 2020, and is projected to reach $78.42 billion by 2030, registering a CAGR of 20.3% from 2021 to 2030."
The endurance of any NAND Flash product can be measured in P/E cycles. Every time a write or erase action is performed, the Flash cell will suffer irreparable damage. In the industrial world, 3,000 P/E cycles was considered quite a competitive number. But with increasing demands for greater endurance thresholds in applications such as 5G O-RAN and edge computing switches, the market was hungry for more – while still recognizing the paramount importance of cost-effectiveness. Apacer's crack team of firmware experts tackled the problem and were able to tweak the technology to deliver 100,000 P/E cycles. Careful cell distribution management of the 3D TLC structure was necessary in order to correctly adjust the voltage delta and charge sensing. Furthermore, powered by carefully selected industrial grade NAND components, the firmware structure is specifically optimized to enhance NAND flash stability during daily operations, and the error handling algorithm is significantly improved to avoid any unexpected ECC errors.
An innovation like this also benefits from Apacer's long-term cooperation with some of the world's top component and material suppliers, and long-term stable component supply is assured. In fact, Apacer's SATA SH250 and PCIe PH920 series are currently available with 100,000 P/E cycles in a variety of specifications. Gaming, surveillance, edge computing and 5G smart IoT operations will all benefit from the increase in endurance. For manufacturers building products that are planned for use in challenging environments, these products are also available with established value-adding features such as wide-temperature operation, which allows devices to function smoothly even in temperatures as low as -40 or as high as 85 degrees Celsius. This is just another way Apacer is demonstrating its core value of "Becoming Better Partners."
【About Apacer】
Founded in 1997, Apacer (TWSE:8271) is a leading global digital storage brand with comprehensive R&D, design, manufacturing, and marketing capabilities. With years of accumulated patented digital storage technology and deep successful R&D experience, Apacer provides a competitive range of customized products and services. Our product lines are diversified, covering solutions for memory modules, industrial SSDs, consumer digital storage products and Internet of Things integrated applications.
Apacer is devoted to implementing our core value "Becoming Better Partners:" we deliver on our promises, strive for constant improvement, and develop solutions that are mutually beneficial for us and our customers. We continually create innovative, diversified storage solutions and hardware/software integration services for various industries. We endeavor to become a better partner in the industrial ecosystem and deliver substantial benefits to all stakeholders. https://industrial.apacer.com/en-ww