5. oktober 2022
Apacer at COMPAMED: Hall 8a, Booth 8AE15
Eindhoven, October 5, 2022 – At COMPAMED (November 14-17, 2022 in Düsseldorf, Germany) Apacer will showcase its high performant and highly reliable SSD and DRAM storage solutions for secure and flexible medical and smart healthcare systems in Hall 8a, Booth 8AE15.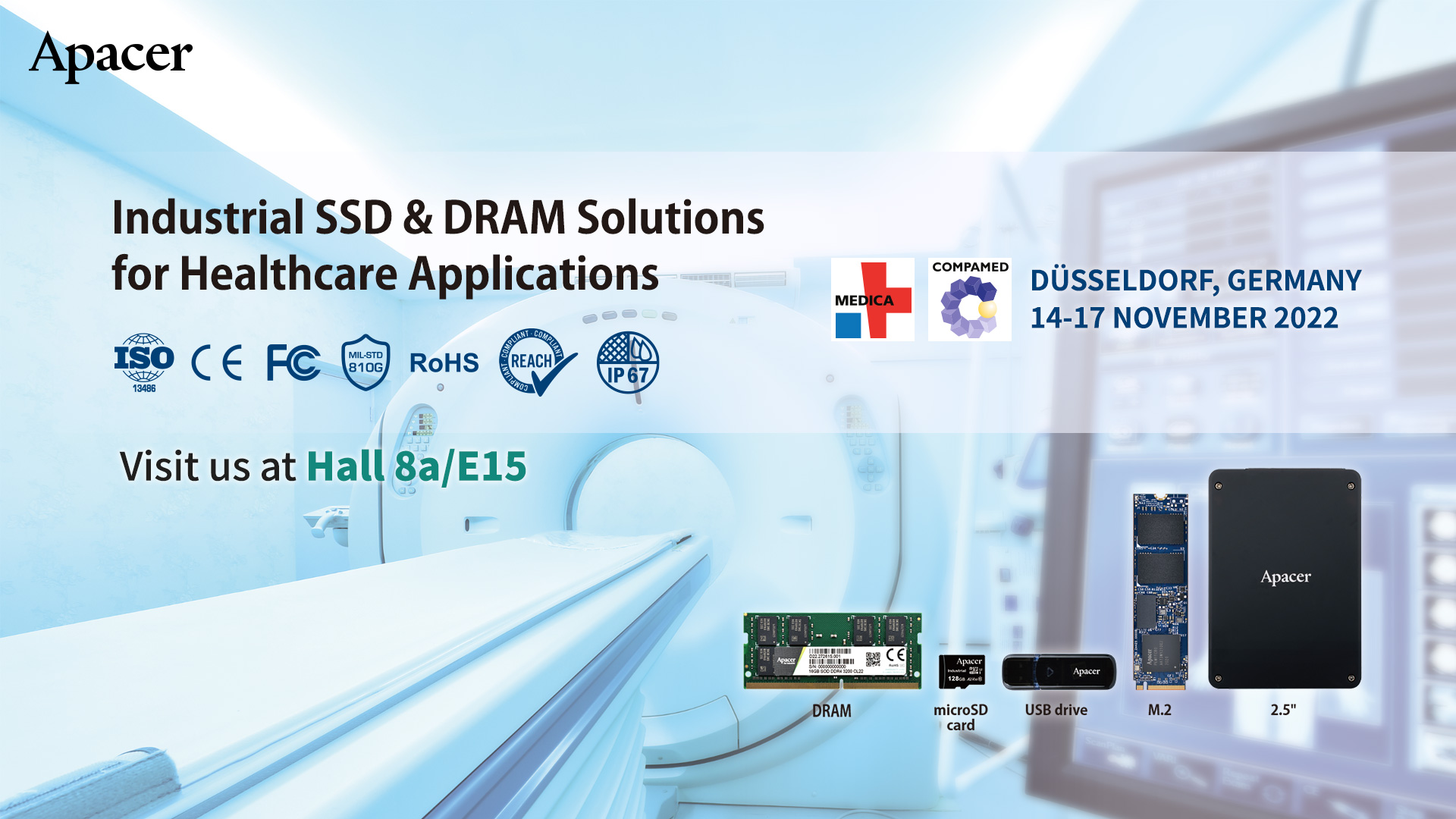 One of the highlights at the Apacer booth is the SLC-liteX series which breaks the boundaries of existing technologies: With up to 100,000 P/E cycles it offers 33 times more than currently available MLCs or industrial 3D TLCs. A new product is the 112-layer BiCS5 3D TLC SSD series with a capacity of 3.84 TB and extremely low transfer latency.
A perfect alternative for conventional IDE hard disk drives are the industrial USB drives with ESD protection UV110-UFD5. Thanks to 3D NAND, they offer a capacity of 256 GB and higher energy efficiency than 2D NAND. They are equipped with enhanced protection against environmental influences and electrostatic discharges (ESD) according to IEC 61000-4-2 (air discharge ±15 KV, contact discharge ±8 KV).
For medical and healthcare devices where data security is key, the Cloud SSD series is designed with CoreSnapshot backup and recovery technology. The SSDs can fully restore a hacked system in as little as one second.
For added data security, Apacer offers value-added technologies: Signed Firmware technology authenticates firmware updates before they are applied using digital signatures, so users can be sure that only valid, authentic firmware is installed. TCG Opal 2.0 technology encrypts and decrypts information in medical and healthcare devices without the need for a host. This enables fast encryption/decryption and minimizes the risk of data losses without impacting system performance.
With these features, Apacer's innovative, high-value storage solutions and technologies meet the needs of modern and reliable medical and smart healthcare applications, helping manufacturers increase operational efficiency and strengthen their core competitive advantages.
###
About Apacer
Founded in 1997, Apacer (TWSE:8271) is a leading global digital storage brand with comprehensive R&D, design, manufacturing, and marketing capabilities. With years of accumulated patented digital storage technology and deep successful R&D experience, Apacer provides a competitive range of customized products and services. Our product lines are diversified, covering solutions for memory modules, industrial SSDs, consumer digital storage products and Internet of Things integrated applications.
Apacer is devoted to implementing our core value "Becoming Better Partners:" we deliver on our promises, strive for constant improvement, and develop solutions that are mutually beneficial for us and our customers. We continually create innovative, diversified storage solutions and hardware/software integration services for various industries. We endeavor to become a better partner in the industrial ecosystem and deliver substantial benefits to all stakeholders.
Find out about Apacer's products for industrial applications at: https://industrial.apacer.com/