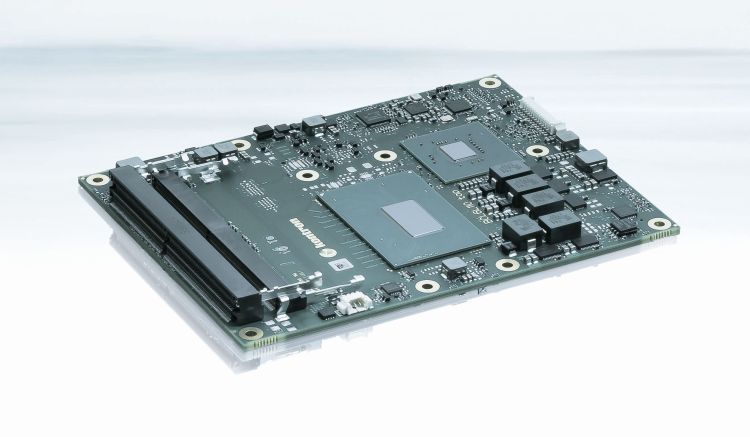 Kontron, a leading global provider of IoT/Embedded Computing Technology (ECT), announces the new Computer-on-Module Kontron COMe-bCL6 in the COM Express® basic Type 6 form factor (125×95 mm). It is based on processors of the latest 8th Gen Intel® Core(TM)/ Xeon® E family with a mobile chipset (CM246/QM370 PCH). The COMe-bCL6 offers highest industry-grade quality and allows for flexible application scenarios.
The new COM Express® module is available in different processor variants, including hexacore CPU versions. All variants are available with up to 64 GB non-ECC/ECC DDR4 storage, a third and fourth slot can be equipped on demand. The new Kontron COM Express® module supports the fast Intel® Optane(TM) systems acceleration for quick high-capacity mass storage data transfer, as well as the fastest available storage technology NVMe SSD in a very compact design. USB 3.1. support with up to 10Gbps and USB Type C support offer twice the bandwidth as compared to USB 3.0 for fast data transfer. The COMe-bCL6 also benefits from the excellent graphics performance of the 8th generation Intel® processors. Four 4K displays can be controlled, three of them separately. UHD streaming supports high quality video applications.
By consistently continuing slot allocation and feature implementation, the COMe-bCL6 is well suited as a high-performance successor for existing solutions. Typical areas of application include communications, digital signage, professional gaming and entertainment, medical imaging, surveillance and security, as well as the control of industrial systems, machines and robots on the shop floor level as well as in the control room. In its robust R E2S version, the COMe-bCL6 meets the particular demands of the defense and transportation sectors by offering integrated rapid shutdown, ECC storage support, and deployment in industrial temperature ranges from -40°C to +85°C.
Additionally, the new COMe-bCL6 supports the Kontron APPROTECT Security Solution. Based on an integrated Wibu-Systems security chip and in tandem with a specifically developed software framework, it provides IP and copy/reverse engineering protection. Kontron APPROTECT Licensing also enables new business models such as "pay per use", demo versions for limited time periods, or activation/deactivation functions.
The COMe-bCL6 module is available in these processor variants:
– Intel® Xeon® E-2176M, 6x 2.7 GHz (4.4 GHz), GT2, 45/35 W
– Intel® Core(TM) i7-8850H, 6x 2.6 GHz (4.3 GHz), GT2, 45/35 W
– Intel® Core(TM) i5-8400H, 4x 2.5 GHz (4.2 GHz), GT2, 45/35 W
For more information please visit: http://www.kontron.com/products/boards-and-standard-form-factors/com-express/com-express-basic/come-bcl6.html