18. april 2017
Winning Design of Mouser Electronics' International Space Station Design Challenge Is 3D-Printed in Space
Winning Design of Mouser Electronics' International Space Station Design Challenge Is 3D-Printed in Space
April 17, 2017 – Mouser Electronics Inc. and Grant Imahara today announced that the winning design in the International Space Station (I.S.S.) Design Challenge has been 3D-printed in space. The winning design, a satellite-launching device, is now in orbit and may one day be used by astronauts for a variety of missions.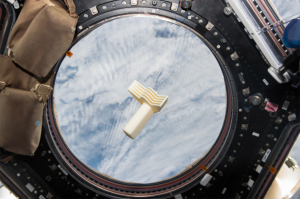 Cupertino (Calif.)-based engineer Andy Filo designed the device, which allows astronauts to launch femtosatellites (tiny satellites about the size of a postage stamp and weighing less than 100 grams) in zero gravity. Scientists can use femtosatellites in many different missions and applications, including monitoring disasters, studying Earth's environment, and even flying in formation to create a giant antenna for deep space analysis.
"Mouser is excited to be part of new and innovative projects that bring together engineers and makers from around the world and — in this case — beyond," said Glenn Smith, President and CEO of Mouser Electronics. "Andy's femtosatellite-launching device meets the needs of astronauts as well as Earthbound researchers and engineers."
Filo's femtosatellite project was chosen from 242 entries and digitally transmitted to the I.S.S., where it was 3D-printed on April 3 by Made In Space's Additive Manufacturing Facility (AMF) — the first commercially available off-world manufacturing service and the only 3D printer adapted for use in the vacuum of space. Made In Space and Filo made some last-minute modifications after I.S.S. received the original design, rounding the handle to increase usability and comfort and further editing the design to increase printing speed.
Filo and his creation are showcased in a video that features celebrity engineer Grant Imahara as the two visit the Made In Space 3D Printing Lab at NASA's Ames Research Center. Mouser will soon release the final video in the I.S.S. Design Challenge series on Mouser's YouTube channel as well as on the Empowering Innovation Together™ program page. The I.S.S. Design Challenge is one of several innovative series in the Empowering Innovation Together program, which features the Innovation Lab for new projects ranging from bringing superhero technology to life to 3D printing a semi-autonomous car with drone technology.
Mouser's valued suppliers Amphenol and Intel® are co-sponsors of the I.S.S. Design Challenge. Mouser also partnered with the Institute of Electrical and Electronics Engineers (IEEE) and Made In Space, along with Hackster and MacroFab.
-continued-
Mouser / Mouser Electronics I.S.S. Design Challenge Print
Page 2
About Mouser Electronics
Mouser Electronics, a subsidiary of TTI, Inc., is part of Warren Buffett's Berkshire Hathaway family of companies. Mouser is an award-winning, authorized semiconductor and electronic component distributor focused on rapid New Product Introductions from its manufacturing partners for electronic design engineers and buyers. Mouser.com features more than 4 million products from more than 600 manufacturers. The global distributor's website offers multiple languages and currencies, providing designers worldwide with the newest data on the components now available for the next generation of electronic devices. Mouser ships globally to over 500,000 customers in 170 countries from its 750,000 sq. ft. state-of-the-art facility south of Dallas, Texas. For more information, visit http://www.mouser.com.
About Grant Imahara
Well known in the engineering community, Grant Imahara has paired his engineering expertise with a Hollywood TV and film career. In addition to his roles on MythBusters and BattleBots, Imahara is the inventor behind many famous robotic characters, including the Star Wars prequel-era R2-D2, talking robot sidekick Geoff Peterson from The Late Late Show with Craig Ferguson, and the rhythmic arms on the modern-day Energizer Bunny.
Trademarks
Mouser and Mouser Electronics are registered trademarks of Mouser Electronics, Inc. All other products, logos, and company names mentioned herein may be trademarks of their respective owners.
Intel is a registered trademark of Intel Corporation in the United States and other countries.
– 30 –
Further information, contact:

Nick Foot, BWW Communications

PR Director

+44 (0) 1491 636393

nick.foot@bwwcomms,com

For press inquiries, contact:

Kelly DeGarmo, Mouser Electronics

Manager, Corporate Communications and Media Relations

(817) 804-7764