18. maj 2017
Toshiba's TC35678 Bluetooth LE IC, Now at Mouser, Delivers Industry-Leading Low Current Consumption
Toshiba's TC35678 Bluetooth LE IC, Now at Mouser, Delivers Industry-Leading Low Current Consumption
May 17, 2017 – Mouser Electronics, Inc., the industry's leading New Product Introduction (NPI) distributor with the widest selection of semiconductors and electronic components, is now stocking the TC35678 IC from Toshiba Semiconductors. Achieving industry-leading low current consumption with long operating times, the single-chip device is compliant with Bluetooth® core specification 4.2. With the ability to store application code in embedded flash memory, the TC35678 can be run with or without an additional host microcontroller for small Internet of Things (IoT) and Bluetooth Smart applications.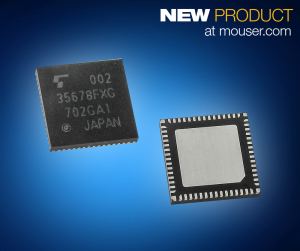 The Toshiba TC35678 IC, available from Mouser Electronics, is based on an ARM® Cortex®-M0 microcontroller and incorporates 256 Kbytes of built-in flash ROM. Developers can use the flash ROM to store programs and data in standalone operations, eliminating the need for an external EEPROM and contributing to an ultra-low bill of materials to reduce overall design cost and size. The TC35678 device also delivers Bluetooth Host Control Interface (HCI) functions and Bluetooth low energy GATT functions that allow for quick BQE system certification.
At a 3V supply voltage, the TC35678 delivers one of the lowest power consumptions in the industry. Utilizing its highly efficient DC-DC converter for power management, the IC's low-power circuit design secures a nearly 46 percent current reduction and peak current consumption of 3.6 mA in transmitting mode. To support various battery types, the TC35678 has an operating voltage between 1.8V and 3.6V, and the IC's programmable operation modes allow for optimal power consumption.
Other features of the TC35678 include 100 Kbtyes of SRAM, a general-purpose analog-to-digital converter (ADC), PWM functions, a low dropout regulator, a wake-up signal for host devices and user program functionality. An on-chip silicon oscillator helps drive both the main and sleep clocks, so no external clocks are required. Communications is accomplished through the IC's UARTs, I2C, SPI and general-purpose inputs and outputs (GPIOs).
To learn more about Toshiba's TC35678 IC, visit http://www.mouser.com/new/Toshiba-Semiconductors/toshiba-tc35678-ble/.
Mouser / Toshiba TC35678 Bluetooth Low Energy IC
Page Two
With its broad product line and unsurpassed customer service, Mouser strives to Empower Innovation among design engineers and buyers by delivering What's Next in advanced technologies. Mouser stocks the world's widest selection of the latest semiconductors and electronic components for the newest design projects. Mouser Electronics' website is continually updated and offers advanced search methods to help customers quickly locate inventory. Mouser.com also houses data sheets, supplier-specific reference designs, application notes, technical design information, and engineering tools.
About Mouser Electronics
Mouser Electronics, a Berkshire Hathaway company, is an award-winning, authorized semiconductor and electronic component distributor focused on rapid New Product Introductions from its manufacturing partners for electronic design engineers and buyers. The global distributor's website, Mouser.com, is available in multiple languages and currencies and features more than 4 million products from over 600 manufacturers. Mouser offers 22 support locations around the world to provide best-in-class customer service and ships globally to over 550,000 customers in 170 countries from its 750,000 sq. ft. state-of-the-art facility south of Dallas, Texas. For more information, visit http://www.mouser.com.
About Toshiba
Toshiba Semiconductor and Storage Products, United States is an independent operating company owned by Toshiba America, Inc., a subsidiary of Toshiba Corporation, Japan's largest semiconductor manufacturer. Toshiba is a global leader in the design and manufacture of high-quality Flash memory-based storage solutions, discrete devices, custom SoCs/ASICs, digital multimedia and imaging products, microcontrollers (MCUs), and wireless components. Toshiba products are ideal for automotive, imaging, LED lighting, mobile, multimedia, and wireless applications.
Trademarks
Mouser and Mouser Electronics are registered trademarks of Mouser Electronics, Inc. All other products, logos, and company names mentioned herein may be trademarks of their respective owners.
– 30 –
Further information, contact:

Nick Foot, BWW Communications

PR Director

+44 (0)1491 636393

For press inquiries, contact:

Kelly DeGarmo, Mouser Electronics

Manager, Corporate Communications and Media Relations

(817) 804-7764