2. april 2023
The Latest News from Mouser Electronics
Mouser Electronics, Inc. is focused on supplying 100% certified, genuine products from its manufacturing partners for electronic design engineers and buyers. Mouser introduces hundreds of new products each month and supports innovation by supplying engineers with the newest products, technologies and resources.
The news highlights from Mouser this week are:
EMEA Growth – Mouser Projects Continued Growth in 2023 for EMEA Market
Mouser predicts steady growth for the company in the EMEA market this year. With over one million parts available to sell, Mouser has the widest selection of products worldwide and has broadened its line card by adding more than 170 new manufacturers in the last two years. Mouser anticipates that key drivers for 2023, including 5G, Internet of Things (IoT), artificial intelligence, robotics and electric vehicles (EVs), coupled with many applications across the industrial, transportation, communications and data sectors, will continue to accelerate overall consumption and demand for semiconductors and electronic components. While industry forecasts project some levelling out of the market, compared to recent years of steep growth, Mouser expects a good year with roughly 5-10% revenue growth in the EMEA region, not only in sales but also through product portfolio additions, facilities' expansions, and adding to their roster of 1,200 manufacturer partners. Additionally, Mouser continues to invest in its commitment to delivering best-in-class customer service with its 10 Customer Service Centre branches across EMEA, employing more than 250 staff members. In 2022, Mouser's EMEA market saw a 30.4% increase in sales, while total global revenue increased by 25%. Key regions include: 36.9% revenue growth in Germany; 41.8% revenue growth in the United Kingdom; 33.2% revenue growth in France and 22% revenue growth in Italy.
Full press release here: https://eu.mouser.com/newsroom/publicrelations-mouser-emea-growth-2023final/
New Product – Mouser Now Shipping Xilinx's Kria KR260 Robotics Starter Kit, Accelerating Workflows for Roboticists
Mouser is now stocking the Kria KR260 Robotics Starter Kit from Xilinx. Offering high-performance industrial vision and real-time networking interfaces, this Xilinx starter kit allows roboticists to simplify their workflows when using the pre-installed Kria K26 system-on-module (SOM), using two 240-pin connectors and I/Os for sensor and network connectivity. The kit's robust collection of real-time networking interfaces includes four RJ45 Ethernet ports and one SFP+ optics interface for 10GE vision. Featuring native ROS 2 and Ubuntu support along the Kria Robotics Stack (KRS), the Kria KR260 Starter Kit supports ease of development for roboticists and embedded developers alike. This product can be easily adapted and scaled using Pmod and Raspberry Pi headers. With a broad Pmod ecosystem, the kit can extend to any sensor or interface. The starter kit supports a range of robotics, machine vision and industrial communication and control applications.
Full press release here: https://eu.mouser.com/newsroom/publicrelations-xilinx-kria-kr260-robotics-kit-2023final/
New Distribution Agreement – Mouser Signs Global Distribution Agreement with Innovative Sensor Technology IST AG to Deliver Latest Sensor Solutions
Mouser announces a new global distribution agreement with Innovative Sensor Technology IST AG, an industry-leading manufacturer of physical, chemical and biological sensors. With over 30 years of experience, Innovative Sensor Technology's suite of precision sensor solutions includes both platinum and nickel thick-and thin-film RTD temperature sensors, thermal mass flow sensors, humidity sensors, biosensors, conductivity sensors and more. Mouser now stocks the latest Innovative Sensor Technology products, including the new PW Series platinum resistive temperature devices (RTD); the 600°C Series platinum sensors with wires, the Gas Flow Sensors and HYT digital humidity and temperature modules.
Full press release here: https://eu.mouser.com/newsroom/publicrelations-innovative-sensor-technology-2023final/
New Product – Mouser Now Shipping Laird Connectivity's Summit SOM 8M Plus for IIoT and Robotics
Mouser is now stocking the Summit SOM 8M Plus from Laird Connectivity. This system-on-module (SOM) is an integrated and comprehensive hardware and software powerhouse combining NXP's multi-core processing, dual-band 2×2 Wi-Fi® 5 and Bluetooth® 5.3 connectivity for broad range, advanced IoT applications like robotics and machine learning. The Summit SOM 8M Plus is based on a versatile, power-efficient quad 1.6 GHz Cortex®-A53 microprocessor and an 800 MHz Cortex-M7 microcontroller for powerful heterogeneous multiprocessing. Incorporating the i.MX 8M Plus SoC into the Summit SOM 8M Plus allows customers to leverage hardware acceleration for complex Industrial Internet of Things (IIoT) applications like machine learning, with an integrated 2.3 TOPS neural processing unit, rich multimedia with a DSP core and integrated graphics processing unit (GPU). This product's multiple interfaces include support for up to three displays and several options for video out and camera and audio I/O. The onboard Cortex-A53 and Cortex-M7 cores allow simultaneous Linux® and RTOS execution for user interface, speeding time to market.
Full press release here: https://eu.mouser.com/newsroom/publicrelations-laird-summit-som-8m-plus-2023final/
New Products – Mouser Now Featuring Latest from Panasonic Corporation
Mouser is showcasing the newest innovations from Panasonic Corporation to provide manufacturers with the latest in performance, quality and reliability, building world-class solutions for customers in virtually all industries, including automotive, industrial, power and sensor systems and smart home applications. Mouser continues to expand its customers' product development process with nearly 25,000 parts from Panasonic and their subsidiaries, Panasonic Batteries, Panasonic Electronic Components and Panasonic Industrial Devices. Mouser offers the PAN9028 Wi-Fi® dual-band and Bluetooth® Module; the ACTE3CH2A05V automotive TE relay; the AQY215S SOP4 PhotoMOS®  relay and the Polymer capacitors.
Full press release here: https://eu.mouser.com/newsroom/publicrelations-panasonic-authorized-distributor-2023final/
New Distribution Agreement – Mouser Signs Distribution Agreement with Astrocast to Deliver Satellite IoT Components
Mouser announces a new distribution agreement with Astrocast, a leading nanosatellite IoT network operator. Through the agreement, Mouser offers engineers Astrocast's Satellite IoT (SatIoT) technology to customers in Australia, Finland, France, Germany, Great Britain, Italy, New Zealand, Spain, Sweden, and Switzerland. Astrocast operates a global nanosatellite IoT network, offering services in industries such as smart agriculture, infrastructure, maritime, environment and utilities. The Astrocast network enables companies to monitor, track and communicate with remote assets via satellite, utilising their Astronode S module. This product is a satellite communication module with a serial interface and a compact, surface mount form factor. Mouser also stocks the Astronode Patch antenna, a miniaturised antenna designed for communication with Astrocast's IoT satellites in low earth orbit (LEO). Mouser also offers the Astronode S+, a certified, ready-to-install industrial satellite communication device based on the Astronode S and an Astronode Patch antenna.
Full press release here: https://eu.mouser.com/newsroom/publicrelations-astrocast-new-manufacturer-2023final/
New Product – Mouser Now Shipping Infineon Technologies MA2304xN MERUS Multilevel Switching Amplifiers for Wireless Audio Applications
Mouser is now stocking the MA2304xN MERUS™ multilevel switching amplifiers from Infineon Technologies. The MA2304xN MERUS™ series provides engineers with unmatched power efficiency at both low and high output power for wireless and Bluetooth® speakers, soundbars, and battery-powered designs for conference and multichannel room audio systems. The MA2304DNS amplifier is a 2 × 37 W audio amplifier with fully integrated and configurable DSP (digital signal processing) with I2S/TDM (time division multiplexing) audio interface. It features MERUS multilevel switching amplifier technology, enabling unmatched power efficiency at both low and high output power, without the necessity for a heatsink or a traditional LC filter. Multilevel switching also reduces EMI (electromagnetic interference) and enables inductor less applications with lower cost and no compromise in audio performance or efficiency. The MA2304PNS offers a simpler volume control and limiter for systems where an application/connectivity processor does the audio processing. This makes the MA2304PNS ideal for battery-powered speaker applications where extended battery life and/or reduced battery cell cost are crucial. The Infineon MA2304DNS and MA2304PNS are supported by the EVAL_AUDIO_MA2304DNS and EVAL_AUDIO_MA2304PNS evaluation boards.
Full press release here: https://eu.mouser.com/newsroom/publicrelations-infineon-ma2304xn-audio-amplifiers-2023dfinal/
To see more new products and Mouser news, go to https://eu.mouser.com/pressroom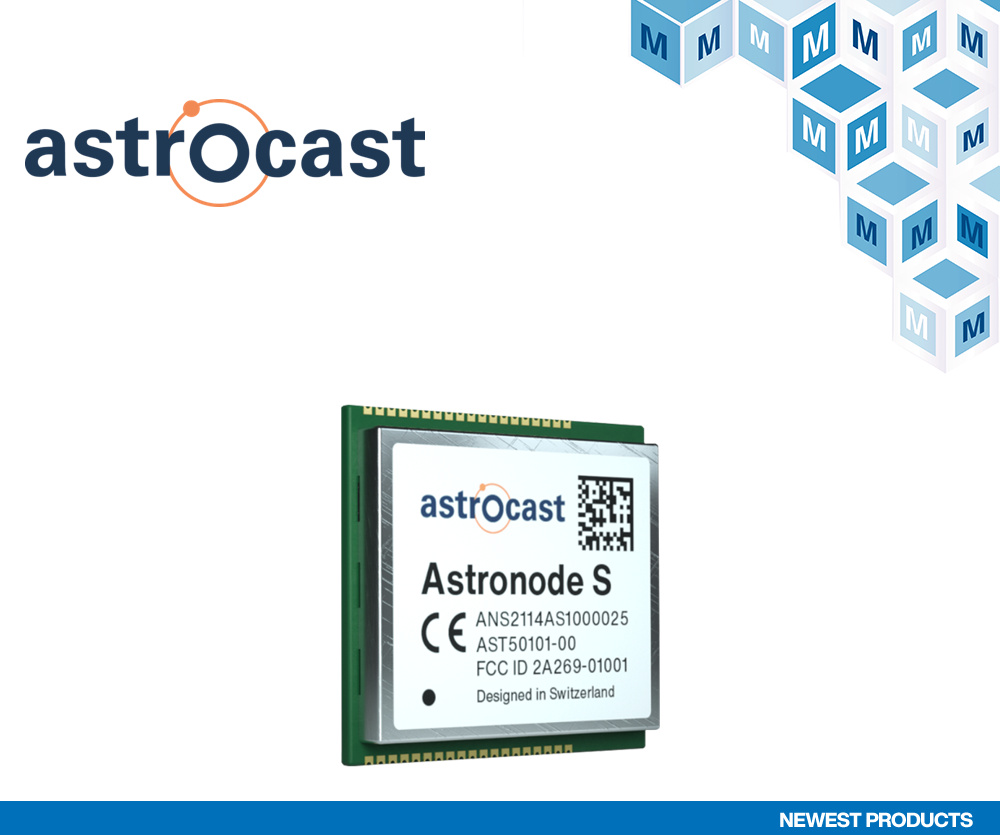 About Mouser Electronics
Mouser Electronics, a Berkshire Hathaway company, is an authorised semiconductor and electronic component distributor focused on New Product Introductions from its leading manufacturer partners. Serving the global electronic design engineer and buyer community, the global distributor's website, mouser.com, is available in multiple languages and currencies and features more than 6,8 million products from over 1.200 manufacturer brands. Mouser offers 27 support locations worldwide to provide best-in-class customer service in local language, currency and time zone. The distributor ships to over 650.000 customers in 223 countries/territories from its 93.000 square-meter, state-of-the-art facilities in the Dallas, Texas, metro area. For more information, visit https://www.mouser.com/.