23. november 2022
The Latest News from Mouser Electronics
Mouser Electronics, Inc. is focused on supplying 100% certified, genuine products from its manufacturing partners for electronic design engineers and buyers. Mouser introduces hundreds of new products each month and supports innovation by supplying engineers with the newest products, technologies and resources.
The news highlights from Mouser this week are:
New Product – Harwin High-Reliability Connector Solutions, Available from Mouser, Enable Engineers to Push SWaP Boundaries
Mouser is now stocking a wide range of high-reliability connectors from Harwin. Designed to deliver robust performance in harsh environments, these durable connectors are proven to perform in the most extreme conditions of shock, vibration and temperature. The connectors allow engineers to explore new boundaries of size, weight, and power (SWaP) optimisation. Harwin interconnect includes the Gecko series, a range of 1.25 mm-pitch connectors with a durability of 1,000 mating cycles and added power contacts at 10 A max. The high-reliability connectors also include the 2 mm and 4 mm Datamate connectors and the M300 3 mm connectors. Built to withstand extreme conditions, Datamate features an operating temperature range of -55°C to +125°C, while M300 withstands a temperature range of -65°C to +175°C. The Kona family features 8.5 mm pitch connectors and achieves a maximum voltage rating of 3 kV with 60 A per contact. These high-reliability interconnect families support demanding applications, including aviation, defence, medical, and high-end industrial solutions.
Full press release here: https://eu.mouser.com/newsroom/publicrelations-harwin-high-reliability-connectors-2022final/
New Product – Mouser Now Offers Microchip PIC32CM Lx MCUs with Secure Subsystem and Arm TrustZone Technology
Mouser is now offering the PIC32CM LE00, LS00, and LS600 (PIC32CM Lx) ultra-low-power microcontrollers from Microchip Technology. The Microchip PIC32CM Lx microcontrollers each feature a 32-bit Arm® Cortex®-M23 CPU running up to 48 MHz. Based on picoPower® technology, the devices provide fast wake-up times of 1.5 μS and SleepWalking and Event System peripherals that are fully supported by Microchip's power debugger and data visualiser tool. All three products are also loaded with on-chip analogue operational amplifiers, digital-to-analogue converters (DACs), and analogue-to-digital converters (ADCs) that can be operated in sleep modes and interfaced with a variety of sensors. Other noteworthy features of the family include its superior capacitive touch capabilities, which offer enhanced PTC, Driven Shield+ and the ability for designers to add buttons, wheels, surfaces and sliders to smartwatches, fitness trackers, headsets and other peripherals. Offering the most robust security feature set in the device family, the PIC32CM LS60 is one of the industry's first microcontrollers to combine a secure subsystem and Arm® TrustZone® technology in a single package. By delivering 32-bit performance and ultra-low power consumption while offering memory configurations up to 512 Kbytes of flash and 64 Kbytes of SRAM, the PIC32CM Lx family provides three distinct product options for designers looking to solve challenges in the Internet of Things (IoT), consumer, industrial and medical markets.
Full press release here: https://eu.mouser.com/newsroom/publicrelations-microchip-pic32cm-lx-mcus-2022final/ 
New Product – TE Connectivity DEUTSCH DBAS 9 Series Mil-Aero Connectors Now Available From Mouser
Mouser is now stocking DEUTSCH DBAS 9 Series connectors from TE Connectivity (TE). These connectors offer up to 500 mating/unmating cycles and variants available for up to 1500 cycles. They are designed for high performance and high reliability and feature a visual and sensitive push-pull locking system for blind mating. The leading clip in the DEUTSCH DBAS 9 series helps prevent any accidental unmating on demand. TE DEUTSCH DBAS 9 Series Connectors are suitable for use in harsh aerospace, military, and space applications due to their extreme reliability.
Full press release here: https://eu.mouser.com/newsroom/te-deutsch-dbas9-connectors/
To see more new products and Mouser news, go to https://eu.mouser.com/pressroom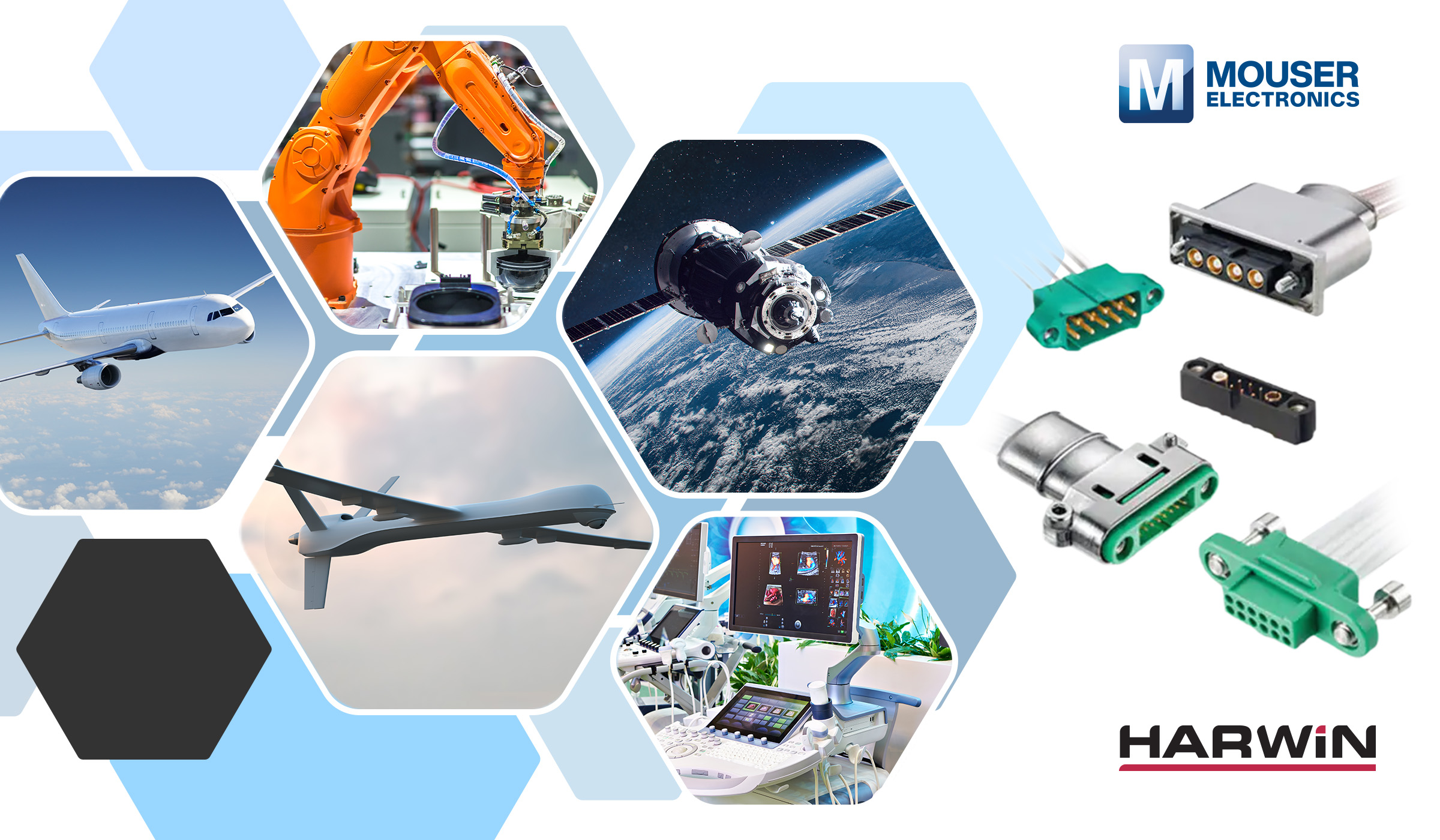 As a global authorised distributor, Mouser offers the world's widest selection of the newest semiconductors and electronic components — in stock and ready to ship™. Mouser's customers can expect 100% certified, genuine products that are fully traceable from each of its manufacturer partners. To help speed customers' designs, Mouser's website hosts an extensive library of technical resources, including a Technical Resource Centre, along with product data sheets, supplier-specific reference designs, application notes, technical design information, engineering tools and other helpful information.
About Mouser Electronics
Mouser Electronics, a Berkshire Hathaway company, is an authorised semiconductor and electronic component distributor focused on New Product Introductions from its leading manufacturer partners. Serving the global electronic design engineer and buyer community, the global distributor's website, mouser.com, is available in multiple languages and currencies and features more than 6,8 million products from over 1.200 manufacturer brands. Mouser offers 27 support locations worldwide to provide best-in-class customer service in local language, currency and time zone. The distributor ships to over 650.000 customers in 223 countries/territories from its 93.000 square-meter, state-of-the-art facilities in the Dallas, Texas, metro area. For more information, visit https://www.mouser.com/.