12. oktober 2022
The Latest News from Mouser Electronics
Mouser Electronics, Inc. is focused on supplying 100% certified, genuine products from its manufacturing partners for electronic design engineers and buyers. Mouser introduces hundreds of new products each month and supports innovation by supplying engineers with the newest products, technologies and resources.
The news highlights from Mouser this week are:
New Product – Mouser Now Stocking MEMSIC MHA-18x Hall-Effect Switches
Mouser is now stocking the MHA-18x Hall effect switches from MEMSIC. These devices are low-power, ultra-high-precision Hall effect sensors optimised for battery-powered applications. These switches are fully integrated CMOS ICs that are designed to output high-low signals following a change in a magnetic field and feature a wide 1.65V to 5.5V operating voltage range and ultra-low power consumption, with 2.5µA typical at 1.8V. Applications include True Wireless Stereo (TWS) headsets, smartphones smart meters, wearables, and industrial products.
Full press release here: https://eu.mouser.com/newsroom/memsic-mha-18x-hall-effect-switches/
New Award – Mouser's Tina Sears and Kristin Schuetter Named Winners of Third Annual Women in Supply Chain Awards
Mouser proudly announces its Vice Presidents Tina Sears and Kristin Schuetter are recipients of the third-annual Women in Supply Chain awards from Supply & Demand Chain Executive, a publication covering the global supply chain. The Women in Supply Chain award honours female supply chain executives whose accomplishments, mentorship and examples set a foundation for women in all levels of a company's supply chain network. This year's list of over 280 submissions includes individuals from software and service providers, consultancies and academia, trucking and transportation firms, professional development agencies, sourcing and procurement divisions, and more, all who have helped supply chain clients and the supply chain community at large prepare to meet many of today's — and tomorrow's — challenges.
Full press release here: https://eu.mouser.com/newsroom/publicrelations-women-in-supply-chain-awards-2022final/
New Product – Qorvo QPF4656 and QPF4730 Wi-Fi 6/6E Front End Modules Now in Stock at Mouser
Mouser is now stocking the QPF4656 and QPF4730 Wi-Fi 6 and 6E (802.11ax) front end modules (FEMs) from Qorvo®. The FEMs tap into the full potential of the Wi-Fi 6E spectrum while also delivering up to 25% more power efficiency than current competitive solutions. Their small form factors and integrated matching help minimise layout area while providing substantial cost, size and thermal performance advantages. These products conserve power consumption while maintaining high linear output power and leading-edge throughput at the maximum power levels supported by Wi-Fi 6E's extended bandwidth. This wide bandwidth performance feature enables the operation of the QPF4656 in all channels from UNII5-8 (5.9 – 7.1 GHz) and the QPF4730 operation in all channels from UNII1-8 (5.1 – 7.1GHz) on the fly without any logic switching. Both FEMs incorporate a single-pole two-throw switch (SP2T), and a bypassable low noise amplifier (LNA) with a 5.945 GHz to 7.125 GHz power amplifier (QPF4656) or a 5.1 GHz to 7.125 GHz power amplifier (QPF4730). Applications for the FEMs include access points, residential gateways, customer premises equipment, and Internet of Things (IoT) devices.
Full press release here: https://eu.mouser.com/newsroom/publicrelations-qorvo-qpf4656-qpf4730-fems-2022final/
To see more new products and Mouser news, go to https://eu.mouser.com/pressroom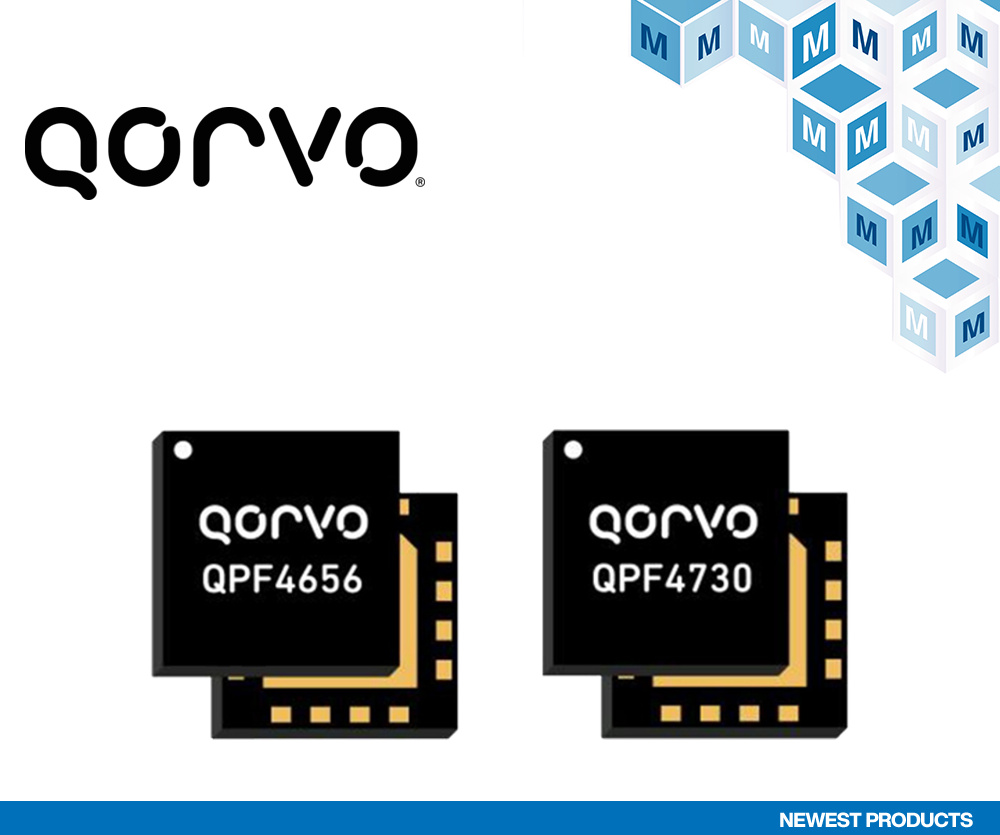 As a global authorised distributor, Mouser offers the world's widest selection of the newest semiconductors and electronic components — in stock and ready to ship™. Mouser's customers can expect 100% certified, genuine products that are fully traceable from each of its manufacturer partners. To help speed customers' designs, Mouser's website hosts an extensive library of technical resources, including a Technical Resource Centre, along with product data sheets, supplier-specific reference designs, application notes, technical design information, engineering tools and other helpful information.
About Mouser Electronics
Mouser Electronics, a Berkshire Hathaway company, is an authorised semiconductor and electronic component distributor focused on New Product Introductions from its leading manufacturer partners. Serving the global electronic design engineer and buyer community, the global distributor's website, mouser.com, is available in multiple languages and currencies and features more than 6,8 million products from over 1.200 manufacturer brands. Mouser offers 27 support locations worldwide to provide best-in-class customer service in local language, currency and time zone. The distributor ships to over 650.000 customers in 223 countries/territories from its 93.000 square-meter, state-of-the-art facilities in the Dallas, Texas, metro area. For more information, visit https://www.mouser.com/.