24. august 2022
The Latest News from Mouser Electronics
Mouser Electronics, Inc. is focused on supplying 100% certified, genuine products from its manufacturing partners for electronic design engineers and buyers. Mouser introduces hundreds of new products each month and supports innovation by supplying engineers with the newest products, technologies and resources.
The news highlights from Mouser this week are:
New Agreement – Mouser Signs Agreement with Amphenol PCB Piezotronics and The Modal Shop
Mouser announces new global distribution agreements with Amphenol companies Amphenol PCB Piezotronics and The Modal Shop, further bolstering its Amphenol sensor line-up for customers around the world. Mouser now offers more than 51,000 products from 44 Amphenol divisions. Amphenol PCB Piezotronics manufactures vibration, pressure, force and strain, shock, and acoustic sensors used by design engineers and predictive maintenance professionals worldwide for test, measurement, monitoring, and control requirements. The 660 Series embeddable accelerometers from Amphenol PCB Piezotronics feature a compact design that can be embedded into machinery at the OEM level to provide value-added monitoring protection. The Modal Shop 333D01 Digiducer® USB digital accelerometer allows users to take professional-grade vibration measurements right from a PC, smartphone, or tablet, turning any device into a portable, hand-held vibration meter spectrum analyser. In addition, Mouser also stocks the K333D01-VM Digiducer digital vibration meter kit, which includes the 333D01, VibeCheck mobile app download, and common mounting accessories to easily turn a smartphone into a portable vibration meter.
Full press release here: https://eu.mouser.com/newsroom/publicrelations-amphenol-pcb-piezotronics-modal-shop-new-manufacturer-2022final/ 
New Awards – Mouser Celebrates Its 2022 Best-in-Class Award Winners
Mouser congratulates the 2022 winners of its annual Mouser Best-in-Class Awards. The annual awards event recognises the outstanding individuals from Mouser's manufacturer partners who best supported the global distributor's marketing programs and new product introduction (NPI) launches by demonstrating exemplary teamwork and top performance. Winners of the Mouser Best-in-Class Award are selected using five main criteria: Strategically partnering with the Mouser team; promoting product lines and working together on new product launches; finding creative solutions to grow market share mutually for both companies; maximising Mouser's unique value proposition within their own businesses; and championing Mouser within their organisations.
Full press release here: https://eu.mouser.com/newsroom/publicrelations-mouser-best-in-class-awards-2022final/
New Product – Mouser Now Stocks Laird Connectivity Sentrius Cumulocity IoT Kit for Wireless Sensor Monitoring
Mouser is now shipping the Sentrius™ MG100/BT510/BT610 Cumulocity IoT Kit from Laird Connectivity. This powerhouse combination of proven wireless sensor monitoring technologies comes bundled together in one integrated kit that captures data from the included sensors and sends it to the cloud, via a global low-power cellular (LTE-M/NB-IoT) connection. Combining the benefits of Bluetooth® 5 technology with low-power cellular LTE connectivity, the dynamic duo, the Laird Connectivity Pinnacle™ 100 modem and the Sentrius MG100 gateway, delivers a single, fully integrated solution to capture data from the Bluetooth 5-enabled sensors and works seamlessly with the industry-leading Software AG Cumulocity IoT telemetry platform (free 60-day trial included). Cumulocity IoT provides fast visibility and control over remote assets with no software development required for asset tracking, cold chain monitoring, smart buildings, or industrial Internet of Things (IIoT) systems. The kit features two proven sensor systems: Sentrius BT510 and Sentrius BT610. The Sentrius BT510 is a multi-sensor platform that combines temperature, open/closed, motion, and impact sensing with Bluetooth 5 capabilities such as long-range (Coded PHY), security and Bluetooth Low Energy beaconing. The Sentrius BT610 sensor turns wired sensors into IP67-rated, battery-operated wireless nodes that provide robust and secure messaging and is ideal for harsh IoT environments where reliable wireless connectivity is essential to keeping systems online and operational.
Full press release here: https://eu.mouser.com/newsroom/publicrelations-laird-connectivity-sentrius-cumulocity-iot-kit-2022final/
To see more new products and Mouser news, go to https://eu.mouser.com/pressroom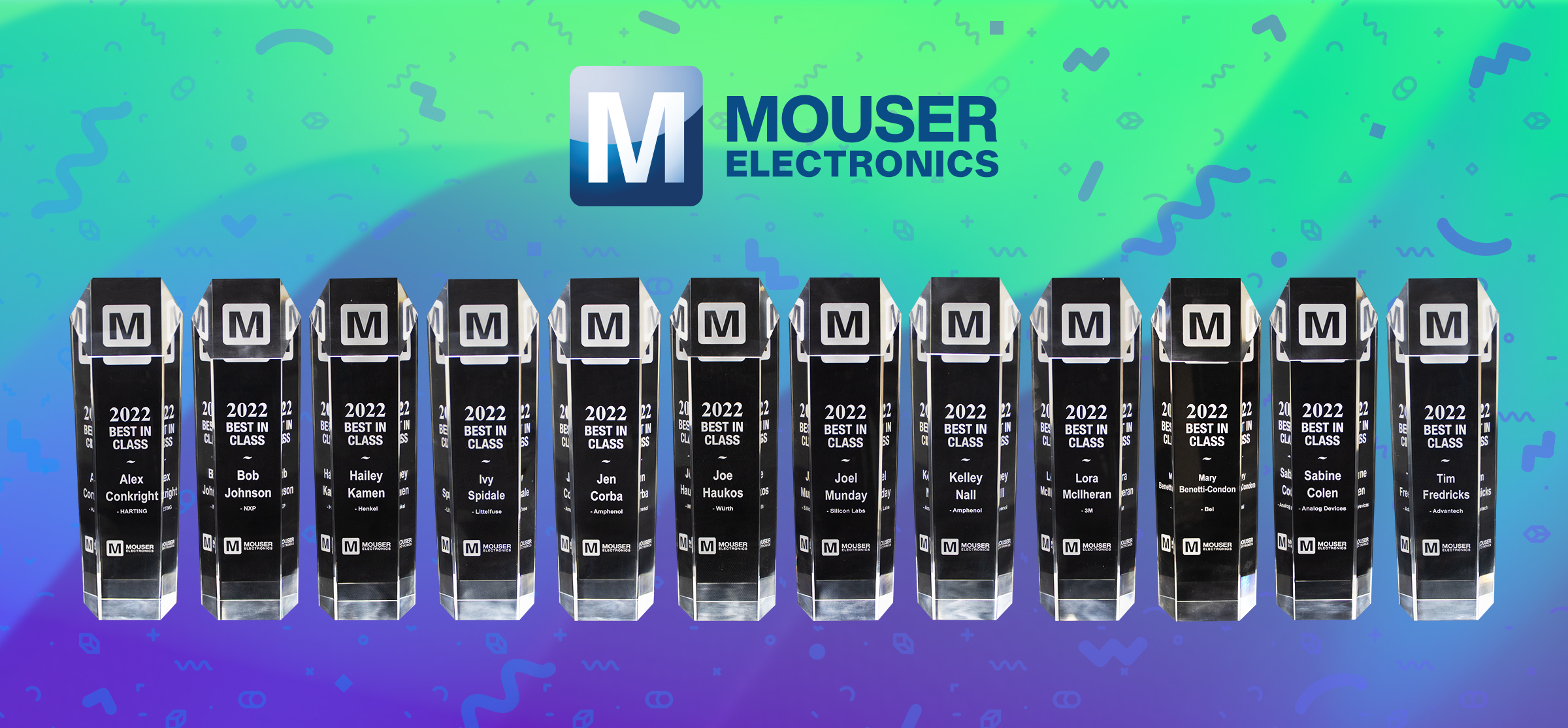 As a global authorised distributor, Mouser offers the world's widest selection of the newest semiconductors and electronic components — in stock and ready to ship™. Mouser's customers can expect 100% certified, genuine products that are fully traceable from each of its manufacturer partners. To help speed customers' designs, Mouser's website hosts an extensive library of technical resources, including a Technical Resource Centre, along with product data sheets, supplier-specific reference designs, application notes, technical design information, engineering tools and other helpful information.
About Mouser Electronics
Mouser Electronics, a Berkshire Hathaway company, is an authorised semiconductor and electronic component distributor focused on New Product Introductions from its leading manufacturer partners. Serving the global electronic design engineer and buyer community, the global distributor's website, mouser.com, is available in multiple languages and currencies and features more than 6,8 million products from over 1.200 manufacturer brands. Mouser offers 27 support locations worldwide to provide best-in-class customer service in local language, currency and time zone. The distributor ships to over 650.000 customers in 223 countries/territories from its 93.000 square-meter, state-of-the-art facilities in the Dallas, Texas, metro area. For more information, visit https://www.mouser.com/.