1. juli 2022
The Latest News from Mouser Electronics
Mouser Electronics, Inc. is focused on supplying 100% certified, genuine products from its manufacturing partners for electronic design engineers and buyers. Mouser introduces hundreds of new products each month and supports innovation by supplying engineers with the newest products, technologies and resources.
The news highlights from Mouser this week are:
New Product – Mouser Now Shipping Qorvo QPF4532 Integrated Front End Module for Wi-Fi 6 Designs
Mouser is now shipping the QPF4532 Wi-Fi 6 integrated front end module (FEM) from Qorvo®, designed for the latest Wi-Fi 6 (802.11ax) systems such as residential gateways, wireless routers, access points and Internet of Things (IoT) applications. The Qorvo QPF4532 FEM integrates a 5.0 GHz power amplifier (PA), single-pole, two-throw (SP2T) switch and bypassable low noise amplifier (LNA) into a single device. With a compact form factor and integrated matching that minimises layout area in the application, performance of the QPF4532 is focused on optimising the PA for a 3.3 V supply voltage to conserve power consumption, while maintaining the highest linear output power and leading-edge throughput.
Full press release here: https://eu.mouser.com/newsroom/publicrelations-qorvo-qpf4532-fem-2022final/
New Resource – Mouser Examines Importance of Designing for Security in Third Empowering Innovation Together Episode
Mouser launched the latest chapter of its award-winning Empowering Innovation Together™ program. In this episode, Mouser explores the importance of incorporating security into every stage of the design process, starting with architecture selection and component choice. The third instalment features a wide variety of content, including a new Then, Now and Next video, blog, article, infographic and a new episode of The Tech Between Us podcast. This newest topic in the 2022 Empowering Innovation Together program offers a timely look at the increasingly critical role of designing with security in mind, including available hardware features and the latest software tools and techniques, as well as stand-alone security products.
Full press release here: https://eu.mouser.com/newsroom/publicrelations-eit-ep3-security-2022final/
New Award – Mouser Wins Top NPI Distributor Award from Digi International
Mouser announces that it has been named the New Product Introduction (NPI) Distributor of the Year for 2021 by Digi International, a leading global provider of the Internet of Things, connectivity products and services. This award is particularly meaningful as Mouser takes great pride in being the New Product Introduction leader in the industry. This is the third-straight time that Mouser has won the award, after receiving it for 2020 and 2018 performance (no award presented for 2019).
Full press release here: https://eu.mouser.com/newsroom/publicrelations-digi-npi-distributor-award-2022final/
New Product – Mouser Now Stocking Seeed Studio's reComputer Jetson Development Kits
Mouser is now stocking the reComputer Jetson 20-1 Xavier NX and reComputer Jetson 10-1 Nano development kits from Seeed Studio. Built with advanced NVIDIA cores, the development kits support the rapid development of artificial intelligence (AI) solutions in applications such as drones, agriculture, wildlife protection, smart cities, and Industrial Internet of Things (IIoT) and Industry 4.0.
Full press release here: https://eu.mouser.com/newsroom/publicrelations-seeed-recomputer-jetson-kits-2022final/
To see more new products and Mouser news, go to https://eu.mouser.com/pressroom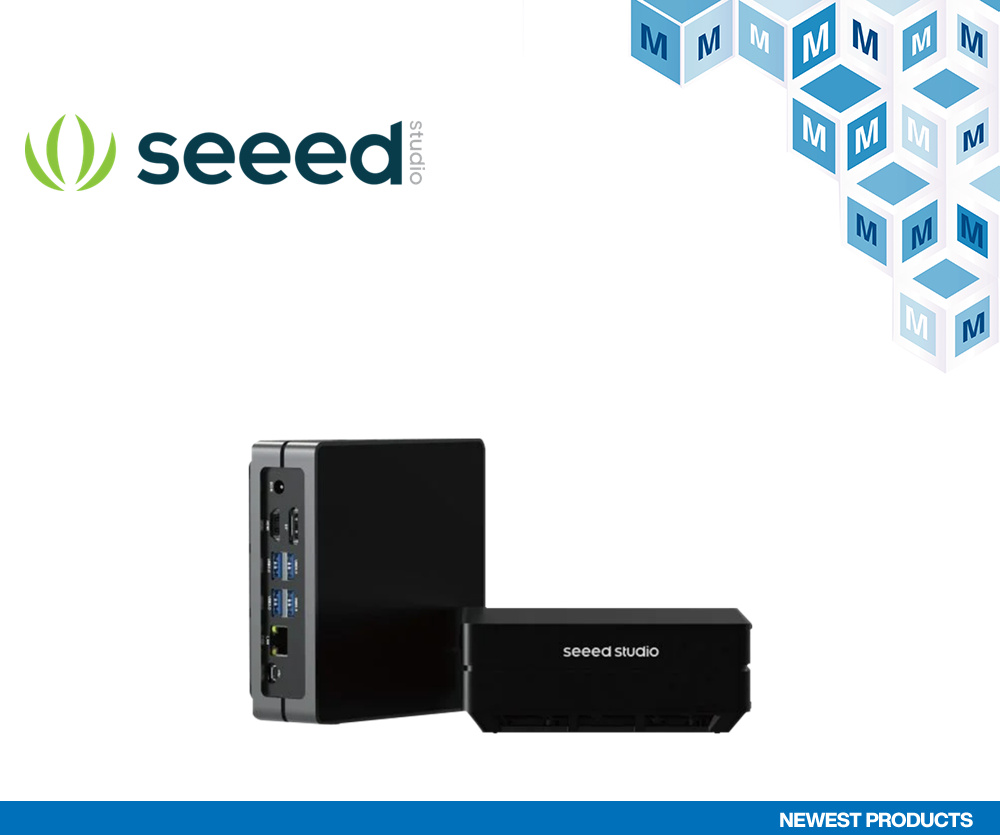 About Mouser Electronics
Mouser Electronics, a Berkshire Hathaway company, is an authorised semiconductor and electronic component distributor focused on New Product Introductions from its leading manufacturer partners. Serving the global electronic design engineer and buyer community, the global distributor's website, mouser.com, is available in multiple languages and currencies and features more than 6,8 million products from over 1.200 manufacturer brands. Mouser offers 27 support locations worldwide to provide best-in-class customer service in local language, currency and time zone. The distributor ships to over 650.000 customers in 223 countries/territories from its 93.000 square-meter, state-of-the-art facilities in the Dallas, Texas, metro area. For more information, visit https://www.mouser.com/.