27. april 2022
The Latest News from Mouser Electronics
Mouser Electronics, Inc. is focused on supplying 100% certified, genuine products from its manufacturing partners for electronic design engineers and buyers. Mouser introduces hundreds of new products each month and supports innovation by supplying engineers with the newest products, technologies and resources.
The news highlights from Mouser this week are:
New Product – Mouser Now Stocks Infineon XENSIV PAS CO2 Sensor
Mouser is now stocking the XENSIV™ PAS CO2 carbon dioxide (CO2) sensor from Infineon Technologies. Based on photoacoustic spectroscopy (PAS), the sensor uses a high-sensitivity MEMS microphone to detect the pressure change generated by CO2 molecules within the sensor cavity. The result is a significantly miniaturised CO2 sensor that offers space savings of more than 75% in end products compared to other CO2 sensors on the market. The sensor's direct ppm readings, surface mounting capability, and simple design allow for fast integration into low- and high-volume applications such as smart home and building automation designs, demand-controlled ventilation, air purifiers, thermostats, weather stations, and personal assistants.
Full press release here: https://eu.mouser.com/newsroom/publicrelations-infineon-xensiv-pas-co2-2022final/
New Product – Mouser Now Stocks Analog Devices CN0534 LNA Receiver Reference Design for 5.8GHz ISM Applications
Mouser is now stocking the CN0534 5.8 GHz low-noise amplifier (LNA) receiver reference design from Analog Devices. The circuit provides high gain, robust overpower monitoring, and protection, all in a small footprint. This feature is an excellent addition to any 5.8 GHz ISM band application where low signal strength or distance may be a complication.
Full press release here: https://eu.mouser.com/newsroom/publicrelations-analog-devices-cn0534-2022final/
New Award – Mouser Named Global High Service Distributor of the Year by TE Connectivity for Eighth Year
Mouser is proud to announce that it has received the Global High Service Distributor of the Year Award for the eighth time from TE Connectivity (TE), a world leader in connectivity and sensors. The prestigious distribution award recognises Mouser's 2021 performance based on sales growth, market share growth, customer growth and business plan performance.
Full press release here: https://eu.mouser.com/newsroom/publicrelations-te-connectivity-global-dist-award-2022final/
To see more new products and Mouser news, go to https://eu.mouser.com/pressroom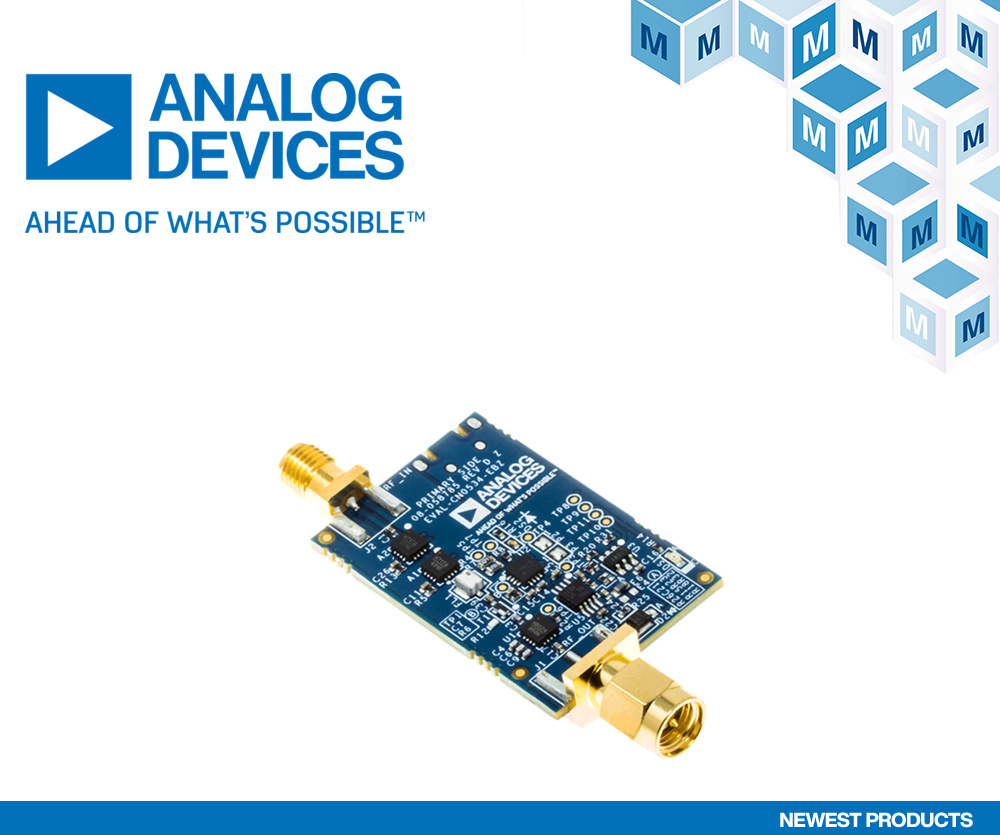 About Mouser Electronics
Mouser Electronics, a Berkshire Hathaway company, is an authorised semiconductor and electronic component distributor focused on New Product Introductions from its leading manufacturer partners. Serving the global electronic design engineer and buyer community, the global distributor's website, mouser.com, is available in multiple languages and currencies and features more than 6,8 million products from over 1.200 manufacturer brands. Mouser offers 27 support locations worldwide to provide best-in-class customer service in local language, currency and time zone. The distributor ships to over 650.000 customers in 223 countries/territories from its 93.000 square-meter, state-of-the-art facilities in the Dallas, Texas, metro area. For more information, visit https://www.mouser.com/.