23. marts 2022
The Latest News from Mouser Electronics
Mouser Electronics, Inc. is focused on supplying 100% certified, genuine products from its manufacturing partners for electronic design engineers and buyers. Mouser introduces hundreds of new products each month and supports innovation by supplying engineers with the newest products, technologies and resources.
The news highlights from Mouser this week are:
New Product – Mouser Now Stocks Analog Devices ADMV4540 K-Band Quadrature Demodulator for Satellite Comms
Mouser is now stocking the ADMV4540 K-band quadrature demodulator from Analog Devices. The ADMV4540 is a highly integrated orthogonal demodulator with a built-in synthesiser that is suitable for next-generation K-band high-throughput, ground terminal satellite communication systems requiring a full outdoor unit. The device offers an integrated synthesiser with voltage-controlled oscillator (VCO), downconverter, filtering baseband amplifiers, low-noise amplifier (LNA), and Serial Peripheral Interface (SPI) control capabilities that enable designers to condense their designs into a smaller overall footprint.
Full press release here: https://eu.mouser.com/newsroom/publicrelations-analog-devices-admv4540-2022final/
New Contest – Mouser Sponsors 2022 Global Create the Future Design Contest
Mouser sponsors the 20th Create the Future Design Contest, a global challenge for engineers and innovators around the world to design the next great thing. Mouser, which has sponsored the contest for many years, is joined again by valued manufacturers Intel® and Analog Devices, Inc. as co-sponsors. The contest is produced by SAE Media Group, an SAE International Company. COMSOL is also a principal sponsor of the contest. The contest is now open for submissions until 1st July 2022. The grand prize winner receives worldwide recognition and a cash prize of $25,000 for an innovative product that benefits society and the economy.
Full press release here: https://eu.mouser.com/newsroom/publicrelations-create-the-future-launch-2022final/
New Product Additions – Mouser Now Stocks ams Multizone Time-of-Flight Sensors
Mouser is now stocking the TMF8820, TMF8821, and TMF8828 multizone time-of-flight sensors from ams OSRAM. The high-performance direct-time-of-flight (dToF) sensors achieve a 5-meter detection range, while the devices' multi-lens array significantly widens the field of illumination. The highly versatile sensors enable detection of the target area in multiple zones with extremely precise measurement results. The sensors can also detect multiple objects per zone, allowing automated robots to gain additional sensory awareness and provide early alerts to potential obstacles.
Full press release here: https://eu.mouser.com/newsroom/publicrelations-ams-osram-tmf8820-21-28-2022final/
New Product Additions – Mouser Now Stocks Laird Connectivity Sentrius Starter Kits for Temperature-Monitoring Applications
Mouser is now stocking the Sentrius™ IG60-BL654 and BT610 Starter Kits from Laird Connectivity. Including the latest wireless IoT gateway offering in Laird Connectivity's growing family of IoT devices, the kits securely and reliably connect Bluetooth®-enabled sensors to the cloud, providing everything needed to start a wireless Internet of Things (IoT) temperature-sensing proof-of-concept in minutes.
Full press release here: https://eu.mouser.com/newsroom/publicrelations-laird-connectivity-sentrius-ig60-bl654-bt610-kits-2022final/
To see more new products and Mouser news, go to https://eu.mouser.com/pressroom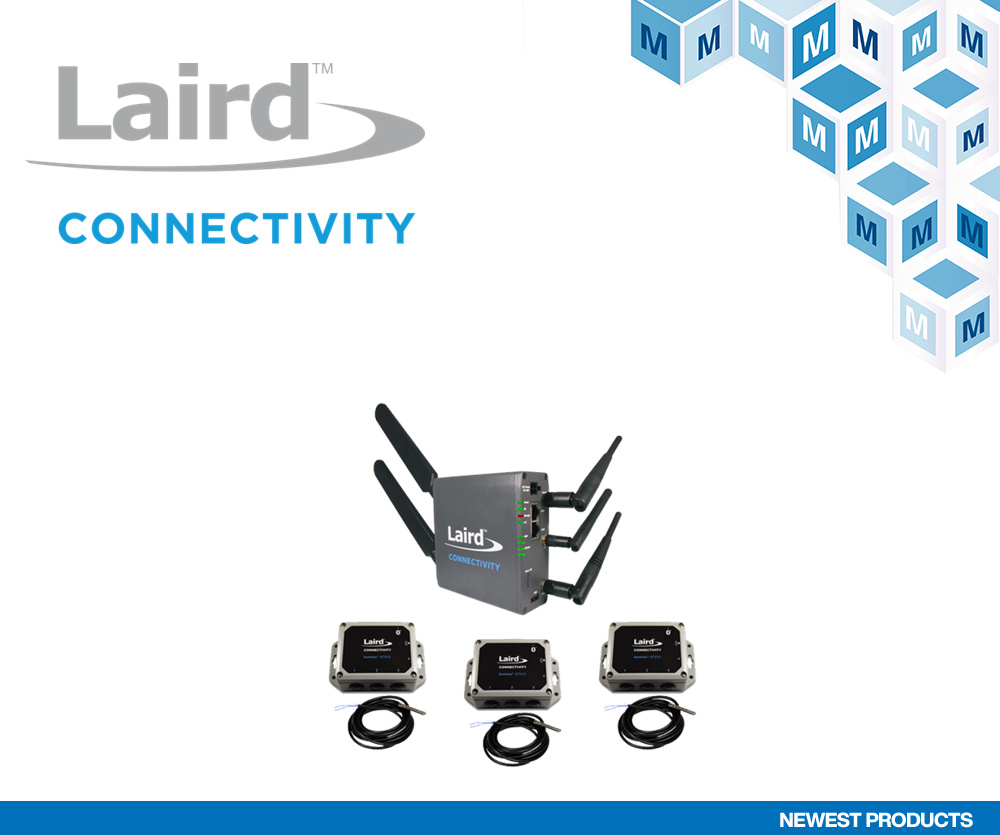 About Mouser Electronics
Mouser Electronics, a Berkshire Hathaway company, is an authorised semiconductor and electronic component distributor focused on New Product Introductions from its leading manufacturer partners. Serving the global electronic design engineer and buyer community, the global distributor's website, mouser.com, is available in multiple languages and currencies and features more than 6,8 million products from over 1.200 manufacturer brands. Mouser offers 27 support locations worldwide to provide best-in-class customer service in local language, currency and time zone. The distributor ships to over 650.000 customers in 223 countries/territories from its 93.000 square-meter, state-of-the-art facilities in the Dallas, Texas, metro area. For more information, visit https://www.mouser.com/.