29. september 2021
The Latest News from Mouser Electronics
Mouser Electronics, Inc. is focused on supplying 100% certified, genuine products from its manufacturing partners for electronic design engineers and buyers. Each month Mouser introduces hundreds of new products and supports innovation by supplying engineers with the newest products, technologies and resources.
The news highlights from Mouser this week are:
New Award – Mouser Named Molex Global e-Catalog Distributor of the Year
Mouser has been named the 2020 Global e-Catalog Distributor of the Year by Molex for the second consecutive year — and fifth year overall. Mouser received the award for helping Molex achieve outstanding financial growth in e‑catalog sales and driving significant customer growth for Molex worldwide. Molex also honored Kristina Cole, Corporate Supplier Manager at Mouser, with the Molex MVP Award.
Full press release here: https://eu.mouser.com/newsroom/publicrelations-molex-global-ecat-dist-year-2021final/
Distribution Centre Update – Mouser Upgrades its State-of-the-Art Distribution Centre
As of this year, Mouser has installed 102 vertical lift modules (VLMs), the most at any company in the Western Hemisphere and the fourth largest VLM installation in the world. VLMs are essentially giant vertical filing cabinets, complete with shelves and an automated elevator to bring the components to the employee's workstation. This increases efficiency and floor space and can reduce an employee's walking time by 45 percent or more.
Full press release here: https://eu.mouser.com/newsroom/publicrelations-mouser-distributioncenter-automation-2021final/
New EIT Episode – Impact of 5G and Edge Computing on Intelligent Transportation Systems
The fifth installment of the 2021 Empowering Innovation Together™ (EIT) program offers in-depth insight into the trends surrounding intelligent transportation systems through a featured blog, infographic, video and more. The series also includes a new episode of The Tech Between Us podcast where Raymond Yin, Mouser's Director of Technical Content, speaks with Dr. Maxime Flament, CTO of the 5G Automotive Association, about the emergence of industry safety standards. The podcast is also available on Alexa, Apple Podcasts, Google Podcasts, iHeartRadio, Pandora, Spotify and Mouser's YouTube channel.
Full press release here: https://eu.mouser.com/newsroom/publicrelations-eit-episode5-transportation-2021final/
New Supplier – Global Distribution Deal Announced with AATC
A new global distribution agreement has been signed with Advanced Acoustic Technology Corp. (AATC), a leading manufacturer of buzzers, speakers, receivers, and microphones. AATC technologies are included in end-product applications such as computing, automotive, security, medical, uninterruptible power supplies, and other consumer electronics.
Full press release here: https://eu.mouser.com/newsroom/publicrelations-aatc-newmanufacturer-2021final/
New Content – Mouser and Molex Explore Antenna Tech in New Content Stream
The new antenna content stream from Mouser and Molex offers a valuable resource that combines the technical insights, emerging strategies, and products needed to create new connectivity and IoT solutions. The antenna resource site features more than fifteen technical articles, podcasts, flipbooks, and videos. Each provides valuable insights into topics including planning for RF applications, designing 5G networks, and powering industrial IoT.
Full press release here: https://eu.mouser.com/newsroom/publicrelations-molex-antennas-content-platform-2021final/
Formula E – Mouser Electronics Celebrates Exciting Formula E Racing Season
Mouser Electronics congratulates the DRAGON / PENSKE AUTOSPORT racing team on its strong showing in the 2020–2021 ABB FIA Formula E World Championship. Building on their long-term partnership, they share a vision for the future of the motorsports industry, serving as a framework for research and development around zero-emission motoring.
Full press release here: https://eu.mouser.com/newsroom/publicrelations-formulae-season-wrapup-2021final/
To see more new products and Mouser news, go to https://eu.mouser.com/pressroom/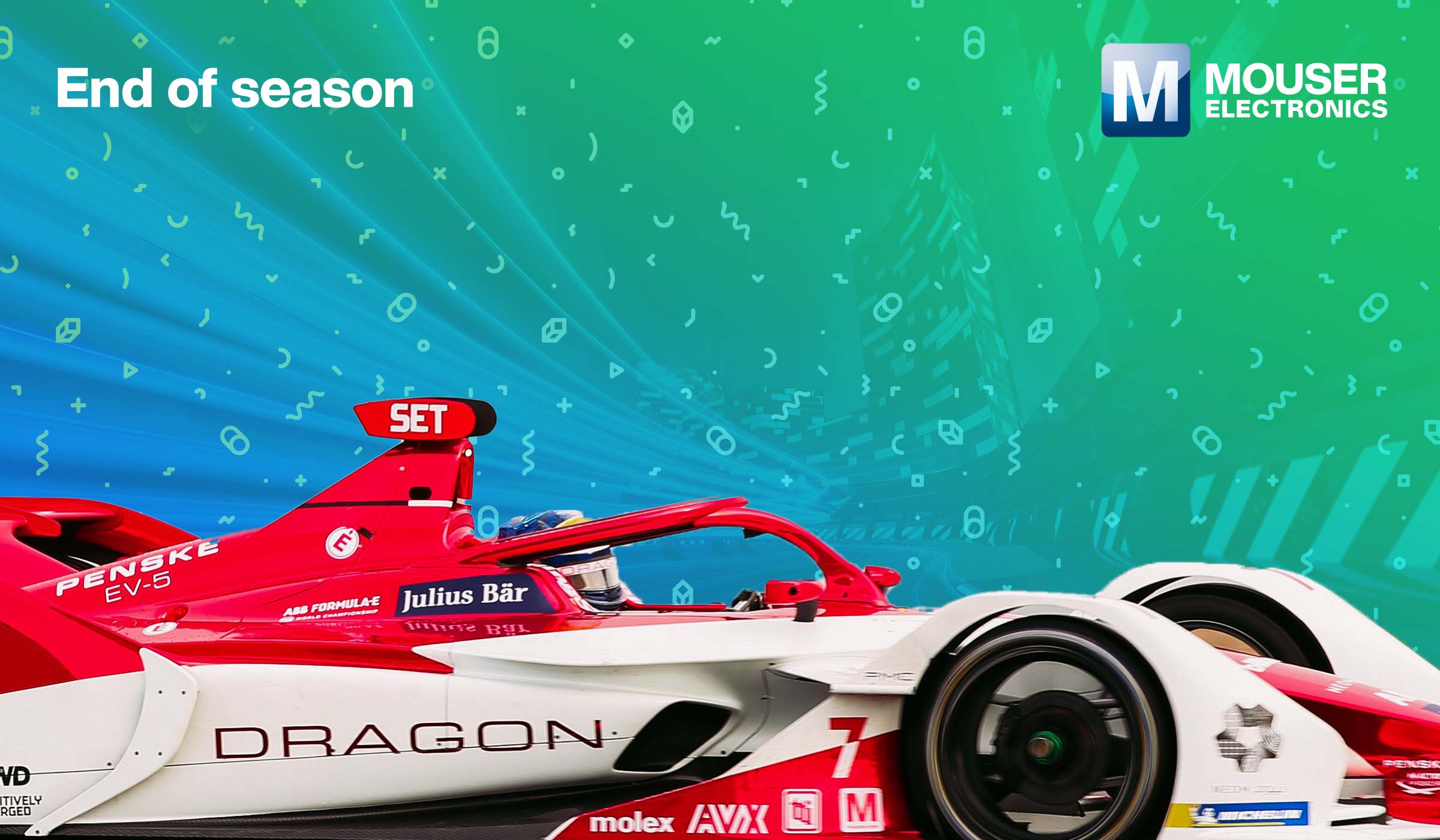 About Mouser Electronics
Mouser Electronics, a Berkshire Hathaway company, is an authorised semiconductor and electronic component distributor focused on New Product Introductions from its leading manufacturer partners. Serving the global electronic design engineer and buyer community, the global distributor's website, mouser.com, is available in multiple languages and currencies and features more than 5 million products from over 1,100 manufacturer brands. Mouser offers 27 support locations worldwide to provide best-in-class customer service in local language, currency and time zone. The distributor ships to over 630,000 customers in 223 countries/territories from its 1 million-square-foot, state-of-the-art distribution facilities in the Dallas, Texas, metro area. For more information, visit eu.mouser.com