25. august 2021
The Latest News from Mouser Electronics
Mouser Electronics, Inc. is focused on supplying 100% certified, genuine products for electronic design engineers and buyers from its manufacturing partners. Mouser introduces hundreds of new products each month and supports innovation by supplying engineers with the newest products, technologies and resources.
The news highlights from Mouser this week are:
New eBook – 'Industry 4.0 and Beyond' Written in Collaboration with Analog Devices
Industry 4.0 and Beyond, the new eBook from Mouser and Analog Devices, explores the technological innovations and wide-reaching applications of Industry 4.0. In the eBook, technical experts from Analog Devices offer insightful perspectives on industrial connectivity, condition monitoring, software-configurable hardware, factory security, and robotics and machine tool applications. It also offers multiple embedded videos, providing an added layer of valuable instructional content.
Full press release here: https://eu.mouser.com/newsroom/publicrelations-adi-industry-4-0-beyond-ebook-2021final/
New Supplier– Global Distribution Agreement with Kaga Electronics
The new global distribution agreement with Kaga Electronics offers Mouser customers FURUNO multi-GNSS devices. The devices feature the new Dynamic Satellite Selection™ algorithm developed by NTT that minimises deterioration of time synchronisation performance by choosing only the high-quality satellite signals. The FURUNO multi-GNSS devices are ideal for communications and broadcasting applications, including single satellite tracking and multipath mitigation.
Full press release here: https://eu.mouser.com/newsroom/publicrelations-kaga-electronics-newmanufacturer-2021final/
New Product – NXP's i.MX RT106S Crossover Processor for Embedded Local Voice Assistant Applications
Now available at Mouser, the NXP i.MX RT106S processor is part of the EdgeVerse™ edge computing platform. Featuring an advanced implementation of the Arm® Cortex®-M7 core, the processor offers the high CPU performance and real-time response required for embedded local voice assistant applications, as well as Internet of Things, smart industrial, and smart appliance applications. Mouser also stocks the NXP SLN-LOCAL2-IOT Solution – a cost-optimised reference design and production-ready software development kit to support designers who want to quickly and easily add voice assistant capabilities to new product designs.
Full press release here: https://eu.mouser.com/newsroom/publicrelations-nxp-imx-rt106s-2021final/
New Stock – ScioSense AS6040 Ultra-Low-Power Ultrasonic Flow Metre
The AS6040 ultrasonic flow metre from ScioSense is designed for industrial and residential gas metres, and also is suitable for water metres. Mouser also stocks the AS6031 ultrasonic flow metre, which combines precise measurement and complex flow calculation to simplify the design of next-generation ultrasonic water and heat metres. The AS6040 and AS6031 metres are supported by the AS6040 development tool and AS6031 development tool, respectively.
Full press release here: https://eu.mouser.com/newsroom/publicrelations-sciosense-as6040-2021final/
New Site – New Site Focuses on Wireless Solutions from STMicroelectronics
A new resource site devoted to the newest resources, products, and technical insights from STMicroelectronics (ST) for engineers working in the wireless space has been created in partnership with ST. The site offers a comprehensive archive of technical articles, eBooks, and videos, demonstrating ST's leadership in many of the most challenging applications of wireless design.
Designers and engineers can access the platform by visiting https://st.mouser.com/wireless/.
Full press release here: https://eu.mouser.com/newsroom/publicrelations-st-wireless-content-stream-2021final/
To see more new products and Mouser news, go to https://eu.mouser.com/pressroom/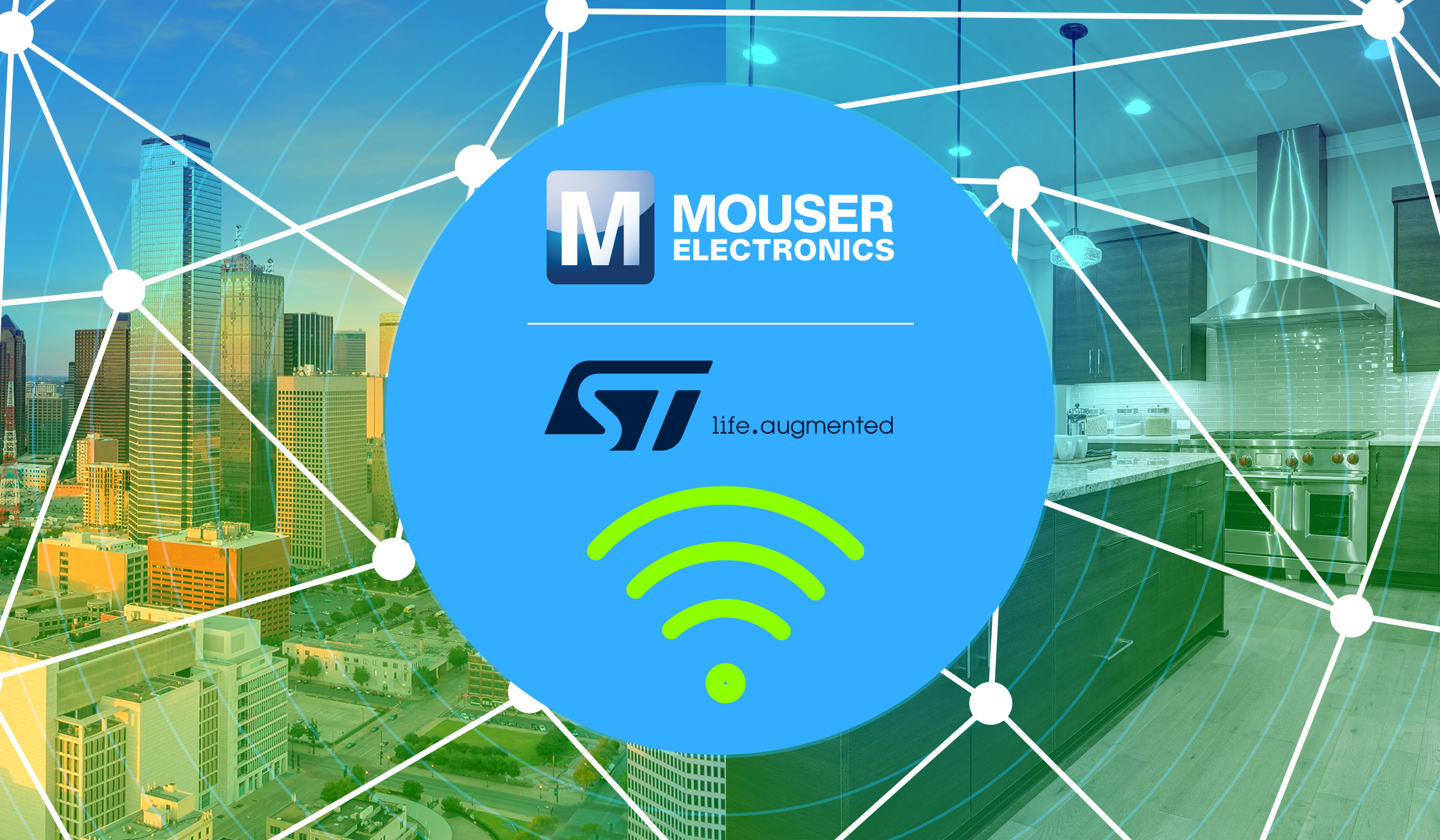 About Mouser Electronics
Mouser Electronics, a Berkshire Hathaway company, is an authorised semiconductor and electronic component distributor focused on New Product Introductions from its leading manufacturer partners. Serving the global electronic design engineer and buyer community, the global distributor's website, mouser.com, is available in multiple languages and currencies and features more than 5 million products from over 1,100 manufacturer brands. Mouser offers 27 support locations worldwide to provide best-in-class customer service in local language, currency and time zone. The distributor ships to over 630,000 customers in 223 countries/territories from its 1 million-square-foot, state-of-the-art distribution facilities in the Dallas, Texas, metro area. For more information, visit http://www.mouser.com.