11. august 2021
The Latest News from Mouser Electronics
Mouser Electronics, Inc. is focused on supplying 100% certified, genuine products from its manufacturing partners for electronic design engineers and buyers. Mouser introduces hundreds of new products each month and supports innovation by supplying engineers with the newest products, technologies and resources.
The news highlights from Mouser this week are:
New Award – TDK honours Mouser with European Distribution award
Mouser has received the TDK European Distribution Award for the third time from TDK, a world leader in electronic components and solutions. The Gold distribution award recognises Mouser's 2020 performance based on inventory management, operational excellence, terms, and business performance. Mouser previously won the award in 2019 and 2017.
Full press release here: https://www.mouser.com/newsroom/publicrelations-tdk-awards-2021final/
New Issue – Latest issue of Methods journal looks at understanding AI
Understanding AI is the latest issue of Methods Technology and Solutions Journal, the second issue of volume four. Understanding AI offers a series of perspectives on the issues surrounding artificial intelligence (AI) and machine learning (ML), as well as their implications for a variety of industries and applications. Subject Matter Experts explore the technical aspects of ethical and safety challenges of designing AI solutions.
Full press release here: https://www.mouser.com/newsroom/publicrelations-methods-v4i2-ai-2021final/
New Supplier – Mouser and Fingerprint Cards announce global agreement
Mouser has signed a global distribution agreement with Fingerprint Cards (Fingerprints), a world-leading biometrics company. Through the agreement, Mouser will offer customers Fingerprints' BM-Lite module, a complete biometric fingerprint solution, and its development kit to help engineers design biometric access devices.
Full press release here: https://www.mouser.com/newsroom/publicrelations-fingerprint-cards-newmanufacturer-2021final/
New Stock – Automotive motor control solutions
Mouser is stocking a wide selection automotive motor control solutions from Infineon Technologies. The demand for smart, electrically controlled motors is increasing as the number of motors used in cars grows steadily. Infineon is constantly expanding its portfolio of semiconductors for smart, state-of-the-art DC and brushless DC (BLDC) motor control applications. The portfolio available from Mouser includes intelligent motor control ICs, MCUs, sensors, transceivers, and supply products.
Full press release here: https://www.mouser.com/newsroom/infineon-automotive-motor-control-solutions/
New Award – Mouser receives Outstanding Performance award
Neutrik USA, the leading provider of professional audio, video, and lighting connector systems, has recognised Mouser with its Outstanding Performance Award for 2020. Mouser received the award based on Neutrik's rigorous criteria, including overall sales performance, strong business relationships, on-time delivery, and quality of inventory.
Full press release here: https://www.mouser.com/newsroom/publicrelations-neutrik-outstanding-performance-award-2021final/
New Product – Mouser now shipping new Mixed-Signal Front-Ends from Analog Devices
The AD9081 and AD9082 MxFE™ (Mixed-Signal Front-End) devices from Analog Devices, Inc., are versatile RF converter platforms combining high-performance analogue and digital signal processing. Applications include 4G LTE and 5G millimetre-wave (mmWave) radios, as well as phased array radar systems and electronic defence systems.
Full press release here: https://www.mouser.com/newsroom/publicrelations-analog-devices-ad9081-ad9082-mxfe-2021final/
To see more new products and Mouser news, go to https://eu.mouser.com/pressroom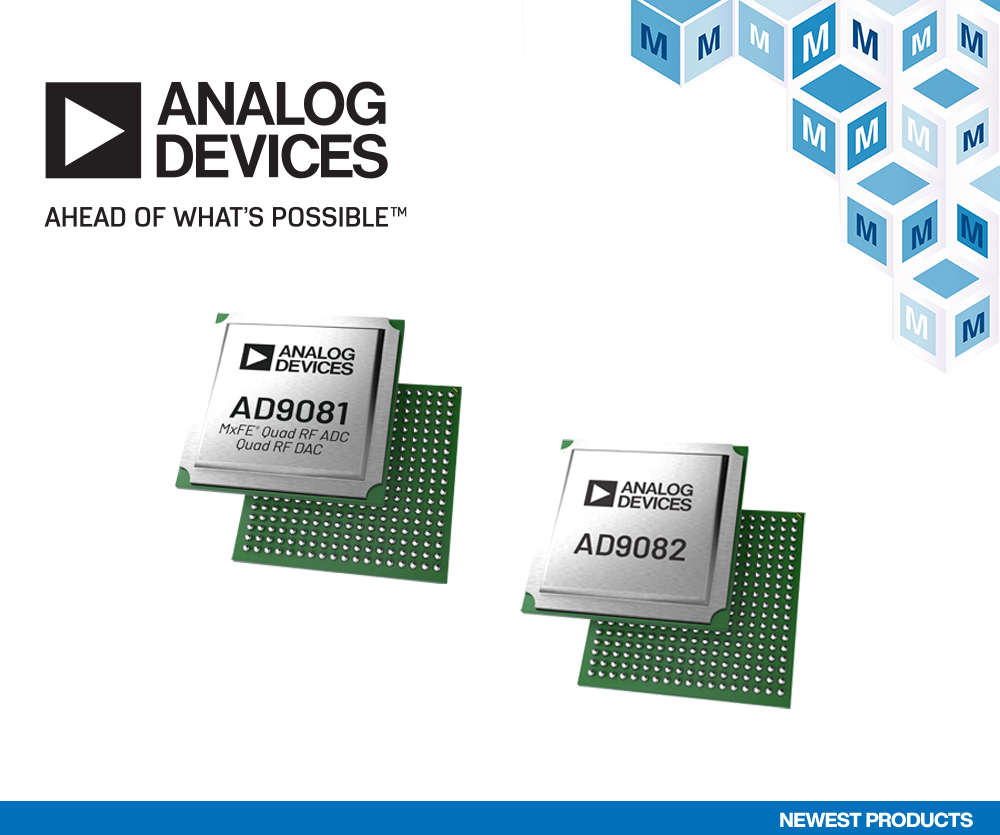 About Mouser Electronics
Mouser Electronics, a Berkshire Hathaway company, is an authorised semiconductor and electronic component distributor focused on New Product Introductions from its leading manufacturer partners. Serving the global electronic design engineer and buyer community, the global distributor's website, mouser.com, is available in multiple languages and currencies and features more than 5 million products from over 1,100 manufacturer brands. Mouser offers 27 support locations worldwide to provide best-in-class customer service in local language, currency and time zone. The distributor ships to over 630,000 customers in 223 countries/territories from its 1 million-square-foot, state-of-the-art distribution facilities in the Dallas, Texas, metro area. For more information, visit http://www.mouser.com.