10. maj 2021
The Latest News from Mouser Electronics
Mouser Electronics, Inc. is focused on supplying 100% certified, genuine products from its manufacturing partners for electronic design engineers and buyers. Mouser introduces hundreds of new products each month and supports innovation by supplying engineers with the newest products, technologies and resources.
The news highlights from Mouser this week are:
New Record – Mouser adds 31 new manufacturers in Q1 2021
Mouser has bolstered its industry-leading line card by adding 31 new manufacturers in the first three months of 2021. Over half of the new manufacturers are in the embedded space, as Mouser continues to expand its IoT offerings. New manufacturers include Acconeer, MultiTech and QuickLogic.
Full press release here: https://eu.mouser.com/publicrelations_q1_new_manufacturers_2021final/
New Product – Highly integrated UWB module from Qorvo
The DWM3000 is an ultra-wideband (UWB) RF module from Qorvo designed to support many applications, from asset tracking to automation. The module integrates the transceiver IC and crystal, a cremic antenna and power management. It provides worldwide UWB support along with Time-of-Flight and Time Difference of Arrival (TDoA) location schemes for navigation and tracking.
Full press release here: https://eu.mouser.com/publicrelations_qorvo_dwm3000_2021final/
New Product – New ADC for imaging and radar applications
Now at Mouser, the AD9083 from Analog Devices Inc., is an ADC with 16 channels supporting signal bandwidths up to 125 MHz. An integrated DSP with features including a multistage decimation finite input response filter means it can be used in applications such as phased array radar and image mmWave imaging. Flexible power-down modes help keep system power low.
Full press release here: https://eu.mouser.com/publicrelations_analogdevices_ad9083_2021final/
New Product – Mouse now shipping Easy-On FFC/FPC infotainment connectors
The Easy-On One-Touch flexible flat-cable (FFC) and flexible printed circuit (FPC) connectors from Molex feature single-step mating with an auto-pin-lock mechanism and large, visible release button for unmating. The connectors are ideal for automotive and IoT infotainment system, assembly automation, PCB serves, smart appliances, and LED/OLED displays.
Full press release here: https://eu.mouser.com/publicrelations_molex_easy-on_ffc_fpc_one-touch_2021final/
To see more new products and Mouser news, go to https://eu.mouser.com/pressroom/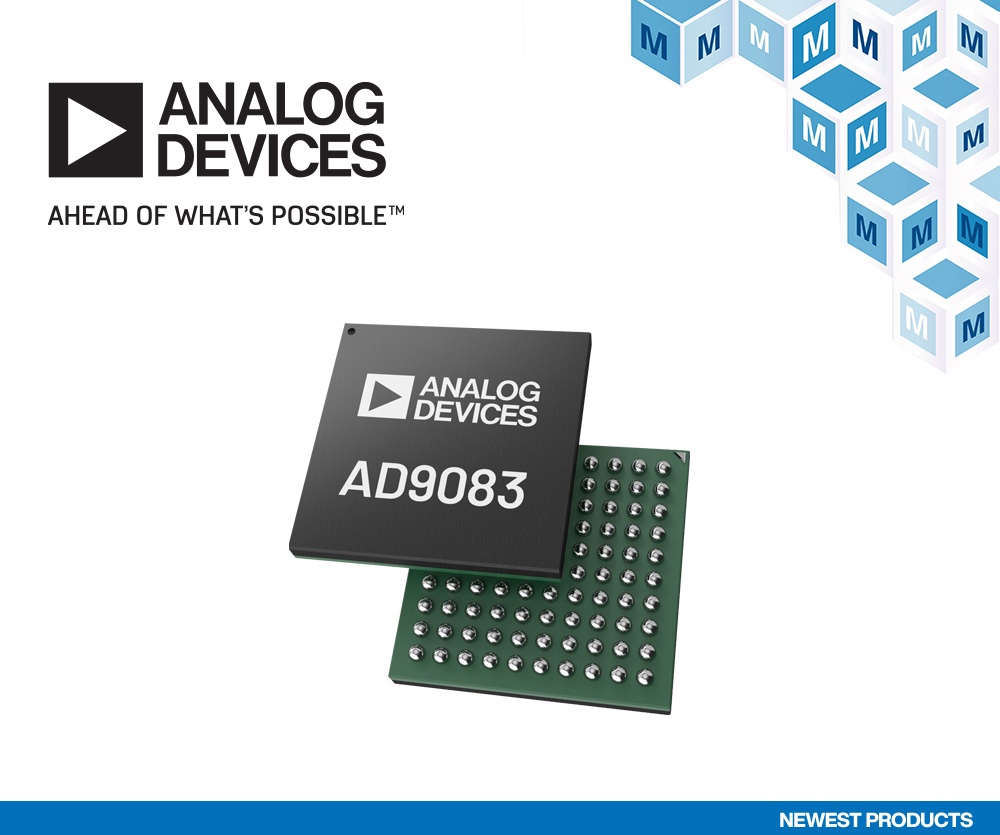 About Mouser Electronics
Mouser Electronics, a Berkshire Hathaway company, is an authorised semiconductor and electronic component distributor focused on New Product Introductions from its leading manufacturer partners. Serving the global electronic design engineer and buyer community, the global distributor's website, mouser.com, is available in multiple languages and currencies and features more than 5 million products from over 1,100 manufacturer brands. Mouser offers 27 support locations worldwide to provide best-in-class customer service in local language, currency and time zone. The distributor ships to over 630,000 customers in 223 countries/territories from its 1 million-square-foot, state-of-the-art distribution facilities in the Dallas, Texas, metro area. For more information, visit eu.mouser.com.