8. marts 2021
The Latest News from Mouser Electronics
Mouser Electronics, Inc. is focused on supplying 100% certified, genuine products from its manufacturing partners for electronic design engineers and buyers. Mouser introduces hundreds of new products each month and supports innovation by supplying engineers with the newest products, technologies and resources.
The news highlights from Mouser this week are:
New Product – Mouser now stocking Vital Sign Sensors from ams
The AS7038xB Vital Sign Sensors and the AS7030B Vital Sign Sensor Module from ams are suitable for medical wearables and remote diagnostic equipment used for capturing vital signs, such as blood oxygen levels (Sp02) and heart activity. The sensors provide heart rate monitoring (HRM) through photoplethysmography (PPG) and electrocardiogram (ECG) methods. The AS7038RB is the industry's thinnest dedicated sensor for Sp02 measurement, while the AS7038GB is tuned for HRM and heart rate variability (HRV) measurements.
Full press release here: https://eu.mouser.com/publicrelations_ams_as7038xb_as7030_2021final/
The highly integrated, minuscule BL653µ modules from Laird Connectivity are ideal for harsh environments and space-constrained applications, delivering long-range Bluetooth Low Energy with NFC. The devices' multi-wireless capabilities address a range of Internet of Things (IoT) applications, including secure medical peripherals, professional lighting and industrial IoT sensors.
Full press release here: https://eu.mouser.com/publicrelations_lairdconnectivity_bl653%C2%B5_2021final/
New eBook – Single-Chip Adaptable Radio Platforms
Produced as a combined effort with Xilinx Inc., the eBook Programmable Single-Chip Adaptable Radio Platforms brings together expert engineers from Mouser and Xilinx with a series of in-depth articles and videos on the nuances of working with adaptive computing technologies. The eBook also highlights the Zync® UltraScale+™ RFSoC, the only single-chip adaptable radio platform extended to full sub-6GHz support.
Full press release here: https://eu.mouser.com/publicrelations_xilinx_singlechipradio_ebook_2021final/
New eBook – Smart Transportation Solutions
The new eBook, Smart Mobility and the Technologies Paving the Way, has been produced in collaboration with NXP Semiconductors and explores strategies for enabling safe, secure and efficient mobility in cities through new technologies. It includes the perspectives of NXP's subject matter experts on secure identification and authentication solutions for intelligent transportation systems. It also includes the latest information on related products, such as the i.MX 8QuadMax Multisensory Enablement Kit (MEK) and NXP's S32V234 vision and sensor fusion processor.
Full press release here: https://eu.mouser.com/publicrelations_nxp_smart_transportation_ebook_2021final/
New Sponsorship – Mouser Sponsors Student Groups in EMEA
Mouser has a long track record of supporting education and students — including the offering of products such as development kits, components and software tools to groups throughout  Europe. Among the high-profile projects that Mouser is currently supporting are two with WueSpace e.V., a team of highly inventive aerospace students located at the Julius-Maximilians-University Würzburg in Germany.
Full press release here:
https://eu.mouser.com/educationalsales-emea/.
To see more new products and Mouser news, go to https://eu.mouser.com/pressroom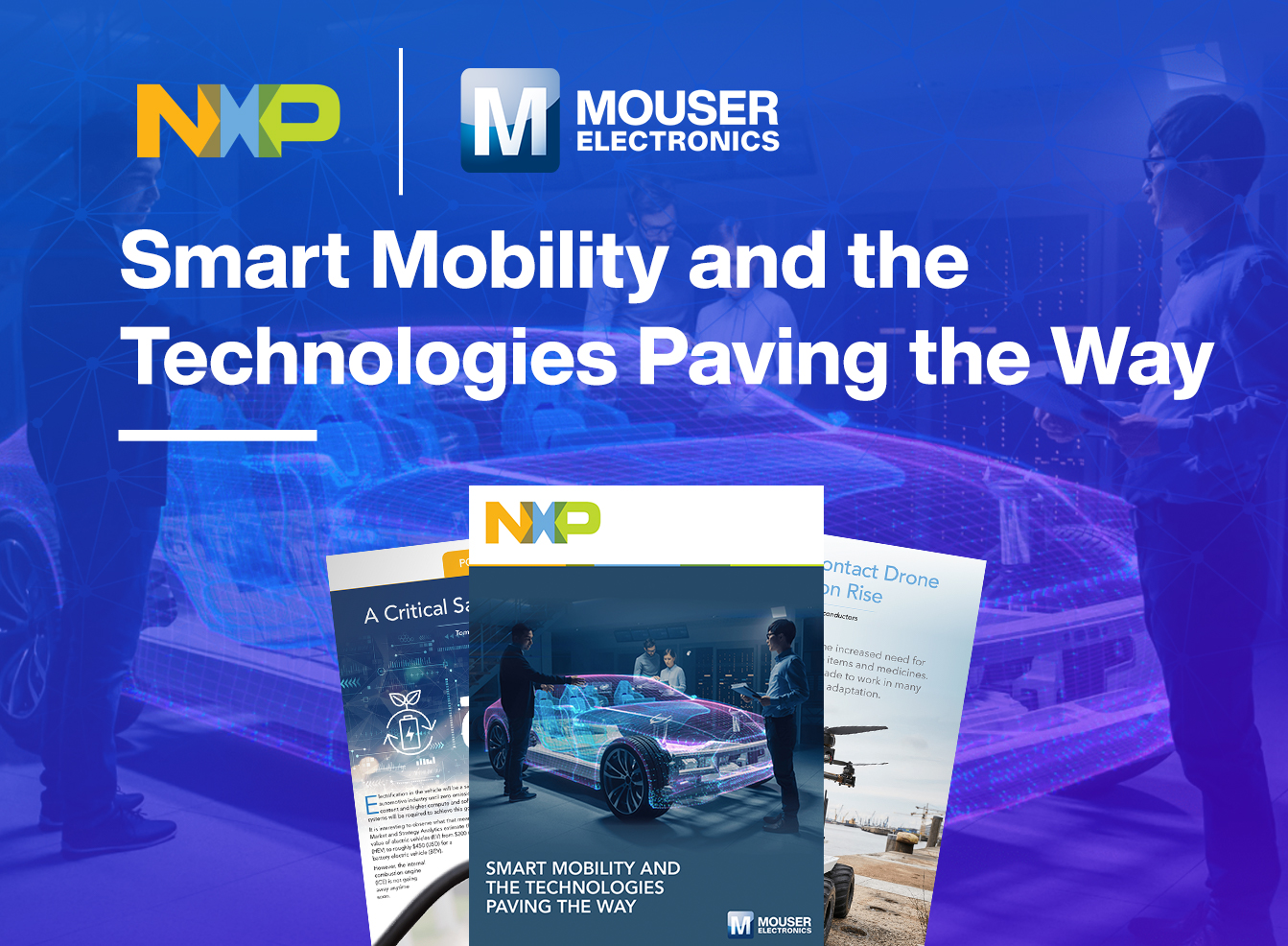 About Mouser Electronics
Mouser Electronics, a Berkshire Hathaway company, is an authorised semiconductor and electronic component distributor focused on New Product Introductions from its leading manufacturer partners. Serving the global electronic design engineer and buyer community, the global distributor's website, mouser.com, is available in multiple languages and currencies and features more than 5 million products from over 1,100 manufacturer brands. Mouser offers 27 support locations worldwide to provide best-in-class customer service in local language, currency and time zone. The distributor ships to over 630,000 customers in 223 countries/territories from its 1 million-square-foot, state-of-the-art distribution facilities in the Dallas, Texas, metro area. For more information, visit http://www.mouser.com.