29. august 2023
The Latest News from Mouser Electronics
Mouser Electronics, Inc. is focused on supplying 100% certified, genuine products from its manufacturing partners for electronic design engineers and buyers. Mouser introduces hundreds of new products each month and supports innovation by supplying engineers with the newest products, technologies and resources.
The news highlights from Mouser this week are:
New Product – Mouser Now Shipping Renesas Electronics' RA4E2 Microcontrollers for Low-Memory Applications Requiring High-Speed Performance
Mouser is now stocking the RA4E2 microcontrollers (MCUs) from Renesas Electronics. Featuring a 100 MHz Arm® Cortex®-M33 core, the RA4E2 MCUs offer an entry-level solution for the design of low-memory, low-pin count, small package applications. The RA4E2 MCUs deliver high-speed performance for applications including smart home devices, consumer electronics, medical devices, and industrial sensor networks. The microcontrollers feature a robust range of peripherals, including a 12-bit analogue-to-digital converter, a general PWM timer, USB FS device, SCI, SPI, I3C, SSI, CANFD, and HDMI-CEC. The MCUs are compatible with the Open Arm ecosystem, while the devices' easy-to-use flexible software package supports easy development and migration for a range of designs and applications. These devices include 128 Kbytes code Flash memory, 40 KBytes SRAM, and 4 KBytes data flash. These MCUs are supported by the RA4E2 evaluation kits. The evaluation kits enable users to seamlessly evaluate the features of the RA4E2 MCU group and develop embedded systems applications using the flexible software package and e2 studio integrated development environment (IDE).
Full press release here: https://eu.mouser.com/newsroom/publicrelations-renesas-ra4e2-mcu-2023final/
Final Results – Mouser-Backed DS PENSKE Formula E Racing Team Wraps-Up Another Thrilling Season
Mouser congratulates drivers Jean-Éric Vergne, Stoffel Vandoorne and the DS PENSKE Formula E racing team for finishing in fifth place overall in the 2023 ABB FIA Formula E World Championship with 163 points. Vergne also finished fifth in the driver's standings with 107 points. During the season, Vergne scored three podium finishes and one first-place win. Vandoorne finished eleventh with 56 points. This season also saw the DS PENSKE Formula E racing team earn the FIA Three-Star Environmental Accreditation. By awarding the team the three-star accolade, FIA recognises that they demonstrate best practices and the commitment to seek continual improvement through implementing an environmental management system. Formula E is an international, fully electric street racing series. Mouser is proud to have once again teamed up with Molex, KYOCERA AVX and TTI, Inc. to sponsor DS PENSKE and to promote innovative technologies. The inaugural race of Season 10 will take place in Mexico City, Mexico, on January 13, 2024.
Full press release here: https://eu.mouser.com/newsroom/publicrelations-formula-e-season-recap-2023final/
New Product – Mouser Now Shipping ams OSRAM SPL S1L90H 1-Channel SMT Laser for Industrial LIDAR and Ranging Applications
Mouser is now stocking the SPL S1L90H 1-channel SMT laser from ams OSRAM. The SPL S1L90H SMT laser gives engineers improved performance and easier optical integration for long-distance industrial ranging and LIDAR applications, such as drones and robots, as well as building and industrial automation. The SPL S1L90H is a versatile, small aperture, edge-emitting laser (EEL) in a surface-mount (SMT) package with advanced chip technology. It features the highest peak power (65 W) and average power in the small package class. The device is one of the first surface-mount, edge-emitting lasers to have a 110 µm aperture, enabling a very narrow beam. This device features ams OSRAM's multi-junction technology, consisting of three vertically stacked emitters in a single laser die mounted inside the device's quad flat no-lead (QFN) package. This technology results in better target area illumination at long-range distance measurement, 3D optical sensing, and simultaneous localisation and mapping (SLAM) applications. The SPL S1L90H's optimised, power-efficient pulsed laser enables a maximum pulse width of 50 ns and is suitable for pulses shorter than 2 ns.
Full press release here: https://eu.mouser.com/newsroom/publicrelations-ams-osram-spl-s1l90h-laser-2023final/
To see more new products and Mouser news, go to https://eu.mouser.com/pressroom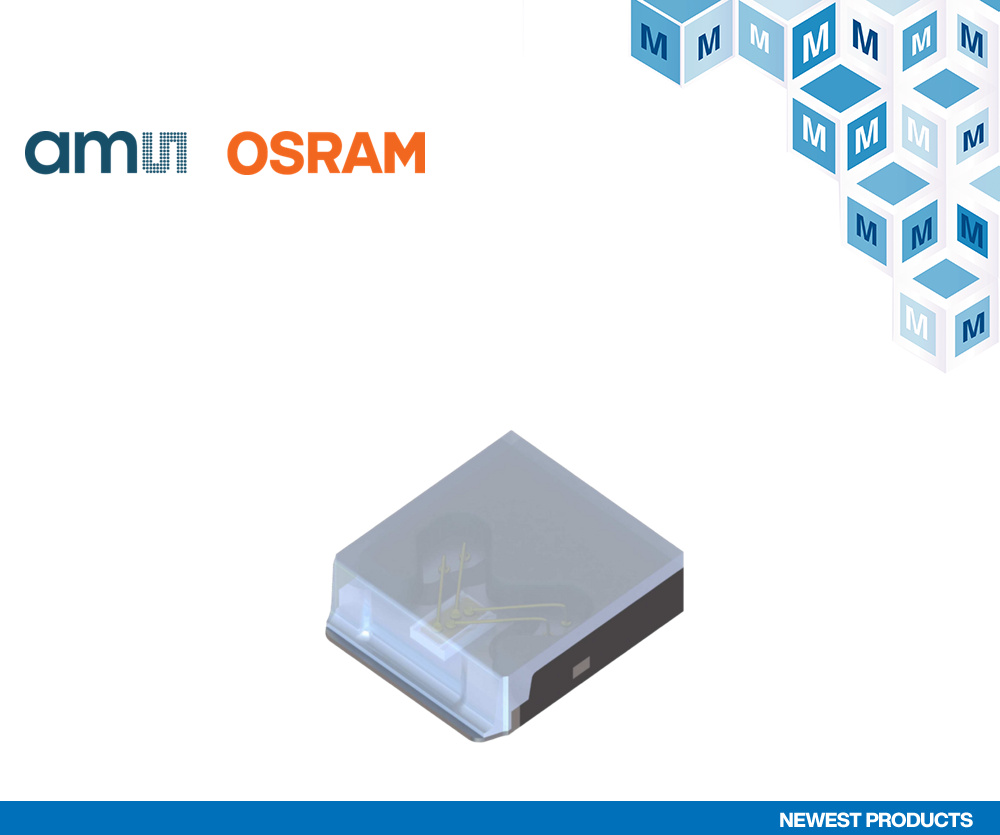 As a global authorised distributor, Mouser offers the world's widest selection of the newest semiconductors and electronic components — in stock and ready to ship™. Mouser's customers can expect 100% certified, genuine products that are fully traceable from each of its manufacturer partners. To help speed customers' designs, Mouser's website hosts an extensive library of technical resources, including a Technical Resource Centre, along with product data sheets, supplier-specific reference designs, application notes, technical design information, engineering tools and other helpful information.
About Mouser Electronics
Mouser Electronics, a Berkshire Hathaway company, is an authorised semiconductor and electronic component distributor focused on New Product Introductions from its leading manufacturer partners. Serving the global electronic design engineer and buyer community, the global distributor's website, mouser.com, is available in multiple languages and currencies and features more than 6,8 million products from over 1.200 manufacturer brands. Mouser offers 27 support locations worldwide to provide best-in-class customer service in local language, currency and time zone. The distributor ships to over 650.000 customers in 223 countries/territories from its 93.000 square-meter, state-of-the-art facilities in the Dallas, Texas, metro area. For more information, visit https://www.mouser.com/.