31. maj 2023
The Latest News from Mouser Electronics
Mouser Electronics, Inc. is focused on supplying 100% certified, genuine products from its manufacturing partners for electronic design engineers and buyers. Mouser introduces hundreds of new products each month and supports innovation by supplying engineers with the newest products, technologies and resources.
The news highlights from Mouser this week are:
New Product – Mouser Now Shipping the Microchip Technology WBZ451 Curiosity Board for Prototyping Wireless Applications
Mouser is now stocking the WBZ451 Curiosity Board from Microchip Technology. The WBZ451 Curiosity Board provides engineers with an efficient and versatile development platform for prototyping wireless lighting, industrial automation, smart home and Internet of Things (IoT) applications. The WBZ451 is designed for prototyping and demonstrating the capabilities of Microchip's WBZ451PE Bluetooth® Low Energy and Zigbee® RF module. The WBZ451PE module is integrated into the board, and its signals are easily accessible through the onboard features. The Curiosity Board comes preconfigured with an out-of-the-box, multi-protocol demo application with a temperature sensor, a current measurement header and an RGB LED. This product offers integrated programming and debugging features using the PICkit™ Onboard 4 (PKOB4) debugger interface and requires only a micro-USB cable to power up and program the board. The Curiosity Board also includes a mikroBUS™ Click™ header, which helps users to expand functionalities by connecting to various MikroElectronika, mikroBUS™ click boards™.
Full press release here: https://eu.mouser.com/newsroom/publicrelations-microchip-wbz451-curiosity-2023final/
New eBook – Mouser and Texas Instruments Offer Guide to Navigate the Future of Urban Air Mobility in New eBook
Mouser has launched a new eBook in collaboration with Texas Instruments, to explore the latest challenges facing the next generation of air transportation and to discuss the best ways for designers to overcome them. The prospect of safe, convenient and efficient urban air transport offers an exciting look into the future. The chance to reduce road traffic and travel by air would save commuters' time and cut down on urban carbon emissions. However, in order to guarantee the successful long-term future of UAM vehicles, safety and a positive public perception will be of vital importance. In Addressing New Challenges in Urban Air Mobility, a range of eight industry experts offer their insights about the rapidly developing trend for electric Urban Air Mobility (UAM) vehicles. The five chapters of the eBook cover a glimpse into the future of UAM vehicles, the latest challenges facing the industry, how to ensure functional safety, the importance of electrical isolation and managing UAM complexity and weight. The eBook features quick links to help designers improve functional safety, electrical isolation and battery management systems for UAM vehicles. They include cutting-edge components from Texas Instruments, such as the UCC14240-Q1 Evaluation Module, the TVS3300 ESD Suppressor and the THVD8010 and THVD8000 Transceivers.
Full press release here: https://eu.mouser.com/newsroom/publicrelations-ti-urban-air-mobility-ebook-en-2023final/
New Product – Mouser Now Shipping Melexis' MLX9042x Triaxis 3D Magnetic Position Sensing Solutions for Demanding Automotive Applications
Mouser is now stocking the MLX90421 Triaxis® 3D magnetic position sensing solution from Melexis, part of the MLX9042x series of position sensors. Designed for demanding automotive applications, the MLX9042x position sensors deliver reliable performance in harsh environments. The sensors support a wide range of automotive needs, including pedal position sensors, throttle position sensors, transmission position sensors and steering wheel position sensors. The MLX90421 features ASIL-B functional safety and improved electromagnetic compatibility (EMC). The sensor supports radiometric analogue and PWM output modes. The MLX90422 Triaxis magnetic position sensor features a robust operating temperature range of -40°C to +160°C. This sensor supports the SENT (SAE J2716) output mode and achieves absolute position sensing with on-chip signal processing. The MLX90425 Triaxis 360° Rotary Position Sensor with stray field immunity measures absolute position safely and accurately in harsh and noisy environments. The MLX90425 device offers a programmable measurement range and supports radiometric analogue and PWM output modes. The MLX9046 Triaxis 360° rotary position sensors are available in either a SOIC-8 (DC) single die or an SMP-3 (VE), dual die PCB-less package. The MLX9046 sensor supports both industrial and automotive applications, including powertrain actuators, transmission systems and fuel level gauges.
Full press release here: https://eu.mouser.com/newsroom/publicrelations-melexis-mlx90421-sensors-2023final/
New Product – Mouser Now Shipping GaN Systems GS-065-060 Automotive Transistors, Providing High-Efficiency Power Switching
Mouser is now stocking the GS-065-060 650 V automotive E-Mode gallium nitride (GaN) transistors from GaN Systems. Available in top-cooled and bottom-cooled packages, the GS-065-060 650 V transistors feature an Island Technology cell layout for high current die and high yield. These transistors deliver low junction-to-case thermal resistance and high-efficiency power switching, offering a reliable solution for on-board chargers, DC-DC converters, solar inverters, and industrial motor drives. The GS-065-060 transistors are 650V enhancement mode power transistors with simple gate drive requirements ranging from 0 V to 6 V. The transistors boast a high switching frequency of more than 10 MHz, while delivering fast and controllable fall and rise times. These products feature GaNPX® packaging for low inductance and low thermal resistance. The transistors also offer reverse conduction capabilities and zero reverse recovery loss, delivering efficient performance for demanding, high-power applications. The GS-065-060 feature dual gate pads for optimal board layout and are RoHS 3-compliant.
Full press release here: https://eu.mouser.com/newsroom/publicrelations-gan-systems-650v-transistors-2023final/
To see more new products and Mouser news, go to https://eu.mouser.com/pressroom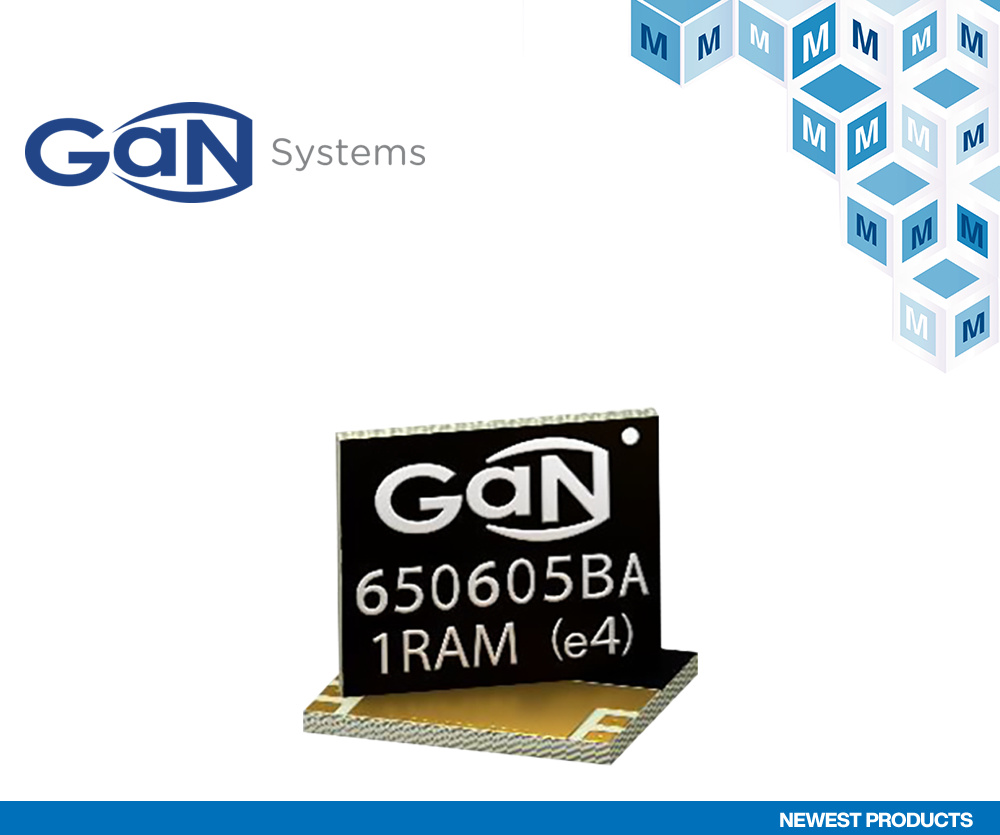 About Mouser Electronics
Mouser Electronics, a Berkshire Hathaway company, is an authorised semiconductor and electronic component distributor focused on New Product Introductions from its leading manufacturer partners. Serving the global electronic design engineer and buyer community, the global distributor's website, mouser.com, is available in multiple languages and currencies and features more than 6.8 million products from over 1,200 manufacturer brands. Mouser offers 27 support locations worldwide to provide best-in-class customer service in local language, currency and time zone. The distributor ships to over 650,000 customers in 223 countries/territories from its 1 million-square-foot, state-of-the-art distribution facilities in the Dallas, Texas, metro area. For more information, visit https://www.mouser.com/.