24. maj 2023
The Latest News from Mouser Electronics
Mouser Electronics, Inc. is focused on supplying 100% certified, genuine products from its manufacturing partners for electronic design engineers and buyers. Mouser introduces hundreds of new products each month and supports innovation by supplying engineers with the newest products, technologies and resources.
The news highlights from Mouser this week are:
New Award – Mouser Earns 2022 Global Performance of the Year Award from Harwin
Mouser is pleased to announce that it has been awarded the 2022 Global Performance of the Year Award from Harwin, a world leader in the manufacture of interconnect components. Harwin cited Mouser's continued expansion of the Harwin customer base, combined with impressive sales growth figures as basis for the award. Alongside this, Mouser has carried out marketing engagement activities, covering widespread promotion through e-newsletters and online advertising, plus the creation of highly informative technical and multimedia content. Other key factors that have been instrumental in gaining this accolade are the speed with which new product introductions (NPIs) are launched and the major commitments made to inventory. The latest Harwin product lines are quickly added to Mouser stock, then widely promoted to customers. Previously, Harwin recognised Mouser with the Global Sales Achievement Award in 2020 and awarded Jeri Hull, Supplier Manager at Mouser, with their 5 Star Award for her exceptional work launching the latest Harwin new product introductions (NPIs).
Full press release here: https://eu.mouser.com/newsroom/publicrelations-harwin-global-performance-award-2023final/
New Product – Mouser Now Stocking Connected Development XCVR Development Board, Simplifying Wireless IoT Design
Mouser is now stocking the XCVR development board and reference design from Connected Development. Based on the LoRa® SX126x Sub-GHz radio transceiver from Semtech, the XCVR development board and reference design simplifies the design process and reduces time-to-market for customers designing solutions in markets such as building management, smart agriculture, supply chain, logistics and industrial control. Connected Development's comprehensive layout and schematic files for the XCVR Development Board provide customers with convenient LoRa implementation into end-product designs. Software drivers are supplied with the design and are compatible with various microcontroller vendors, including Nordic Semiconductor. The XCVR's software drivers include various things such as LoRa Point to Point and LoRaWAN® (LoRaMAC-Node™ and LoRa Basics™ Modem) to enable rapid software development.
Full press release here: https://eu.mouser.com/newsroom/publicrelations-xcvr-development-board-2023final/
New Honour – Mouser Honours President & CEO Glenn Smith on 50-Year Anniversary with the Company
Mouser is pleased to announce the 50th service anniversary of Mouser President and Chief Executive Officer Glenn Smith, who continues to impress with his dedication to the company, employees and the industry. Since joining the company in 1973, Smith has helped to build Mouser into the top-10 component distribution giant that it is today, with 27 offices around the globe, serving over 650,000 customers and distributing products from over 1,200 manufacturer partners. Mouser's central hub is the company's global headquarters and distribution centre in Mansfield, Texas. Smith is quick to attribute Mouser's success to the hard work of innumerable people. Throughout the years, Mouser and Smith have won many industry and local awards. Smith's commitment to the electronics component industry earned him the 2011 Distinguished Service Award from the Electronic Component Industry Association, at which Smith served on the board of directors. In 2012, Mouser received an Employer of Excellence Award for Tarrant County for significant economic and community impact on North Texas. In 2019, Smith was named Top Public CEO by the Fort Worth Business Press. Mouser also won a 2014 Large Business of the Year Award and a 2021 Best Places to Work Award.
Full press release here: https://eu.mouser.com/newsroom/publicrelations-glenn-smith-50-anniversary-2023/
New Product – Mouser Now Shipping the Murata Type 2BZ Wi-Fi + Bluetooth Module for IoT and Handheld Wireless Applications
Mouser is now stocking the Type 2BZ Wi-Fi® + Bluetooth® module (LBEE5XV2BZ) from Murata. The Type 2BZ Wi-Fi + Bluetooth module provides engineers with a dual-band, small form-factor wireless connectivity solution for power-sensitive applications like the Internet of Things (IoT), handheld wireless, gateways, Smart Home and industrial applications, to name a few. The Type 2BZ module is a small, high-performance wireless connectivity module based on the Infineon CYW54590 combo chipset. Featuring highly sophisticated, enhanced collaborative co-existence hardware mechanisms and algorithms, this module ensures that wireless local area network (WLAN) and Bluetooth collaboration is optimised for maximum performance, with up to 866 Mbps PHY (physical) data rate on Wi-Fi and 3 Mbps PHY data rate on Bluetooth. The module's WLAN section supports secure digital input output (SDIO) v3.0 interface, while the Bluetooth section supports a high-speed 4-wire universal asynchronous receiver/transmitter (UART) interface and pulse-code modulation (PCM) for audio data. In IEEE 802.11ac mode, the WLAN operation provides rates up to 256 quadrature amplitude modulation (QAM) in 20 MHz, 40 MHz, and 80 MHz channels, supporting Wi-Fi 802.11a/b/g/n/ac with 2×2 multiple input multiple output (MIMO) + 5.2 BR/EDR/LE (Bluetooth basic rate/enhanced data rate/low energy).
Full press release here: https://eu.mouser.com/newsroom/publicrelations-murata-type2bz-module-2023final/
New Product – Mouser Now Stocking STMicroelectronics' LIS2DUX12 and LIS2DUXS12 Smart Accelerometers, Increasing Efficiency for Wearables
Mouser is now stocking the LIS2DUX12 and LIS2DUXS12 AI-enhanced smart accelerometers from STMicroelectronics. Leveraging STMicroelectronics' third-generation MEMS technology, the accelerometers accurately detect events and gestures with high accuracy and low power consumption. The LIS2DUX12 smart accelerometer is a smart, digital, 3-axis linear accelerometer. The LIS2DUX12 MEMS and ASIC combine low current consumption with always-on anti-aliasing filtering and a finite state machine. The highly versatile accelerometer includes four performance modes. The LIS2DUXS12 smart accelerometer includes STMicroelectronics' unique Qvar® sensing channel and analogue hub, which senses changes in the ambient electrostatic environment to enable presence and proximity detection. The Qvar sensing channel allows developers to add value to applications, including liquid detection, biometric sensing, and user-interface control. These new smart accelerometers support a range of "always-aware" applications, including wearable devices, game controllers, portable healthcare devices, asset trackers, and wireless sensor nodes. These AI-enhanced devices also include a machine learning core with adaptive self-configuration, offloading host processing and enabling faster system responses.
Full press release here: https://eu.mouser.com/newsroom/publicrelations-stm-lis2dux12-lis2duxs12-accelerometers-2023final/
To see more new products and Mouser news, go to https://eu.mouser.com/pressroom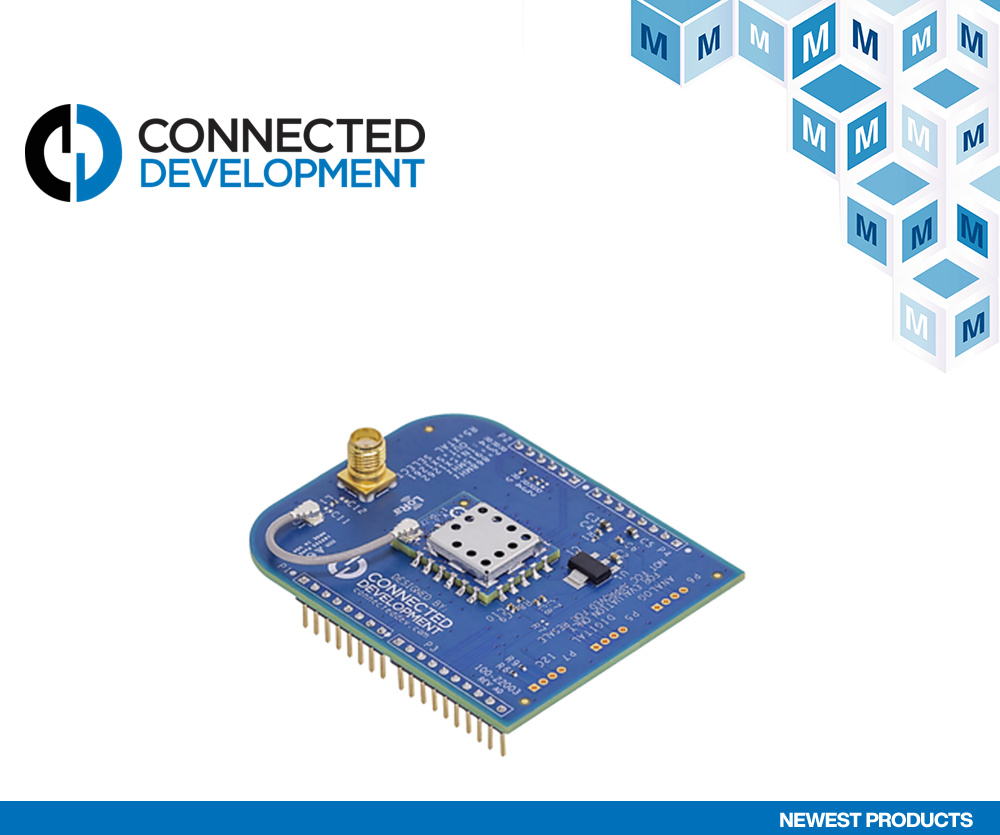 About Mouser Electronics
Mouser Electronics, a Berkshire Hathaway company, is an authorised semiconductor and electronic component distributor focused on New Product Introductions from its leading manufacturer partners. Serving the global electronic design engineer and buyer community, the global distributor's website, mouser.com, is available in multiple languages and currencies and features more than 6.8 million products from over 1,200 manufacturer brands. Mouser offers 27 support locations worldwide to provide best-in-class customer service in local language, currency and time zone. The distributor ships to over 650,000 customers in 223 countries/territories from its 1 million-square-foot, state-of-the-art distribution facilities in the Dallas, Texas, metro area. For more information, visit https://www.mouser.com/.