3. maj 2023
The Latest News from Mouser Electronics
Mouser Electronics, Inc. is focused on supplying 100% certified, genuine products from its manufacturing partners for electronic design engineers and buyers. Mouser introduces hundreds of new products each month and supports innovation by supplying engineers with the newest products, technologies and resources.
The news highlights from Mouser this week are:
New eBook – New eBook from Samtec and Mouser Explores New Breakthroughs in High-Speed Electronic Designs
Mouser announces a new eBook in collaboration with Samtec, exploring the challenges of high-speed designs and the new cable technologies emerging to address them. In Samtec Flyover Solutions Break Next-Gen System Architecture Constraints, a range of Samtec thought leaders offer rich insights into how recent technology breakthroughs have enabled significant advancements in electronics designs. The eBook's five chapters cover themes including routing high-speed signals, high-speed signal integrity, twinax cable technology, and fibre optic cable systems. When engineers develop new applications using high-speed signals, they must contend with a range of challenges, including skew, signal integrity, differential signals, and electromagnetic interference. This eBook offers actionable insights for engineers to overcome these challenges using Samtec cable assemblies and connectors. The eBook includes product information for 10 Samtec solutions, including the High-Speed Cable Assemblies, the AcceleRate Slim Body Direct Attach Cable Assemblies, the ExaMAX High-Speed Backplane System and the Flyover QSFP Cable Systems.
Full press release here: https://eu.mouser.com/newsroom/publicrelations-samtec-flyover-ebook-2023final/
Continued Co-sponsorship – Mouser Empowers Next Generation of Engineers as Co-Sponsor of FIRST Robotics Championship
Mouser is excited to continue its co-sponsorship of the FIRST Robotics Competition, which inspires innovation and fosters well-rounded life capabilities in tens of thousands of young people every year. Mouser was the exclusive sponsor of the Hall of Fame at the 2023 FIRST® Championship, April 19-21 in Houston. The Hall of Fame honoured the winning FIRST Robotics Competition teams of the esteemed Impact Award, which rewards the teams who best exemplify the goals and values of FIRST. Since 2014, Mouser has been a major supporter of FIRST (For Inspiration and Recognition of Science and Technology), a leading youth-serving non-profit advancing science, technology, engineering, and math (STEM) education through hands-on robotics programs. Mouser sponsors FIRST virtual and live competitions at the local, regional, state, and international levels. Joining Mouser in the sponsorship is valued manufacturer partner Analog Devices, Inc. Recently, Mouser was a major presenting co-sponsor of the FIRST® in Texas/UIL State Robotics Championships, in Houston, Texas. Mouser also supports FIRST teams in its community, providing grants for local high school teams.
Full press release here: https://eu.mouser.com/newsroom/publicrelations-first-robotics-championship-2023final/
New Product – Mouser Now Shipping ams OSRAM Metal Can TO56 PLT5 522FA_P Green Laser Diode for Industrial and Medical Applications
Mouser is now stocking the Metal Can® TO56 PLT5 522FA_P green laser diode from ams OSRAM. This green laser diode produces a 514 nm (±1 nm) typical emission wavelength with 50 mW optical output power. Featuring thermally stabilised optics in a hermetically sealed 5.6 mm diameter TO56 Metal Can package, the PLT5 522FA_P green laser diode offers high-modulation bandwidth in a single-mode semiconductor laser for reliable and maintenance-free operation. The excellent beam pointing accuracy and compact size of the diode improves high-density designs with better signal-to-noise ratio and optimised wavelengths. A 6 V typical operating voltage and -20°C to +60°C operating temperature range offer high performance in a low power package, providing an ideal alternative to expensive argon-ion laser devices. Depending on the mode of operation, the PLT5 522FA_P emits highly concentrated visible and non-visible light, which can be hazardous to the human eye. Products that incorporate this device must follow the safety precautions given in IEC 60825-1. This device provides a highly efficient radiation source for continuous wave and pulsed operation for industrial automation, 3D sensing, and gesture recognition and is optimised for life-science applications, such as digital diagnostic devices.
Full press release here: https://eu.mouser.com/newsroom/publicrelations-ams-osram-plt5522fap-green-laser-diode-2023final/
New Sponsorship – Mouser Sponsors Nordic Semiconductor Connect for Good Challenge on Building a Smarter, More Sustainable Future
Mouser is pleased to sponsor the Connect for Good: Low Power Wireless Sustainability Challenge, presented by Nordic Semiconductor and Wevolver, going on now through 12 October. Entrants are encouraged to submit a project that utilises low-power wireless technology to solve various issues related to the United Nations Sustainable Development Goals, including clean energy and sustainable cities among others. The grand prize winner will receive up to $20,000, one year subscription to nRF Cloud Services for up to 500 devices, Soracom connectivity for each device and support from Crowd Supply to get the winning design to market. The first 100 entries will receive a free Nordic Semiconductor nRF9160 Development Kit for low-power cellular loT. Each project should incorporate the Nordic Semiconductor nRF9160 DK low-power hardware platform as part of the design. The challenge is open to all engineers and students, ages 18 and up, with sufficient engineering capability to develop a working prototype. Entries will be judged based on the technical and commercial feasibility of the solution, the level of innovation shown and the potential impact on the selected UN Sustainable Development Goals (Goals 7, 11, 13 and 15). Nordic Semiconductor is also offering technical support and education for entrants, including Nordic Developer Academy, an online learning platform, and one-on-one technical support through Nordic DevZone.
Full press release here: https://eu.mouser.com/newsroom/publicrelations-nordic-design-challenge-2023final/
New Product – Mouser Now Shipping Silicon Labs' EFR32FG25 Flex Gecko Wireless SoCs, Offering High Performance for Smart Metering and Lighting
Mouser is now stocking the EFR32FG25 Flex Gecko Wireless SoCs from Silicon Labs. These Flex Gecko Wireless SoCs are not affected by interference from 2.4 GHZ technologies, making them an ideal choice for sub-GHz Wi-SUN® applications. The SoCs support the Wi-SUN multi-rate OFDM, FSK, and OQPSK modulations and include an integrated PA with up to 16 dBm sub-GHz TX power. The high-performance SoCs include up to 1920 Kbytes of flash and 512 Kbytes of RAM. These products also feature a robust peripheral set with up to 37 general-purpose input/output pins. The Flex Gecko Wireless SoCs are supported by the FG25-PK6012A FG25 RoW Pro Kit. The comprehensive development toolset includes a BRD4002A mainboard and EFR32FG25 863 MHz to 870 MHz 16 dBm radio board. The FG25 RoW Pro Kit also features an efficient 868 MHz dipole antenna and versatile flat cable, offering designers everything they need to build new wireless solutions. Featuring a 32-bit Arm Cortex-M33 core with 97.5MHz maximum operating frequency, the EFR32FG25 SoCs support long-range connectivity for smart electric metering, street lighting, distribution automation, and industrial applications. The new SoCs include an integrated power amplifier and high throughput, offering reliable performance for secure Internet of Things (IoT) device connectivity.
Full press release here: https://eu.mouser.com/newsroom/publicrelations-silicon-labs-efr32gf25-wireless-soc-2031final/
To see more new products and Mouser news, go to https://eu.mouser.com/pressroom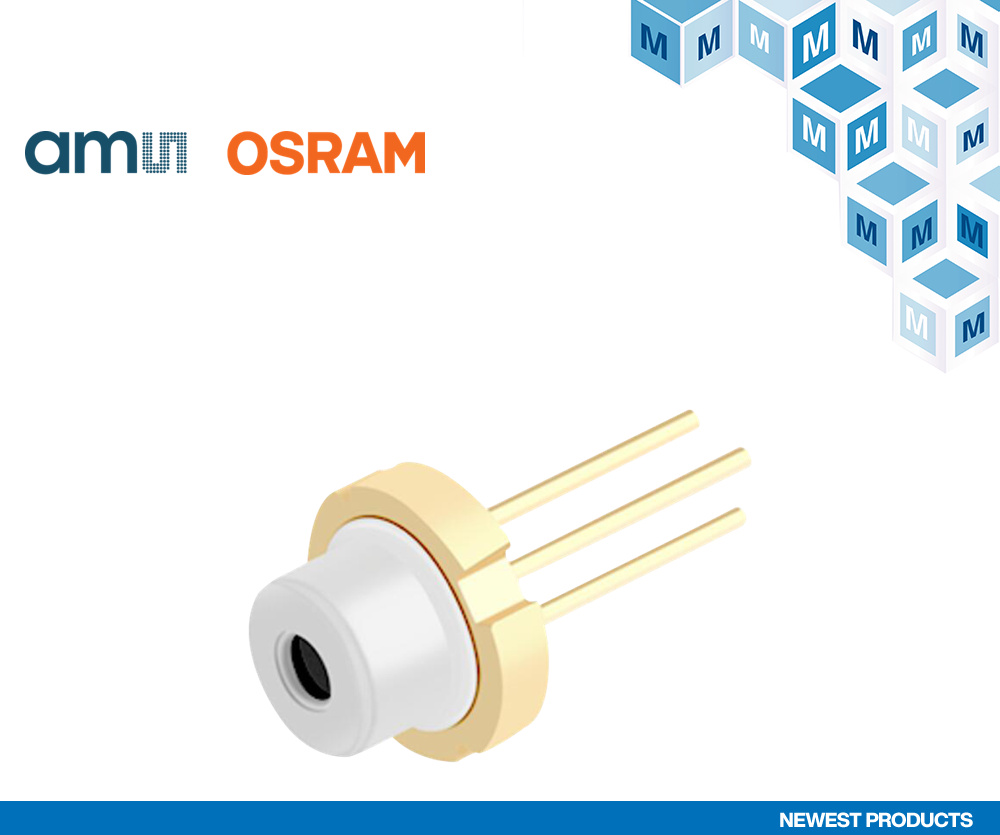 About Mouser Electronics
Mouser Electronics, a Berkshire Hathaway company, is an authorised semiconductor and electronic component distributor focused on New Product Introductions from its leading manufacturer partners. Serving the global electronic design engineer and buyer community, the global distributor's website, mouser.com, is available in multiple languages and currencies and features more than 6.8 million products from over 1,200 manufacturer brands. Mouser offers 27 support locations worldwide to provide best-in-class customer service in local language, currency and time zone. The distributor ships to over 650,000 customers in 223 countries/territories from its 1 million-square-foot, state-of-the-art distribution facilities in the Dallas, Texas, metro area. For more information, visit https://www.mouser.com/.