19. februar 2019
Texas Instruments Low-Power TLV9052 Op Amp, Now at Mouser, Offers High Slew Rate for Battery-Powered Devices
Texas Instruments Low-Power TLV9052 Op Amp, Now at Mouser, Offers High Slew Rate for Battery-Powered Devices
February 12, 2019 – Mouser Electronics, Inc., the authorized global distributor with the newest semiconductors and electronic components, is now stocking TLV9052 operational amplifier from Texas Instruments (TI). Featuring a high slew rate and low quiescent current, the dual op amp is ideal for battery-powered motor-drive applications, as well as large appliances, photodiode amplifiers, sensor signal conditioners, and low-side current sensing.
TI's TLV9052, available from Mouser Electronics, is a low-power, low-voltage op amp optimized for operation from 1.8 V to 5.5 V with a robust output drive capability. The device features a bandwidth of 5 MHz bandwidth and very high slew rate of 15 V/µs with only 330 µA of supply current per channel, providing excellent AC performance at very low-power consumption. Rail-to-rail input and output swing significantly increase dynamic range, especially in low-supply applications.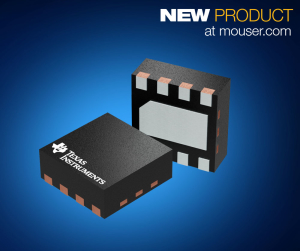 The TLV9052 offers a capacitive-load drive of 200 pF, and its resistive open-loop output impedance makes stabilization easier with much higher capacitive loads. The unity-gain-stable device includes a radio-frequency interference (RFI) and electromagnetic interference (EMI) filter and exhibits no phase reversal in overdrive conditions.
For more on the versatility and design power of op amps, read the exclusive TI and Mouser eBook Amplifier Solutions that Answer a Range of Design Needs: http://www.mouser.com/news/ti-amplifiers-ebook/mobile/index.html. To learn more about the TLV9052 op amp, visit http://www.mouser.com/ti-tlv905x-operational-amplifiers.
Mouser / Texas Instruments TLV9052 Op Amp
Page Two
With its broad product line and unsurpassed customer service, Mouser strives to empower innovation among design engineers and buyers by delivering advanced technologies. Mouser stocks the world's widest selection of the latest semiconductors and electronic components for the newest design projects. Mouser Electronics' website is continually updated and offers advanced search methods to help customers quickly locate inventory. Mouser.com also houses data sheets, supplier-specific reference designs, application notes, technical design information, and engineering tools.
About Mouser Electronics
Mouser Electronics, a Berkshire Hathaway company, is an award-winning, authorized semiconductor and electronic component distributor focused on rapid New Product Introductions from its manufacturing partners for electronic design engineers and buyers. The global distributor's website, Mouser.com, is available in multiple languages and currencies and features more than 5 million products from over 750 manufacturers. Mouser offers 23 support locations around the world to provide best-in-class customer service and ships globally to over 600,000 customers in more than 220 countries/territories from its 750,000 sq. ft. state-of-the-art facility south of Dallas, Texas. For more information, visit http://www.mouser.com.
Trademarks
Mouser and Mouser Electronics are registered trademarks of Mouser Electronics, Inc. All other products, logos, and company names mentioned herein may be trademarks of their respective owners.
– 30 –
Further information, contact:

Kevin Hess, Mouser Electronics

Senior Vice President of Marketing

(817) 804-3833

For press inquiries, contact:

Nick Foot, BWW Communications

PR Director

+44 (0)1491 636393