13. juni 2017
Texas Instruments Expanded Portfolio of MSP430 MCUs Available from Mouser
Texas Instruments Expanded Portfolio of MSP430 MCUs Available from Mouser
June 13, 2017 – Mouser Electronics, Inc., the industry's leading New Product Introduction (NPI) distributor with the widest selection of semiconductors and electronic components, is now stocking the MSP430FR599x and MSP430FR596x microcontrollers, the latest MSP430™ microcontrollers from Texas Instruments (TI). The ultra-low-power, ferroelectric random access memory (FRAM) microcontroller portfolio targets a wide range of sensing and measurement applications.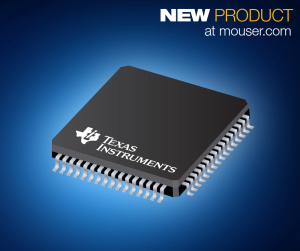 The TI MSP430FR599x/MSP430FR596x microcontrollers, available from Mouser Electronics, extend the portfolio up to 256 KBytes of integrated FRAM technology, which is a non-volatile memory technology that offers excellent flexibility and ultra-low-power performance. Additionally, the MSP430 FRAM ecosystem includes thousands of existing software libraries, application notes, and driver framework to simplify development across the portfolio.
The microcontrollers help designers save power by spending more time in standby thanks to the newly integrated low-energy accelerator (LEA) for digital signal processing (DSP), which completes complex math functions nearly 40 times faster than other low-power microcontrollers. The microcontrollers feature up to 256 KBytes of FRAM, allowing for expanded application code and addressing applications with large RAM requirements, all while offering write speeds 100 times faster than flash with no buffering or pre-erase required. The microcontrollers are supported by several development tools, including the MSP-EXP430FR5994 LaunchPad™ development kit, which contains everything needed to evaluate the microcontroller, including an onboard debug probe for programming, debugging, and energy measurements.
The MSP430FR599x and MSP430FR596x microcontrollers are ideal for a wide range of applications, including metering, building and factory automation equipment, and portable health and fitness devices.
To learn more, visit http://www.mouser.com/new/Texas-Instruments/ti-msp430fr599-msp430fr596/
Mouser / Texas Instruments MSP430 MCU Portfolio Expansion
Page Two
With its broad product line and unsurpassed customer service, Mouser strives to empower innovation among design engineers and buyers by delivering advanced technologies. Mouser stocks the world's widest selection of the latest semiconductors and electronic components for the newest design projects. Mouser Electronics' website is continually updated and offers advanced search methods to help customers quickly locate inventory. Mouser.com also houses data sheets, supplier-specific reference designs, application notes, technical design information, and engineering tools.
About Mouser Electronics
Mouser Electronics, a Berkshire Hathaway company, is an award-winning, authorized semiconductor and electronic component distributor focused on rapid New Product Introductions from its manufacturing partners for electronic design engineers and buyers. The global distributor's website, Mouser.com, is available in multiple languages and currencies and features more than 4 million products from over 600 manufacturers. Mouser offers 22 support locations around the world to provide best-in-class customer service and ships globally to over 550,000 customers in 170 countries from its 750,000 sq. ft. state-of-the-art facility south of Dallas, Texas. For more information, visit http://www.mouser.com.
Trademarks
Mouser and Mouser Electronics are registered trademarks of Mouser Electronics, Inc. All other products, logos, and company names mentioned herein may be trademarks of their respective owners.
– 30 –
Further information, contact:

Kevin Hess, Mouser Electronics

Senior Vice President of Marketing

(817) 804-3833

For press inquiries, contact:

Nick Foot, BWW Communications

PR Director

+44 (0)1491 636393