24. august 2017
TE Connectivity's microQSFP Interconnects for Next-Gen Data Center Infrastructures Now Available from Mouser
TE Connectivity's microQSFP Interconnects for Next-Gen Data Center Infrastructures Now Available from Mouser
August 24, 2017 – Mouser Electronics, Inc., the industry's leading New Product Introduction (NPI) distributor with the widest selection of semiconductors and electronic components, now offers microQSFP high-speed pluggable input/output (I/O) interconnects from TE Connectivity (TE), a world leader in connectivity and sensors.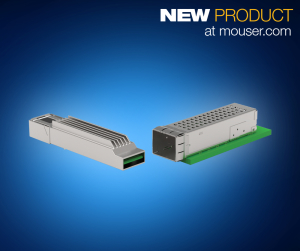 TE's microQSFP interconnects, available from Mouser Electronics, are next-generation micro quad small form-factor pluggable (microQSFP) solutions designed to address key challenges relating to bandwidth, thermal performance, and energy costs in data centers. TE's microQSFP interconnects deliver QSFP28 functionality in a smaller form factor, while providing higher density and performance at 28 and 56 gigabits per second (Gbps). The pluggable I/O single high (1xN) cages and surface mount connectors, forged from traditional stainless steel and copper alloy, feature an integrated heatsink in module that offers significantly better thermal capability than current pluggable solutions, which can help reduce energy costs.
This interconnect solution offers improved electrical performance at 25 Gbps, provides 33 percent higher density over existing QSFP connectors, and can fit up to 72 ports on a standard line card. The 4 × 28 Gbps solutions support next-generation designs with a smaller, standardized form factor and 25 Gbps NRZ/56 Gbps PAM-4 performance with backwards compatibility to 28 Gbps. TE's microQSFP has also been adopted as a Media Dependent Interface (MDI) for the IEEE P802.3cd 50 Gbps project as supporting 50 Gbps (1 × 56 Gbps ), 100 Gbps (2 × 56 Gbps), and 200 Gbps (4 × 56 Gbps) interfaces.
TE's microQSFP interconnects offer a space-saving 14.25 mm port-to-port pitch and durability up to 1,000 cycles. Typical data communication applications for the microQSFP interconnect solution include networking switches, routers, servers, networking interface cards and optical transport equipment.
To learn more, visit http://www.mouser.com/new/TE-Connectivity/te-connectivity-microqsfp-interconnect-solutions/.
Mouser / TE Connectivity microQSFP Interconnects
Page Two
With its broad product line and unsurpassed customer service, Mouser strives to empower innovation among design engineers and buyers by delivering advanced technologies. Mouser stocks the world's widest selection of the latest semiconductors and electronic components for the newest design projects. Mouser Electronics' website is continually updated and offers advanced search methods to help customers quickly locate inventory. Mouser.com also houses data sheets, supplier-specific reference designs, application notes, technical design information, and engineering tools.
About Mouser Electronics
Mouser Electronics, a Berkshire Hathaway company, is an award-winning, authorized semiconductor and electronic component distributor focused on rapid New Product Introductions from its manufacturing partners for electronic design engineers and buyers. The global distributor's website, Mouser.com, is available in multiple languages and currencies and features more than 4 million products from over 600 manufacturers. Mouser offers 22 support locations around the world to provide best-in-class customer service and ships globally to over 550,000 customers in 170 countries from its 750,000 sq. ft. state-of-the-art facility south of Dallas, Texas. For more information, visit http://www.mouser.com.
About TE Connectivity
TE Connectivity is a $12 billion global technology leader. Our commitment to innovation enables advancements in transportation, industrial applications, medical technology, energy, data communications, and the home. TE's unmatched breadth of connectivity and sensor solutions, proven in the harshest of environments, helps build a safer, greener, smarter and more connected world. With 75,000 people — including more than 7,000 engineers — working alongside customers in nearly 150 countries, we help ensure that EVERY CONNECTION COUNTS.
Trademarks
Mouser and Mouser Electronics are registered trademarks of Mouser Electronics, Inc. All other products, logos, and company names mentioned herein may be trademarks of their respective owners.
TE Connectivity, TE and EVERY CONNECTION COUNTS are trademarks of the TE Connectivity family of companies.
– 30 –
Further information, contact:

Kevin Hess, Mouser Electronics

Senior Vice President of Marketing

(817) 804-3833

For press inquiries, contact:

Nick Foot, BWW Communications

PR Director

+44 (0)1491 636393