13. juli 2018
TE Connectivity's AmbiMate Sensor Module MS4 Series, Now at Mouser, Offers Easy Environment Sensor Integration
TE Connectivity's AmbiMate Sensor Module MS4 Series, Now at Mouser, Offers Easy Environment Sensor Integration
July 13, 2018 – Mouser Electronics, Inc., the industry's leading New Product Introduction (NPI) distributor with the widest selection of semiconductors and electronic components, is now stocking the AmbiMate sensor module MS4 series from TE Connectivity (TE), a global leader in connectivity and sensors. Incorporating four core sensors on a single printed circuit board (PCB) assembly, TE's AmbiMate sensor modules enable easy integration in a variety of host products in building automation, lighting, and smart home applications. AmbiMate sensor modules are pre-engineered and assembled, allowing manufacturers to devote valuable design resources to other important tasks.
TE's AmbiMate sensor module MS4 series, available from Mouser Electronics, all include sensors for motion, light, temperature, and humidity, while optional additions include sensors for sound, CO2, and volatile organic compounds (VOCs). The modules offer multiple attachment options to easily integrate the pre-assembled PCB into the host board. The MS4 series sensor modules share a common seven position connection, allowing a single PCB footprint to accommodate every available sensor configuration.
The sensor modules are suitable for building automation applications where environmental data can inform product decisions. For example, engineers can use one or more modules to capture VOC and CO2 concentrations and evaluate air quality. TE's AmbiMate sensor modules with an integrated microphone can augment motion detection by listening for sound events. A network of modules can detect occupancy, humidity, temperature, and light levels, allowing building controllers to adjust indoor lighting, HVAC equipment, energy management, and other zonal environmental controls.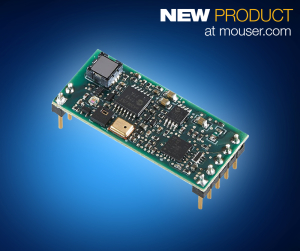 To learn more, visit http://www.mouser.com/te-connectivity-ambimate-sensor-module.
Mouser / TE Connectivity AmbiMate Sensor Module MS4 Series
With its broad product line and unsurpassed customer service, Mouser strives to empower innovation among design engineers and buyers by delivering advanced technologies. Mouser stocks the world's widest selection of the latest semiconductors and electronic components for the newest design projects. Mouser Electronics' website is continually updated and offers advanced search methods to help customers quickly locate inventory. Mouser.com also houses data sheets, supplier-specific reference designs, application notes, technical design information, and engineering tools.
About Mouser Electronics
Mouser Electronics, a Berkshire Hathaway company, is an award-winning, authorized semiconductor and electronic component distributor focused on rapid New Product Introductions from its manufacturing partners for electronic design engineers and buyers. The global distributor's website, Mouser.com, is available in multiple languages and currencies and features more than 5 million products from over 700 manufacturers. Mouser offers 23 support locations around the world to provide best-in-class customer service and ships globally to over 600,000 customers in more than 220 countries/territories from its 750,000 sq. ft. state-of-the-art facility south of Dallas, Texas. For more information, visit http://www.mouser.com.
About TE Connectivity
TE Connectivity Ltd. is a $13 billion global technology and manufacturing leader creating a safer, sustainable, productive, and connected future. For more than 75 years, TE's connectivity and sensor solutions, proven in the harshest environments, have enabled advancements in transportation, industrial applications, medical technology, energy, data communications, and the home. With 78,000 employees, including more than 7,000 engineers, working alongside customers in nearly 150 countries, TE ensures that EVERY CONNECTION COUNTS. Learn more at http://www.te.com.
Trademarks
Mouser and Mouser Electronics are registered trademarks of Mouser Electronics, Inc. All other products, logos, and company names mentioned herein may be trademarks of their respective owners.
TE Connectivity, TE connectivity (logo), TE, AmbiMate and EVERY CONNECTION COUNTS, are trademarks.
Further information, contact:

Kevin Hess, Mouser Electronics

Senior Vice President of Marketing

(817) 804-3833

For press inquiries, contact:

Nick Foot, BWW Communications

PR Director

+44 (0) 1491 636393