9. april 2018
STMicroelectronics' ACEPACK IGBT Modules, Now at Mouser, Deliver Highly Integrated Power Conversion Up to 30kW
STMicroelectronics' ACEPACK IGBT Modules, Now at Mouser, Deliver Highly Integrated Power Conversion Up to 30kW
April 9, 2018 – Mouser Electronics, Inc., the authorized global distributor with the newest semiconductors and electronic components, is now stocking the ACEPACK™ IGBT modules from STMicroelectronics (ST). Part of a new plastic power module family developed mainly to address industrial applications, the Adaptable Compact Easier PACKage (ACEPACK) modules provide economical and highly integrated power conversion for 3 kW – 30 kW industrial and power management solutions. These robust modules combine high power density with reliability, delivering one of the best combinations of conduction and switching performance available.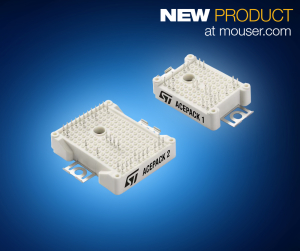 The ST ACEPACK IGBT modules, available from Mouser Electronics, come in two compact configurations and feature ST's third-generation trench gate field-stop IGBTs. Designers have a choice of six-pack modules that contain six IGBTs with freewheeling diodes as a three-phase inverter, or Power Integrated Modules (PIM) that provide a complete driver power stage. The PIMs are converter-inverter-brake (CIB) modules that integrate a three-phase rectifier, a three-phase inverter, and a braking chopper for handling energy returned from the load. Both module types also contain an NTC thermistor for temperature sensing and control.
Available in either ACEPACK 1 or larger ACEPACK 2 sizes, featuring either 650V or 1200V IGBTs, and current ratings from 15 A to 75 A, these optimized IGBT modules deliver low stray inductance and low electromagnetic interference (EMI) emissions to simplify meeting electromagnetic compatibility (EMC) regulations. Operating temperature rating up to 175 degree Celsius ensures robust performance under the harshest of operating conditions, giving designers freedom to optimize heatsink size and power dissipation.  The baseplate of the package is also isolated to 2.5kV to ease design of assembly.
ST's ACEPACK IGBT modules are available in a variety of mounting configurations, including optional solder-free press-fit connections, which simplify assembly as an alternative to conventional soldered pins, and metal screw clamps that enable fast and reliable mounting. The ACEPACK modules provide an ideal solution for applications such as industrial motor drives, air conditioners, inverters, solar panels and generators, welders, battery chargers, uninterruptable power supplies (UPS), and electric vehicles.
To learn more, visit http://www.mouser.com/stm-acepack-igbt-modules.
Mouser / STMicroelectronics ACEPACK IGBT modules,
Page Two
With its broad product line and unsurpassed customer service, Mouser strives to empower innovation among design engineers and buyers by delivering advanced technologies. Mouser stocks the world's widest selection of the latest semiconductors and electronic components for the newest design projects. Mouser Electronics' website is continually updated and offers advanced search methods to help customers quickly locate inventory. Mouser.com also houses data sheets, supplier-specific reference designs, application notes, technical design information, and engineering tools.
About Mouser Electronics
Mouser Electronics, a Berkshire Hathaway company, is an award-winning, authorized semiconductor and electronic component distributor focused on rapid New Product Introductions from its manufacturing partners for electronic design engineers and buyers. The global distributor's website, Mouser.com, is available in multiple languages and currencies and features more than 5 million products from over 700 manufacturers. Mouser offers 22 support locations around the world to provide best-in-class customer service and ships globally to over 600,000 customers in 170 countries from its 750,000 sq. ft. state-of-the-art facility south of Dallas, Texas. For more information, visit http://www.mouser.com.
Trademarks
Mouser and Mouser Electronics are registered trademarks of Mouser Electronics, Inc. All other products, logos, and company names mentioned herein may be trademarks of their respective owners.
– 30 –
Further information, contact:

Kevin Hess, Mouser Electronics

Senior Vice President of Marketing

(817) 804-3833

For press inquiries, contact:

Nick Foot, BWW Communications

PR Director

+44 (0) 1491 636393