6. november 2018
Silicon Labs' Wireless Xpress Bluetooth Modules, Now at Mouser, Simplify Drop-In Connectivity Upgrades
Silicon Labs' Wireless Xpress Bluetooth Modules, Now at Mouser, Simplify Drop-In Connectivity Upgrades
November 5, 2018 – Mouser Electronics, Inc., the authorized global distributor with the newest semiconductors and electronic components, is now stocking the Wireless Xpress BGX13x modules from Silicon Labs. Providing a configuration-based development experience with everything engineers need to quickly develop Bluetooth® technology-based Internet of Things (IoT) applications, the Wireless Xpress BGX13x modules offer Bluetooth 5 compliance in either a system-in-package (SiP) or PCB module for a variety of IoT applications, including smart home devices, sensors, and industrial monitoring.
The Silicon Labs Wireless Xpress BGX13x modules, available from Mouser Electronics, enable a Bluetooth low energy cable replacement solution without requiring wireless firmware development. Using only the modules' UART interface, the devices allow embedded systems to connect and communicate across a Bluetooth low energy link to smartphones and other BGX devices. Users can also remotely manage and update Bluetooth-enabled products over the air (OTA) using native device management features. With Silicon Labs' Zentri Device Management Service (DMS), end users can easily install and update firmware, view real-time device health metrics, and adjust product settings through mobile apps.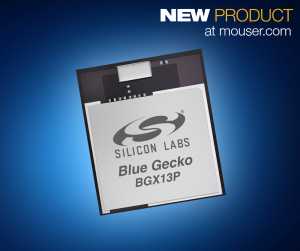 Both the BGX13P PCB module and the BGX13S SiP include an on-board Bluetooth stack controlled through an Xpress command API, plus cable replacement firmware pre-programmed — all in modules that require a total PCB area of just 51 mm². Both modules also feature certifications from Bluetooth, CE, FCC, Japan, and South Korea.
The modules are supported by the Wireless Xpress BGX13P Starter Kit, which includes a BGX13P Expansion Board with a pre-mounted BGX13P Module. The BGX13P Expansion Board can operate in stand-alone mode with a PC via USB port or in a simulated embedded host mode with a Silicon Labs EFM8 or EFM32 Starter Kit.
To learn more, visit http://www.mouser.com/silicon-labs-wireless-xpress-bgx.
Mouser / Silicon Labs Wireless Xpress Bluetooth Modules
Page Two
With its broad product line and unsurpassed customer service, Mouser strives to empower innovation among design engineers and buyers by delivering advanced technologies. Mouser stocks the world's widest selection of the latest semiconductors and electronic components for the newest design projects. Mouser Electronics' website is continually updated and offers advanced search methods to help customers quickly locate inventory. Mouser.com also houses data sheets, supplier-specific reference designs, application notes, technical design information, and engineering tools.
About Mouser Electronics
Mouser Electronics, a Berkshire Hathaway company, is an award-winning, authorized semiconductor and electronic component distributor focused on rapid New Product Introductions from its manufacturing partners for electronic design engineers and buyers. The global distributor's website, Mouser.com, is available in multiple languages and currencies and features more than 5 million products from over 750 manufacturers. Mouser offers 23 support locations around the world to provide best-in-class customer service and ships globally to over 600,000 customers in more than 220 countries/territories from its 750,000 sq. ft. state-of-the-art facility south of Dallas, Texas. For more information, visit http://www.mouser.com.
About Silicon Labs
Silicon Labs is a leading provider of silicon, software and solutions for a smarter, more connected world. The company's award-winning technologies are shaping the future of the Internet of Things, Internet infrastructure, industrial automation, consumer and automotive markets. Their world-class engineering team creates products focused on performance, energy savings, connectivity and simplicity.
Trademarks
Mouser and Mouser Electronics are registered trademarks of Mouser Electronics, Inc. All other products, logos, and company names mentioned herein may be trademarks of their respective owners.
– 30 –
Further information, contact:

Kevin Hess, Mouser Electronics

Senior Vice President of Marketing

(817) 804-3833

For press inquiries, contact:

Nick Foot, BWW Communications

PR Director

+44 (0)1491 636393