1. august 2017
Semtech's Low-Power SX128x 2.4GHz Transceivers, Available from Mouser, Deliver Integrated Long-Range RF for IoT
Semtech's Low-Power SX128x 2.4GHz Transceivers, Available from Mouser, Deliver Integrated Long-Range RF for IoT
Aug 1, 2017 – Mouser Electronics, Inc., the authorized global distributor with the newest semiconductors and electronic components, is now offering the SX128x 2.4 GHz transceivers from Semtech. Part of Semtech's SX1200 line of ultra-low-power wireless transceivers, the SX128x half-duplex radio frequency (RF) transceivers are able to withstand heavy interference and transmit over long ranges, and are one of the first of their kind to integrate time-of-flight functionality for a broad range of RF and Internet of Things (IoT) applications.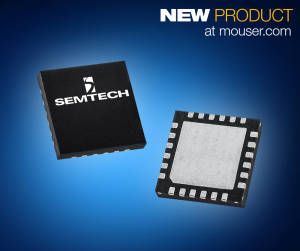 The Semtech SX128x 2.4 GHz RF transceivers, available from Mouser Electronics, integrate a +12.5 dBm analog front end, power distribution, a modem with three modulation options, a packet engine for transmission or reception processing, and digital interface and control. The power distribution stage offers voltage regulation through an integrated low-drop out (LDO) regulator or a high-efficiency step-down DC-to-DC converter, which engineers can select depending on the application requirements. The digital communication interfaces include SPI, UART, and a set of general-purpose digital input and output (DIO).
Each of the onboard modem's modulation options (LoRa, FLRC, and FSK) allows the SX128x devices to perform robust and reliable wireless communications with point-to-point wireless links that can support custom protocols with configurable data rates up to 2 Mbits per second. In addition, the SX1280 features a Ranging Engine, a long-distance functionality that permits time-of-flight measurement between a pair of LoRa radios for tracking applications.
To enable compliant, multi-mode radio systems, the SX128x devices support Bluetooth® low energy are fully compliant with worldwide 2.4 GHz radio regulations, including EN 300 440, FCC CFR 47 Part 15, and the Japanese ARIB STD-T66. The transceivers operate at a supply voltage range from 1.8 V to 3.7 V and can be designed into a variety of products, such as wearables, toys, drones, security systems, and healthcare devices. For evaluation, Mouser also offers the Semtech SX1280 Development Kit.
To learn more, visit http://www.mouser.com/new/semtech/semtech-sx128x-transceivers/.
Mouser / Semtech SX128x 2.4GHz RF Transceivers
Page Two
With its broad product line and unsurpassed customer service, Mouser strives to empower innovation among design engineers and buyers by delivering advanced technologies. Mouser stocks the world's widest selection of the latest semiconductors and electronic components for the newest design projects. Mouser Electronics' website is continually updated and offers advanced search methods to help customers quickly locate inventory. Mouser.com also houses data sheets, supplier-specific reference designs, application notes, technical design information, and engineering tools.
About Mouser Electronics
Mouser Electronics, a Berkshire Hathaway company, is an award-winning, authorized semiconductor and electronic component distributor focused on rapid New Product Introductions from its manufacturing partners for electronic design engineers and buyers. The global distributor's website, Mouser.com, is available in multiple languages and currencies and features more than 4 million products from over 600 manufacturers. Mouser offers 22 support locations around the world to provide best-in-class customer service and ships globally to over 550,000 customers in 170 countries from its 750,000 sq. ft. state-of-the-art facility south of Dallas, Texas. For more information, visit http://www.mouser.com.
About Semtech Corporation
Semtech Corporation is a leading supplier of high-quality analog and mixed-signal semiconductor products. The company is dedicated to providing proprietary solutions and breakthrough technology in power management, circuit protection, timing and synchronization, touch interface, video broadcasting, high-performance optical transport equipment (SerDes), high-reliability military products, low-power wireless RF, and digital sensor/signal conditioning ICs. Semtech's products are used in the following markets: Smartphones, LCD TVs, Notebook Computers, Wireless LAN Modems, Automatic Meter Reading, Ultra-Low Power Medical, Satellite Communication, Cellular Infrastructure, Optical Transport and Datacenters.
Trademarks
Mouser and Mouser Electronics are registered trademarks of Mouser Electronics, Inc. All other products, logos, and company names mentioned herein may be trademarks of their respective owners.
– 30 –
Further information, contact:

Kevin Hess, Mouser Electronics

Senior Vice President of Marketing

(817) 804-3833

For press inquiries, contact:

Nick Foot, BWW Communications

PR Director

+44 (0)1491 636393