21. august 2018
SanDisk iNAND 8251 Embedded Flash Drives, Now at Mouser, Provide Efficient Storage for Mobile AR and IoT Applications
SanDisk iNAND 8251 Embedded Flash Drives, Now at Mouser, Provide Efficient Storage for Mobile AR and IoT Applications
August 21, 2018 – Mouser Electronics, Inc., the industry's leading New Product Introduction (NPI) distributor with the widest selection of semiconductors and electronic components, is now stocking iNAND® 8521 embedded flash drives (EFDs) from SanDisk. Built with 3D NAND technology and the fast UFS 2.1 interface, iNAND 8521 EFDs offer excellent read and write performance, delivering a storage solution for the most data-intensive mobile devices, as well as thin-and-light compute devices.
SanDisk iNAND 8521 EFDs, available from Mouser Electronics, are 11.5 × 13 × 1.0 mm storage solutions based on SanDisk's latest 3D NAND technology. With a fast UFS 2.1 Gear 3 two-lane interface, the EFDs provide energy-efficient, plug-and-play integration in devices with demanding data-centric applications. The drives offer exceptional write performance, with up to 500 MBytes per second (MBps) of sequential write speed and 45K input/output operations per second (IOPs) random write speed for fast file transfer and content download. The devices' optimized controller architecture enables improved read performance, providing 800 MBps sequential read and 50K IOPs random read speed, which results in quick system boot-up and app launches.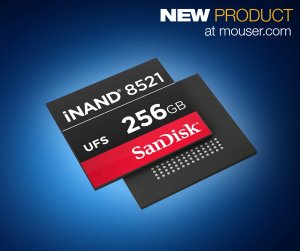 Offering capacities from 32 GBytes to 256 GBytes in a small form factor, the SanDisk iNAND 8521 EFDs allow scalability and design flexibility in data-driven applications such as augmented reality (AR), high-resolution video capture, rich social media experiences, artificial intelligence (AI), and Internet of Things (IoT) edge devices.
To learn more, visit http://www.mouser.com/sandisk-inand-8521-efds.
Mouser / SanDisk iNAND 8521 Embedded Flash drives
Page Two
With its broad product line and unsurpassed customer service, Mouser strives to empower innovation among design engineers and buyers by delivering advanced technologies. Mouser stocks the world's widest selection of the latest semiconductors and electronic components for the newest design projects. Mouser Electronics' website is continually updated and offers advanced search methods to help customers quickly locate inventory. Mouser.com also houses data sheets, supplier-specific reference designs, application notes, technical design information, and engineering tools.
About Mouser Electronics
Mouser Electronics, a Berkshire Hathaway company, is an award-winning, authorized semiconductor and electronic component distributor focused on rapid New Product Introductions from its manufacturing partners for electronic design engineers and buyers. The global distributor's website, Mouser.com, is available in multiple languages and currencies and features more than 5 million products from over 700 manufacturers. Mouser offers 23 support locations around the world to provide best-in-class customer service and ships globally to over 600,000 customers in more than 220 countries/territories from its 750,000 sq. ft. state-of-the-art facility south of Dallas, Texas. For more information, visit http://www.mouser.com.
About SanDisk
SanDisk Corporation is a global leader in flash storage solutions, expanding the possibilities of storage and providing trusted and innovative products that have transformed the electronics industry. SanDisk's quality, state-of-the-art solutions are at the heart of many of the world's largest data centers, and embedded in advanced smartphones, tablets and PCs.
Trademarks
Mouser and Mouser Electronics are registered trademarks of Mouser Electronics, Inc. All other products, logos, and company names mentioned herein may be trademarks of their respective owners.
– 30 –
Further information, contact:

Kevin Hess, Mouser Electronics

Senior Vice President of Marketing

(817) 804-3833

For press inquiries, contact:

Nick Foot, PR Director

PR Director

+44 (0)1491 636393