20. september 2018
Redpine's QueSSence, Now at Mouser, Combines AI and Edge IoT in Secure Platform
Redpine's QueSSence, Now at Mouser, Combines AI and Edge IoT in Secure Platform
September 19, 2018 – Mouser Electronics, Inc., the New Product Introduction (NPI) leader empowering innovation, is now shipping the QueSSence™ Intelligent Connected Platform from Redpine Signals. QueSSence is an ultra-low-power, edge-based artificial intelligence (AI) application development platform that consists of hardware, software and secure cloud technologies.
The Redpine Signals QueSSence platform, available from Mouser Electronics, combines AI and Internet of Things (IoT) technologies to help engineers develop AI applications. Based on a low-power Arm® Cortex®-M4 processor with a floating point unit (FPU) and an AI accelerator, the platform features large computation capacity required by AI algorithms. The QueSSence platform's 6-axis accelerometer and gyroscope enables engineers to easily integrate sensor data, and with 400 Kbytes of RAM and up to 4 Mbytes of dedicated flash memory, the platform can store up to 25,000 sensor values. Support for voice activity detection (VAD) and up to eight capacitive touch sensor inputs enable AI applications that incorporate voice and touch interfaces.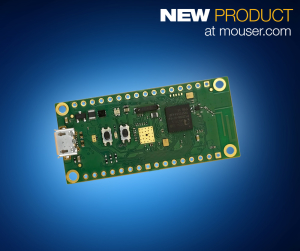 QueSSence can serve a wide range of IoT applications through certified support for multiple wireless protocols, including 802.11a/b/g/n Wi-Fi, dual-mode Bluetooth® 5, 802.15.4 (capable of running Thread or Zigbee), and 802.11ah. The platform offers multiple levels of security, including physically unclonable function (PUF), crypto hardware accelerators, and secure bootloader to create a highly secure system.
To learn more, visit http://www.mouser.com/redpine-quessence-intelligent-connected-platform.
Mouser / Redpine Signals QueSSence
Page Two
With its broad product line and unsurpassed customer service, Mouser strives to empower innovation among design engineers and buyers by delivering advanced technologies. Mouser stocks the world's widest selection of the latest semiconductors and electronic components for the newest design projects. Mouser Electronics' website is continually updated and offers advanced search methods to help customers quickly locate inventory. Mouser.com also houses data sheets, supplier-specific reference designs, application notes, technical design information, and engineering tools.
About Mouser Electronics
Mouser Electronics, a Berkshire Hathaway company, is an award-winning, authorized semiconductor and electronic component distributor focused on rapid New Product Introductions from its manufacturing partners for electronic design engineers and buyers. The global distributor's website, Mouser.com, is available in multiple languages and currencies and features more than 5 million products from over 700 manufacturers. Mouser offers 23 support locations around the world to provide best-in-class customer service and ships globally to over 600,000 customers in more than 220 countries/territories from its 750,000 sq. ft. state-of-the-art facility south of Dallas, Texas. For more information, visit http://www.mouser.com.
About Redpine Signals
Redpine Signals is a wireless systems company with unique chipset and system level products for wireless networks. Founded in 2001, Redpine created advanced wireless technology that includes ultra-low-power and high-performance products for the next generation of wireless applications. The company launched several modules and sub-systems focusing on specific vertical market segments including industrial, wireless sensor, wireless audio & video, voice over Wi-Fi and high-end consumer. Redpine delivers an optimal wireless solution to meet customer's requirements at an optimal price point.
Trademarks
Mouser and Mouser Electronics are registered trademarks of Mouser Electronics, Inc. All other products, logos, and company names mentioned herein may be trademarks of their respective owners.
– 30 –
Further information, contact:

Kevin Hess, Mouser Electronics

Senior Vice President of Marketing

(817) 804-3833

For press inquiries, contact:

Nick Foot, BWW Communications

PR Director

+44 (0)1491 6363939