21. marts 2018
Qorvo's QPL7210 Receive Module, Now at Mouser, Offers Integrated Coexistence BAW Filtering for 802.11ax Applications
Qorvo's QPL7210 Receive Module, Now at Mouser, Offers Integrated Coexistence BAW Filtering for 802.11ax Applications
March 21, 2018 – Mouser Electronics, Inc., the industry's leading New Product Introduction (NPI) distributor with the widest selection of semiconductors and electronic components, is now stocking the QPL7210 2.4 GHz Wi-Fi® LNA receive module from Qorvo. Designed for IEEE 802.11b/g/n/ac WLAN devices, Wi-Fi consumer equipment, routers or gateways, Qorvo's fully integrated QPL7210 front-end module provides an exceptional wireless RF solution for connecting users to a variety of communications, networking, and Internet of Things (IoT) applications.
The Qorvo QPL7210 receive module, available from Mouser Electronics, offers best-in-class receiving immunity from interference and out-of-band blockers, while still achieving leading-edge receiving sensitivity across all Wi-Fi channels. The stand-alone module integrates a 2.4 GHz low-noise amplifier (LNA), an LNA bypass, and integrated filtering. The QPL7210 enables expanded capacity, throughput, and range, improving the coverage and user experience incorporating its highly selective bulk acoustic wave (BAW) filter functionality, used primarily for coexistence attenuation over module operating conditions. The module also includes integrated filters for second and third harmonics and 5 GHz rejection for dual-band, dual-concurrent operation.
The module offers receiving gain of 13.5 dB with a 2.5 dB noise figure. Optimized for 3.3 to 5V operation, at 3.3 V, the QPL7210 features a +30 dBm third-order intercept point (OIP3) and +3.5 dBm Input 1 dB Compression Point (IP1DB). Maximum bypass mode for receiving input power for the module is +24 dBm.
The 16-pin, 3.0 mm × 3.5 mm × 1 mm QPL7210 module meets or exceeds the RF front-end needs of IEEE 802.11b/g/n/ac/ax WLAN applications and is ideal for a broad array of RF wireless applications, including consumer Wi-Fi equipment, access points, wireless routers, residential gateways, and products focused on the IoT.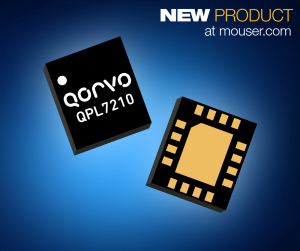 To learn more about the QPL7210, visit http://www.mouser.com/qorvo-qpl7210.
Mouser / Qorvo QPL7210 LNA Receive Module
With its broad product line and unsurpassed customer service, Mouser strives to empower innovation among design engineers and buyers by delivering advanced technologies. Mouser stocks the world's widest selection of the latest semiconductors and electronic components for the newest design projects. Mouser Electronics' website is continually updated and offers advanced search methods to help customers quickly locate inventory. Mouser.com also houses data sheets, supplier-specific reference designs, application notes, technical design information, and engineering tools.
About Mouser Electronics
Mouser Electronics, a Berkshire Hathaway company, is an award-winning, authorized semiconductor and electronic component distributor focused on rapid New Product Introductions from its manufacturing partners for electronic design engineers and buyers. The global distributor's website, Mouser.com, is available in multiple languages and currencies and features more than 5 million products from over 700 manufacturers. Mouser offers 22 support locations around the world to provide best-in-class customer service and ships globally to over 600,000 customers in 170 countries from its 750,000 sq. ft. state-of-the-art facility south of Dallas, Texas. For more information, visit http://www.mouser.com.
About Qorvo
Qorvo makes a better world possible by providing innovative RF solutions at the center of connectivity. The company combines product and technology leadership, systems-level expertise and global manufacturing scale to quickly solve customers' most complex technical challenges. Qorvo serves diverse high-growth segments of large global markets, including advanced wireless devices, wired and wireless networks and defense radar and communications. They also leverage their unique competitive strengths to advance 5G networks, cloud computing, the Internet of Things, and other emerging applications that expand the global framework interconnecting people, places and things.
Trademarks
Mouser and Mouser Electronics are registered trademarks of Mouser Electronics, Inc. All other products, logos, and company names mentioned herein may be trademarks of their respective owners.
Further information, contact:
Kevin Hess, Mouser Electronics
Senior Vice President of Marketing
(817) 804-3833
Kevin.Hess@mouser.com
For press inquiries, contact:
Nick Foot, BWW Communications
PR Director
+44 (0) 1491 636393
Nick.Foot@bwwcomms.com