29. juni 2017
OSRAM OSTAR Projection Power LEDs Now Available from Mouser Electronics
OSRAM OSTAR Projection Power LEDs Now Available from Mouser Electronics
June 29, 2017 – Mouser Electronics, Inc., the New Product Introduction (NPI) leader that empowers innovation, is now stocking the OSRAM OSTAR Projection Power LEDs from OSRAM Opto Semiconductors. These slim, high-luminance LEDs — based on advanced thin-film and UX:3 chip technologies — generate high luminous flux and radiant intensity previously unseen from a such a small surface area. The LEDs are specifically designed for projection applications, embedded projectors, machine vision, and 3D scanning and imaging.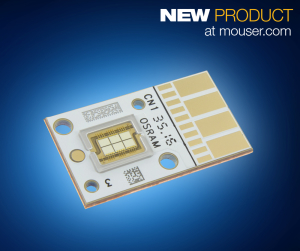 OSRAM OSTAR Projection Power LEDs are available in two-, four-, or six-chip configurations on an insulated metal substrate (IMS) carrier board. The package provides a large surface area of thermal contact to help dissipate heat, which can improve the efficiency and lifetime of the LED. The connection between the chip and the heat sink results in a low thermal resistance of less than 0.5 K/W, which causes heat to better dissipate and allows the system to operate up to its maximum output limit.
OSRAM OSTAR Projection Power LEDs are available from Mouser Electronics in three colors with high flux values: amber (1120 – 2800 lm), converted green (3150 – 8000 lm), and blue (8200 – 21000 mW). The compact external package dimensions of 27.0 mm × 15.5 mm offer a wide 120-degree beam angle at 50 percent luminous intensity.
OSRAM OSTAR Projection Power LEDs provide a flat surface emission which enables excellent secondary optic interface. In addition, each LED module offers high current capability; direct current of 100mA to 5000mA (per chip), with pulsed currents per chip up to 6000 mA (amber) and 8000 mA (green and blue). The LEDs feature wide industrial temperature ranges of minus 40 to 100 (amber) and minus 40 to 125 (green and blue) degrees Celsius and can withstand up to 2 kV of electrostatic discharge (ESD).
For more information, visit http://www.mouser.com/new/osram/osram-ostar-projection-power/. For more information on LEDs, visit Mouser's Lighting Applications site at http://www.mouser.com/applications/lighting.
Mouser / OSRAM OSTAR Projection Power LEDs
Page Two
With its broad product line and unsurpassed customer service, Mouser strives to empower innovation among design engineers and buyers by delivering advanced technologies. Mouser stocks the world's widest selection of the latest semiconductors and electronic components for the newest design projects. Mouser Electronics' website is continually updated and offers advanced search methods to help customers quickly locate inventory. Mouser.com also houses data sheets, supplier-specific reference designs, application notes, technical design information, and engineering tools.
About Mouser Electronics
Mouser Electronics, a Berkshire Hathaway company, is an award-winning, authorized semiconductor and electronic component distributor focused on rapid New Product Introductions from its manufacturing partners for electronic design engineers and buyers. The global distributor's website, Mouser.com, is available in multiple languages and currencies and features more than 4 million products from over 600 manufacturers. Mouser offers 22 support locations around the world to provide best-in-class customer service and ships globally to over 550,000 customers in 170 countries from its 750,000 sq. ft. state-of-the-art facility south of Dallas, Texas. For more information, visit http://www.mouser.com.
About OSRAM Opto Semiconductors
OSRAM Opto Semiconductors is a world leading manufacturer of optoelectronic semiconductors for the lighting, sensor, and visualization sectors. The extensive product portfolio of OSRAM Opto Semiconductors includes a wide selection of high-brightness high-power LEDs in the visible range along with other semiconductor technologies used in a variety of lighting applications.
Trademarks
Mouser and Mouser Electronics are registered trademarks of Mouser Electronics, Inc. All other products, logos, and company names mentioned herein may be trademarks of their respective owners.
– 30 –
Further information, contact:

Nick Foot, BWW Communications

PR Director

+44 (0)1491 636393

For press inquiries, contact:

Kelly DeGarmo, Mouser Electronics

Manager, Corporate Communications and Media Relations

(817) 804-7764