14. december 2017
ON Semi's Flexible RSL10 SoC, Now Shipping from Mouser, Ideal for IoT and Connected Health Wearables
ON Semi's Flexible RSL10 SoC, Now Shipping from Mouser, Ideal for IoT and Connected Health Wearables
December 14, 2017 – Mouser Electronics, Inc., the industry's leading New Product Introduction (NPI) distributor with the widest selection of semiconductors and electronic components, is now stocking the RSL10 multi-protocol system-on-chip (SoC) from ON Semiconductor. Offering ultra-low-power wireless connectivity for a broad range of applications, the versatile Bluetooth® 5-certified SoC supports Bluetooth low energy technology as well as 2.4 GHz proprietary or custom protocol stacks.
The ON Semiconductor RSL10 SoC, available from Mouser Electronics, features a 48 MHz Arm® Cortex®-M3 processor bolstered by a 32-bit dual-Harvard DSP core that supports the audio codecs necessary for wireless audio communication. Including both flash and RAM, the device's diverse memory architecture enables storage of the Bluetooth stack, as well as other applications.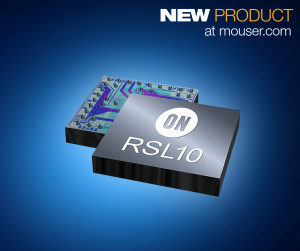 The highly integrated RSL10 SoC includes a DMA controller, oscillators, and ultra-efficient power management units. The SoC is designed for use in applications with 1.2V and 1.5V batteries and supports a supply voltage range of 1.1 to 3.6 V without the need for an external DC/DC converter.
The SoC is supported by the RSL10 Evaluation Board, which provides access to all input and output connections through standard 0.1-inch headers. Additionally, the evaluation board offers an onboard communication interface circuit and a J-Link solution to enable users to debug the board through a USB/PC connection.
ON Semiconductor's RSL10 SoC is designed to bring ultra-low-power connectivity to Internet of Things (IoT) devices and high-performance wearables. The SoC supports a wide range of medical applications including fitness trackers, hearing aids, heart rate monitors, glucose monitors and pulse oximeters.
To learn more, visit http://www.mouser.com/onsemi-rsl10.
Mouser / ON Semiconductor RSL10 SoC
Page Two
With its broad product line and unsurpassed customer service, Mouser strives to empower innovation among design engineers and buyers by delivering advanced technologies. Mouser stocks the world's widest selection of the latest semiconductors and electronic components for the newest design projects. Mouser Electronics' website is continually updated and offers advanced search methods to help customers quickly locate inventory. Mouser.com also houses data sheets, supplier-specific reference designs, application notes, technical design information, and engineering tools.
About Mouser Electronics
Mouser Electronics, a Berkshire Hathaway company, is an award-winning, authorized semiconductor and electronic component distributor focused on rapid New Product Introductions from its manufacturing partners for electronic design engineers and buyers. The global distributor's website, Mouser.com, is available in multiple languages and currencies and features more than 4 million products from over 600 manufacturers. Mouser offers 22 support locations around the world to provide best-in-class customer service and ships globally to over 550,000 customers in 170 countries from its 750,000 sq. ft. state-of-the-art facility south of Dallas, Texas. For more information, visit http://www.mouser.com.
About ON Semiconductor
ON Semiconductor is a premier supplier of high-performance, energy-efficient silicon solutions for green electronics. ON Semiconductor's broad portfolio of power and signal management, logic, discrete and custom devices helps customers efficiently solve their design challenges in automotive, communications, computing, consumer, industrial, LED lighting, medical, military/aerospace and power applications.
Trademarks
Mouser and Mouser Electronics are registered trademarks of Mouser Electronics, Inc. All other products, logos, and company names mentioned herein may be trademarks of their respective owners.
– 30 –
Further information, contact:

Kevin Hess, Mouser Electronics

Senior Vice President of Marketing

(817) 804-3833

For press inquiries, contact:

Nick Foot, BWW Communications

PR Director

+44 (0)1491 636393