22. august 2018
NXP's A71CH Plug & Trust Secure Element, Now at Mouser, Deliver Out-of-the-Box Security for IoT Edge Nodes
NXP's A71CH Plug & Trust Secure Element, Now at Mouser, Deliver Out-of-the-Box Security for IoT Edge Nodes
August 22, 2018 – Mouser Electronics, Inc., the industry's leading New Product Introduction (NPI) distributor with the widest selection of semiconductors and electronic components, is now stocking the A71CH secure element from NXP Semiconductors. A ready-to-use security solution for next-generation Internet of Things (IoT) devices, the A71CH provides a root of trust at the IC level to deliver chip-to-cloud security out of the box. With the A71CH, designers can safely connect to IoT clouds and services without writing security code or exposing keys for applications, such as connected industrial devices, sensor networks, IP cameras, smart home devices, home gateways, and smart cities.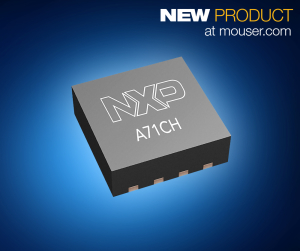 The NXP A71CH IC, available from Mouser Electronics, provides secure, zero-touch connectivity for IoT devices. This encrypted and authenticated interface-to-host processor can be securely provisioned with the required credentials for autonomous cloud onboarding and peer-to-peer authentication. Featuring security functionalities such as encrypted key storage, ECC key generation and signature verification, and an encrypted vault for product master secrets, the chip is designed to help protect private information and credentials for mutual authentication.
The A71CH employs a unique "Plug & Trust" approach to support easy integration of security and cloud onboarding through host libraries, example codes and various application notes, as well as the A71CH Arduino Compatible Development Kit. The kit includes an A71CH Mini PCB board and Arduino-compatible interface board that seamlessly connects to many NXP LPC, Kinetis, and i.MX boards to support microcontroller and microprocessor development.
To learn more about the NXP A71CH secure element, visit http://www.mouser.com/nxp-a71ch.
Mouser / NXP A71CH Plug & Trust Secure Element
Page Two
With its broad product line and unsurpassed customer service, Mouser strives to empower innovation among design engineers and buyers by delivering advanced technologies. Mouser stocks the world's widest selection of the latest semiconductors and electronic components for the newest design projects. Mouser Electronics' website is continually updated and offers advanced search methods to help customers quickly locate inventory. Mouser.com also houses data sheets, supplier-specific reference designs, application notes, technical design information, and engineering tools.
About Mouser Electronics
Mouser Electronics, a Berkshire Hathaway company, is an award-winning, authorized semiconductor and electronic component distributor focused on rapid New Product Introductions from its manufacturing partners for electronic design engineers and buyers. The global distributor's website, Mouser.com, is available in multiple languages and currencies and features more than 5 million products from over 700 manufacturers. Mouser offers 23 support locations around the world to provide best-in-class customer service and ships globally to over 600,000 customers in more than 220 countries/territories from its 750,000 sq. ft. state-of-the-art facility south of Dallas, Texas. For more information, visit http://www.mouser.com.
Trademarks
Mouser and Mouser Electronics are registered trademarks of Mouser Electronics, Inc. All other products, logos, and company names mentioned herein may be trademarks of their respective owners.
– 30 –
Further information, contact:

Kevin Hess, Mouser Electronics

Senior Vice President of Marketing

(817) 804-3833

For press inquiries, contact:

Nick Foot, BWW Communications

PR Director

+44 (0)1491 636393