24. august 2018
Now Shipping from Mouser: Laird's FlexMIMO Antenna Offers Industry's First Flexible PIFA Antenna for Wi-Fi MIMO Applications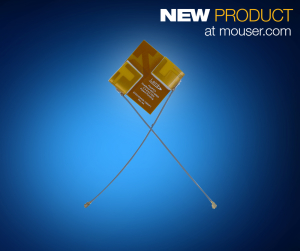 August 24, 2018 – Mouser Electronics, Inc., the authorized global distributor with the newest semiconductors and electronic components, is now stocking the FlexMIMO dual-band MIMO antenna from Laird, the industry's first flexible PIFA antenna for 802.11 Wi-Fi multiple input/multiple output (MIMO) applications. The FlexMIMO includes two integrated 2.4/5 GHz dual-band antenna elements specifically designed for MIMO applications, such as automated equipment, medical devices, and Internet of Things (IoT) devices.
The Laird FlexMIMO dual-band MIMO antenna, available from Mouser Electronics, is based on a Planar Inverted-F Antenna (PIFA) structure, comprised of two mylar antenna elements with a foam core, resulting in a low-profile, flexible antenna. Laird's patented, flexible PIFA antenna structure allows for the use of the antenna on flat and curved surfaces, providing greater flexibility in design and excellent antenna gain and performance.
The FlexMIMO has low envelope correlation coefficients (ECC) performance, enabling best-in-class throughput and range performance. Designers can pair the antenna with Laird's 60 Series Wi-Fi and Bluetooth® modules, which offer hardware designed for 802.11ac, 2×2 MU-MIMO, Bluetooth 4.2, and Bluetooth 5 on one low-power device.
To learn more about the Laird FlexMIMO dual-band MIMO antenna, visit http://www.mouser.com/laird-flexible-pifa-antenna.
Mouser / Laird FlexMIMO
Page Two
With its broad product line and unsurpassed customer service, Mouser strives to empower innovation among design engineers and buyers by delivering advanced technologies. Mouser stocks the world's widest selection of the latest semiconductors and electronic components for the newest design projects. Mouser Electronics' website is continually updated and offers advanced search methods to help customers quickly locate inventory. Mouser.com also houses data sheets, supplier-specific reference designs, application notes, technical design information, and engineering tools.
About Mouser Electronics
Mouser Electronics, a Berkshire Hathaway company, is an award-winning, authorized semiconductor and electronic component distributor focused on rapid New Product Introductions from its manufacturing partners for electronic design engineers and buyers. The global distributor's website, Mouser.com, is available in multiple languages and currencies and features more than 5 million products from over 700 manufacturers. Mouser offers 23 support locations around the world to provide best-in-class customer service and ships globally to over 600,000 customers in more than 220 countries/territories from its 750,000 sq. ft. state-of-the-art facility south of Dallas, Texas. For more information, visit http://www.mouser.com.
About Laird
Laird is a global leader in solving electromagnetic interference challenges and providing state-of-the-art wireless communication and smart system solutions. The company's products are engineered with unparalleled innovation and precision and are supplied to major companies around the world, equipping them with the technology needed to improve their business and contribute to the progress of the modern world. Laird meets the needs of a variety of industries and applications, delivering transformational solutions for a constantly changing digital society.
Trademarks
Mouser and Mouser Electronics are registered trademarks of Mouser Electronics, Inc. All other products, logos, and company names mentioned herein may be trademarks of their respective owners.
– 30 –
Further information, contact:

Kevin Hess, Mouser Electronics

Senior Vice President of Marketing

(817) 804-3833

For press inquiries, contact:

Nick Foot, BWW Communications

PR Director

+44 (0)1491 636393