15. maj 2017
Now Available at Mouser: Significant Efficiency Gains and Cost Savings with New Intel® Recon Jet™ Pro Smart Glasses
Now Available at Mouser: Significant Efficiency Gains and Cost Savings with New Intel® Recon Jet™ Pro Smart Glasses
May 11, 2017 – Mouser Electronics, Inc., the New Product Introduction (NPI) leader that empowers innovation, is now stocking Intel® Recon Jet™ Pro smart glasses, a hands-free wearable device that drives and enables significant operational efficiency gains and cost savings by streamlining workflows and empowering workers. Recon Jet™ Pro can transform workflows in industries such as field service, manufacturing, and logistics.
Intel® Recon Jet™ Pro, available from Mouser Electronics, is much more than a simple heads-up display (HUD) module. Ergonomically designed specifically for optimal comfort and wearability, the eyewear distributes its weight evenly across the frame and features an adjustable wraparound nosepiece, fully adjustable ear stems, and dual-axis angle adjustment for the display module.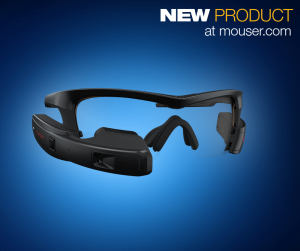 The Recon Jet™ Pro's point-of-view camera enables see-what-I-see video calls that scan barcodes and document high-stakes procedures, allowing domain experts to remotely guide workers through procedures. A field-swappable battery with a runtime of two to five hours allows the wearer to swap in spare batteries and resume workflows in less than a minute.
Dependable in demanding workflows, the Recon Jet™ Pro is both ANSI Z87.1+ and IEC IP65 compliant for impact, water, and dust resistance. The device also features a sunlight-readable display, swappable lenses for indoor and outdoor use, and the ability to support custom prescription inserts. Designed to handle the most demanding applications, Recon Jet™ Pro is equipped with smartphone-class computing and software plus connectivity that includes Bluetooth®, Wi-Fi, and GPS.
Recon Jet™ Pro supports the leading software solutions for enterprise wearables, ensuring compatibility with major mobile-device management (MDM) solutions and allowing companies to seamlessly add them to their existing fleets of mobile devices.
For more information, visit http://www.mouser.com/new/Intel/intel-recon-jet-pro/.
Mouser / Intel® Recon Jet™ Pro Smart Glasses
Page Two
With its broad product line and unsurpassed customer service, Mouser strives to empower innovation among design engineers and buyers by delivering advanced technologies. Mouser stocks the world's widest selection of the latest semiconductors and electronic components for the newest design projects. Mouser Electronics' website is continually updated and offers advanced search methods to help customers quickly locate inventory. Mouser.com also houses data sheets, supplier-specific reference designs, application notes, technical design information, and engineering tools.
About Mouser Electronics
Mouser Electronics, a Berkshire Hathaway company, is an award-winning, authorized semiconductor and electronic component distributor focused on rapid New Product Introductions from its manufacturing partners for electronic design engineers and buyers. The global distributor's website, Mouser.com, is available in multiple languages and currencies and features more than 4 million products from over 600 manufacturers. Mouser offers 22 support locations around the world to provide best-in-class customer service and ships globally to over 550,000 customers in 170 countries from its 750,000 sq. ft. state-of-the-art facility south of Dallas, Texas. For more information, visit http://www.mouser.com.
Trademarks
Mouser and Mouser Electronics are registered trademarks of Mouser Electronics, Inc. All other products, logos, and company names mentioned herein may be trademarks of their respective owners.
Intel is a trademark of Intel Corporation in the U.S. and/or other countries. Recon and Jet are trademarks owned or licensed by Recon.
– 30 –
Further information, contact:

Nick Foot, BWW Communications

PR Director

+44 (0)1491 636393

For press inquiries, contact:

Kelly DeGarmo, Mouser Electronics

Manager, Corporate Communications and Media Relations

(817) 804-7764