15. januar 2018
Now at Mouser: UDOO's BLU Sense Module Provides Bluetooth, Zigbee Extension for IoT Platforms
Now at Mouser: UDOO's BLU Sense Module Provides Bluetooth, Zigbee Extension for IoT Platforms
January 15, 2018 – Mouser Electronics, Inc., the New Product Introduction (NPI) leader that empowers innovation, is now stocking the BLU Sense module from UDOO. Fully compatible with UDOO X86 single board computers, the versatile and affordable BLU Sense module provides an ideal wireless I/O extension for Internet of Things (IoT) platforms.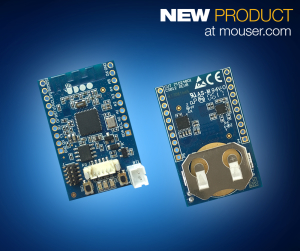 The UDOO BLU Sense module, available from Mouser Electronics, features a Texas Instruments CC2650 Arm® Cortex®-M3 processor plus a 6-axis accelerometer and magnetometer gyroscope and a 3-axis digital gyroscope for motion-sensing applications. The module offers Bluetooth® low energy 4.1, Zigbee®, and 6LoWPAN connectivity and is powered by a button-cell battery or an external power supply (maximum 5.5 V). The device includes three user-configurable LEDs, eight digital general-purpose inputs and outputs (GPIOs), and six analog inputs.
The 45 mm × 35 mm module's snap-in I2C connector allows engineers to connect UDOO BRICKS modules, offering a wide array of opportunities for customization and expanded functionality. UDOO BRICKS work along a cascade configuration, enabling engineers to connect multiple sensors to the BLU Sense module.
The module is supported by the UDOO BLU Manager app for Android devices. Using the app, engineers can view and manage multiple UDOO BLU devices, read data from connected BRICKS modules, configure GPIO pins, and update firmware.
To learn more, visit http://www.mouser.com/udoo-blu-sense-module.
Mouser / UDOO BLU Sense
Page Two
With its broad product line and unsurpassed customer service, Mouser strives to empower innovation among design engineers and buyers by delivering advanced technologies. Mouser stocks the world's widest selection of the latest semiconductors and electronic components for the newest design projects. Mouser Electronics' website is continually updated and offers advanced search methods to help customers quickly locate inventory. Mouser.com also houses data sheets, supplier-specific reference designs, application notes, technical design information, and engineering tools.
About Mouser Electronics
Mouser Electronics, a Berkshire Hathaway company, is an award-winning, authorized semiconductor and electronic component distributor focused on rapid New Product Introductions from its manufacturing partners for electronic design engineers and buyers. The global distributor's website, Mouser.com, is available in multiple languages and currencies and features more than 4 million products from over 700 manufacturers. Mouser offers 22 support locations around the world to provide best-in-class customer service and ships globally to over 550,000 customers in 170 countries from its 750,000 sq. ft. state-of-the-art facility south of Dallas, Texas. For more information, visit http://www.mouser.com.
About UDOO
UDOO is a community of passionate makers, creative students and designers with expertise in interaction design, embedded electronics, sensor networks and cognitive science. UDOO is also a family of products that share a playful approach to physical computing with easy, open-source tools and cutting-edge enabling technologies.
Trademarks
Mouser and Mouser Electronics are registered trademarks of Mouser Electronics, Inc. All other products, logos, and company names mentioned herein may be trademarks of their respective owners.
– 30 –
Further information, contact:

Kevin Hess, Mouser Electronics

Senior Vice President of Marketing

(817) 804-3833

For press inquiries, contact:

Nick Foot, BWW Communications

PR Director

+44 (0)1491 636393