6. februar 2018
Now at Mouser: STMicroelectronics's STWLC33 Inductive Power Receiver Delivers 15W Qi and AirFuel Wireless Charging
Now at Mouser: STMicroelectronics's STWLC33 Inductive Power Receiver Delivers 15W Qi and AirFuel Wireless Charging
February 6, 2018 – Mouser Electronics, Inc., the New Product Introduction (NPI) leader that empowers innovation, is now stocking the STWLC33 inductive wireless power receiver from STMicroelectronics (ST). One of ST's Wireless Power Transfer solutions, the STWLC33 is an integrated, multi-mode wireless power-receiver solution optimized for portable high-speed chargeable applications up to 15W. The dual-mode receiver operates with both the Wireless Power Consortium's (WPC) Qi 1.2 and PMA-SR1 AirFuel inductive wireless standard communication protocols, enabling it to quickly start charging mobile devices regardless of protocol.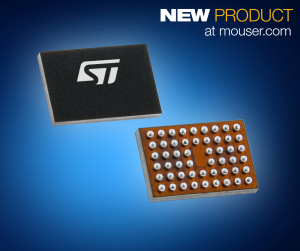 The ST STWLC33 inductive wireless power receiver, available from Mouser Electronics, greatly simplifies the implementation of dual-function handheld devices and provides an improved user experience, faster wireless charging, and outstanding total system efficiency over other solutions. The STWLC33 is also the only 15W receiver from ST that is capable of acting like a 3W transmitter, using the same coil to provide power to another receiver. Users can charge one device wirelessly while also using that same device to charge another. In addition, the STWLC33 is one of the first wireless receivers on the market capable of providing an output voltage that can charge two-cell lithium-ion batteries.
At the core of the STWLC33 is a 32-bit, 32 MHz Arm® Cortex®-M microcontroller with 32 Kbytes of firmware/ROM memory and 8 Kbytes of RAM. The device delivers a total system efficiency up to 80 percent and low power dissipation through features such as its integrated low impedance synchronous rectifier and low drop-out linear regulator.
The STWLC33 offers patented features that help enhance user experience, including active presence detection to wake the system quickly when a compatible object is presented for charging, and special functionality to enhance the performance of foreign object detection (FOD) to cut power and prevent overheating. Other features include a 32 MHz PWM timer, eight-channel analog-to-digital converter (ADC), and configurable general-purpose inputs and outputs (GPIOs).
ST's STWLC33 inductive wireless power receiver is ideal for very compact wireless applications that include tablets, power banks, phones, medical equipment, and wearable devices. Designers can also combine the STWLC33 receiver with the STWBC-EP wireless charging controller transmitter to complete their high-speed chargeable devices. The STWLC33 is supported by the STEVAL-ISB042V1 evaluation board, which includes STWLC firmware that allows engineers to modify parameters and settings to ensure proper integration of the STWLC33 power receiver into the final application.
To learn more, visit http://www.mouser.com/stmicroelectronics-stwlc33-power-receiver.
Mouser / STMicroelectronics STWLC33
Page Two
With its broad product line and unsurpassed customer service, Mouser strives to empower innovation among design engineers and buyers by delivering advanced technologies. Mouser stocks the world's widest selection of the latest semiconductors and electronic components for the newest design projects. Mouser Electronics' website is continually updated and offers advanced search methods to help customers quickly locate inventory. Mouser.com also houses data sheets, supplier-specific reference designs, application notes, technical design information, and engineering tools.
About Mouser Electronics
Mouser Electronics, a Berkshire Hathaway company, is an award-winning, authorized semiconductor and electronic component distributor focused on rapid New Product Introductions from its manufacturing partners for electronic design engineers and buyers. The global distributor's website, Mouser.com, is available in multiple languages and currencies and features more than 5 million products from over 700 manufacturers. Mouser offers 22 support locations around the world to provide best-in-class customer service and ships globally to over 600,000 customers in 170 countries from its 750,000 sq. ft. state-of-the-art facility south of Dallas, Texas. For more information, visit http://www.mouser.com.
Trademarks
Mouser and Mouser Electronics are registered trademarks of Mouser Electronics, Inc. All other products, logos, and company names mentioned herein may be trademarks of their respective owners.
– 30 –
Further information, contact:

Kevin Hess, Mouser Electronics

Senior Vice President of Marketing

(817) 804-3833

For press inquiries, contact:

Nick Foot, BWW Communications

PR Director

+44(0)1491 636393