19. marts 2019
Now at Mouser: Silicon Labs' Energy-Friendly Giant Gecko 12 MCUs for Smart Devices
Now at Mouser: Silicon Labs' Energy-Friendly Giant Gecko 12 MCUs for Smart Devices
March 19, 2019 – Mouser Electronics, Inc., the industry's leading New Product Introduction (NPI) distributor with the widest selection of semiconductors and electronic components, is now stocking the EFM32Giant Gecko 12 microcontroller family from Silicon Labs. Designed to provide advanced features and security during ultra-low-power performance, the microcontrollers offers low-energy peripherals to deliver autonomous performance while sleeping. The GG12 microcontrollers are suitable for a broad range of applications requiring advanced processing during deep sleep, including Internet of Things (IoT) devices, sensors, smart meters, industrial automation, home security, and health and fitness wearables.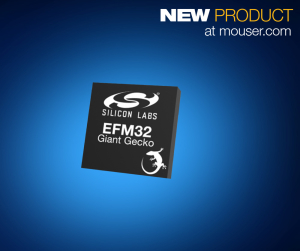 The Silicon Labs EFM32 Giant Gecko 12 family, available from Mouser Electronics, offers many of the features of the Giant Gecko 11 microcontrollers in a smaller package, and adds a unique pulse density modulation (PDM) sensor interface to support PDM microphones and delta-sigma sensors. The microcontrollers boast a 32-bit Arm® Cortex®-M4 processor running at 72 MHz with up to 1 Mbyte of on-chip flash and 192 Kbytes of RAM. Combining this power with rich analog features, the devices deliver an advanced user experience previously attainable only on high-power-consumption microcontrollers.
The devices' low-energy peripherals include two 12-bit analog-to-digital converters (ADCs), a digital-to-analog converter (DAC), capacitive touch, and up to 83 general-purpose inputs/outputs (GPIO). Additionally, the low-energy sensor interface enables fully autonomous processing capabilities during sleep mode. The microcontrollers include robust security features, including a unique cryptographic hardware engine that supports AES, ECC, SHA, and True Random Number Generator (TRNG).
The EFM32 Giant Gecko 12 family is supported by the Thunderboard GG12 kit for prototyping and evaluation. The Thunderboard GG12 kit includes an integrated Segger J-Link debugger, two PDM microphones, tri-color LEDs, and breakout ports, and push buttons. The board also includes an out-of-box demo for the microcontroller's PDM sensor interface, making it an ideal choice for the development of high-quality, low-power audio input applications.
To learn more, visit http://www.mouser.com/silicon-labs-giant-gecko-12.
Mouser / Silicon Labs EFM32 Giant Gecko 12 Family
Page Two
With its broad product line and unsurpassed customer service, Mouser strives to empower innovation among design engineers and buyers by delivering advanced technologies. Mouser stocks the world's widest selection of the latest semiconductors and electronic components for the newest design projects. Mouser Electronics' website is continually updated and offers advanced search methods to help customers quickly locate inventory. Mouser.com also houses data sheets, supplier-specific reference designs, application notes, technical design information, and engineering tools.
About Mouser Electronics
Mouser Electronics, a Berkshire Hathaway company, is an award-winning, authorized semiconductor and electronic component distributor focused on rapid New Product Introductions from its manufacturing partners for electronic design engineers and buyers. The global distributor's website, Mouser.com, is available in multiple languages and currencies and features more than 5 million products from over 750 manufacturers. Mouser offers 23 support locations around the world to provide best-in-class customer service and ships globally to over 600,000 customers in more than 220 countries/territories from its 750,000 sq. ft. state-of-the-art facility south of Dallas, Texas. For more information, visit http://www.mouser.com.
About Silicon Labs
Silicon Labs is a leading provider of silicon, software and solutions for a smarter, more connected world. The company's award-winning technologies are shaping the future of the Internet of Things, Internet infrastructure, industrial automation, consumer and automotive markets. Their world-class engineering team creates products focused on performance, energy savings, connectivity and simplicity.
Trademarks
Mouser and Mouser Electronics are registered trademarks of Mouser Electronics, Inc. All other products, logos, and company names mentioned herein may be trademarks of their respective owners.
– 30 –
For further information, contact:

Kevin Hess, Mouser Electronics

Senior Vice President of Marketing

(817) 804-3833

For press inquiries, contact:

Nick Foot, BWW Communications

PR Director

+44 (0)1491 636393