6. juli 2017
Now at Mouser: OMRON's Wireless 2JCIE-BL01 Sends Environmental Sensor Data Directly to Smartphones
Now at Mouser: OMRON's Wireless 2JCIE-BL01 Sends Environmental Sensor Data Directly to Smartphones
July 6, 2017 – Mouser Electronics, Inc., the industry's leading New Product Introduction (NPI) distributor with the widest selection of semiconductors and electronic components, is now stocking the 2JCIE-BL01 environment sensor from OMRON Electronic Components. Designed to detect the surrounding environment, the 2JCIE-BL01 is a compact, battery-operable environmental sensor with seven different sensing capabilities. Developers can use the 2JCIE-BL01 in applications such as home remote monitoring, building automation, outdoor weather monitoring, and factory environment monitoring.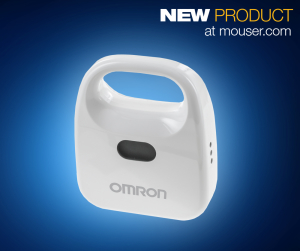 The OMRON 2JCIE-BL01 environment sensor, available from Mouser Electronics, measures and collects data for a broad variety of environmental factors that include temperature, humidity, light, ultraviolet (UV) index, barometric pressure, sound, and acceleration (3-axis). The device transmits collected sensor data via Bluetooth® low energy (BLE) technology over a cloud service using a free downloadable smartphone app. The sensor offers a communication range of approximately 10 meters, with a data output rate that between 1 second and 60 minutes. Developers can set threshold values to have the app notify users of environmental changes, abnormal sensor readings and uncomfortable conditions through push notifications. Developers can also set the device to transmit sensor data in broadcaster mode, enabling an environmental monitoring system in combination with common gateway devices.
OMRON's 2JCIE-BL01 environment sensor measures 46 mm × 39 mm × 15 mm and weighs just 16 grams, including the battery.
To learn more, visit http://www.mouser.com/new/omronelectronics/omron-2jcie-bl01-sensor/.
Mouser / OMRON 2JCIE-BL01 Environment Sensor
Page Two
With its broad product line and unsurpassed customer service, Mouser strives to empower innovation among design engineers and buyers by delivering advanced technologies. Mouser stocks the world's widest selection of the latest semiconductors and electronic components for the newest design projects. Mouser Electronics' website is continually updated and offers advanced search methods to help customers quickly locate inventory. Mouser.com also houses data sheets, supplier-specific reference designs, application notes, technical design information, and engineering tools.
About Mouser Electronics
Mouser Electronics, a Berkshire Hathaway company, is an award-winning, authorized semiconductor and electronic component distributor focused on rapid New Product Introductions from its manufacturing partners for electronic design engineers and buyers. The global distributor's website, Mouser.com, is available in multiple languages and currencies and features more than 4 million products from over 600 manufacturers. Mouser offers 22 support locations around the world to provide best-in-class customer service and ships globally to over 550,000 customers in 170 countries from its 750,000 sq. ft. state-of-the-art facility south of Dallas, Texas. For more information, visit http://www.mouser.com.
About OMRON Corporation
Omron Electronic Components is a leading manufacturer and provider of advanced electronic components. Extensive product groups include relays, switches, connectors, MEMS flow sensors, pressure sensors, and optical components. Omron Electronic Components is the Americas subsidiary of Omron Corporation, a global leading supplier of electronics and control system components and services. Omron's broad product offering can be found in applications for the communications, transportation, medical, HVAC, appliance, industrial automation, consumer electronics, test and measurement, and gaming markets around the world.
Trademarks
Mouser and Mouser Electronics are registered trademarks of Mouser Electronics, Inc. All other products, logos, and company names mentioned herein may be trademarks of their respective owners.
– 30 –
Further information, contact:

Kevin Hess, Mouser Electronics

Senior Vice President of Marketing

(817) 804-3833

For press inquiries, contact:

Nick Foot, BWW Commuinications

PR Director

+44 (0)1491 636393