28. marts 2018
Now at Mouser: NXP's S32R274 Microcontroller Drives Fast Chirp-Modulation Automotive and Industrial Radar Systems
Now at Mouser: NXP's S32R274 Microcontroller Drives Fast Chirp-Modulation Automotive and Industrial Radar Systems
March 28, 2018 – Mouser Electronics, Inc., the authorized global distributor with the newest semiconductors and electronic components, is now stocking the S32R274 radar microcontroller from NXP Semiconductors. Engineered to meet the high-performance computation demands required by modern beam-forming and fast chirp-modulation radar systems, the S32R274 combines signal-processing acceleration with a multicore architecture to provide up to four times the power performance in industrial and automotive applications, compared to previous generations of products.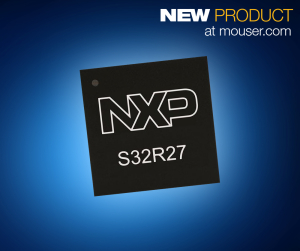 The NXP S32R274 radar microcontroller, available from Mouser Electronics, offers a multifaceted solution for general software tasks and car bus interfacing. Combined with radio frequency (RF) front-end technologies (RFCMOS or BiCMOS), the S32R274 provides designers a scalable solution that addresses ultra-short-range, short-range, mid-range and long-range radar systems.
The microcontroller offers four Power Architecture® cores — including an e200Z4 32-bit CPU for its safety core, and e200Z7 32-bit CPUs for its dual computation cores — to provide exceptional power performance, integration, safety, and reliability. Other features include 2 MBytes of flash with ECC, 1.5 MBytes of SRAM with ECC, and a Signal Processing Toolbox (SPT) for radar signal processing acceleration. For memory protection, the S32R274 provides 24 entries for each core memory protection unit, a data and instruction bus system memory protection unit, and register protection.
Security features of the S32R274 include a Cryptographic Security Engine for advanced security management, a Password and Device Security module that supports censorship and life-cycle management, and a diary control for tamper detection. With support for ISO 26262 SEooC up to ASIL-D classification and a rating for AEC-Q100 Grade 1, the S32R274 is an ideal solution for Advanced driver assistance systems (ADAS).
The S32R274 is supported by the S32R274RRUEVB evaluation board, also available from Mouser. which offers a variety of interfaces, including RS232/SCI, FlexRAY, LINFlexD, Ethernet, and two CAN interfaces.
To learn more, visit http://www.mouser.com/nxp-s32r274-radar-mcu.
Mouser / NXP S32R274 Radar Microcontroller
Page Two
With its broad product line and unsurpassed customer service, Mouser strives to empower innovation among design engineers and buyers by delivering advanced technologies. Mouser stocks the world's widest selection of the latest semiconductors and electronic components for the newest design projects. Mouser Electronics' website is continually updated and offers advanced search methods to help customers quickly locate inventory. Mouser.com also houses data sheets, supplier-specific reference designs, application notes, technical design information, and engineering tools.
About Mouser Electronics
Mouser Electronics, a Berkshire Hathaway company, is an award-winning, authorized semiconductor and electronic component distributor focused on rapid New Product Introductions from its manufacturing partners for electronic design engineers and buyers. The global distributor's website, Mouser.com, is available in multiple languages and currencies and features more than 5 million products from over 700 manufacturers. Mouser offers 22 support locations around the world to provide best-in-class customer service and ships globally to over 600,000 customers in 170 countries from its 750,000 sq. ft. state-of-the-art facility south of Dallas, Texas. For more information, visit http://www.mouser.com.
Trademarks
Mouser and Mouser Electronics are registered trademarks of Mouser Electronics, Inc. All other products, logos, and company names mentioned herein may be trademarks of their respective owners.
– 30 –
Further information, contact:

Kevin Hess, Mouser Electronics

Senior Vice President of Marketing

(817) 804-3833

For press inquiries, contact:

Nick Foot, BWW Communications

PR Director

+44 (0)1491 636393