6. september 2017
Now at Mouser: Molex Transcend Network Connected Lighting Enables Intelligent, Low-Energy Lighting for the IoT
Now at Mouser: Molex Transcend Network Connected Lighting Enables Intelligent, Low-Energy Lighting for the IoT
September 6, 2017 – Mouser Electronics, Inc., the authorized global distributor with the newest semiconductors and electronic components, is now offering the Transcend® Network Connected Lighting System from Molex. The Molex Transcend system provides designers a complete management system to accelerate deployment of smart LED lighting control using highly secure network architectures in commercial buildings, educational facilities, healthcare facilities, and manufacturing and warehouse facilities.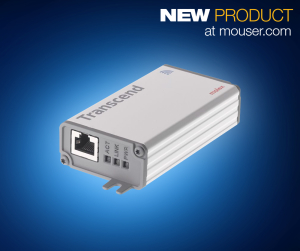 The Molex Transcend Network Connected Lighting System, available from Mouser Electronics, is an intelligent, low-voltage, and low-energy system that powers and controls building objects using Transcend's Manager Software and components. The Internet of Things (IoT) system uses a broad array of intelligent components to feed multi-sensor information and data to a central host, such as real-time energy consumption, light status, temperature and humidity, air quality, occupancy and more.
The system components include smart LED drivers, LED cable harnesses, Power over Ethernet (PoE) gateways and a range of wireless components, including sensors, dimmers, switches and zone controllers. Transcend Smart LED Drivers are compact, DC/DC LED components that drive LED engines. Powered and controlled by a Transcend PoE Gateway, these devices feature integrated power monitoring that allow control of up to eight devices per gateway, as well as dual input/output connectors for daisy-chaining.
To connect the PoE Gateways to the Transcend Smart LED drivers, the system offers Transcend LED Cable Harnesses, which incorporate a Micro-Fit 3.0™ Connector System and provide low-voltage power distribution and data communication between the components. Completing the Transcend solution and helping to communicate with the wireless gateways is a series of Transcend Wireless Components that include wireless switchers and dimmers that use energy-harvesting technology, LED relay zone controllers, and solar-powered wireless occupancy and ambient light sensors.
To learn more about the Molex Transcend Network Connected Lighting System, visit https://www.mouser.com/new/molex/molex-transcend/.
Mouser / Molex Transcend Network Connected Lighting System
Page Two
With its broad product line and unsurpassed customer service, Mouser strives to empower innovation among design engineers and buyers by delivering advanced technologies. Mouser stocks the world's widest selection of the latest semiconductors and electronic components for the newest design projects. Mouser Electronics' website is continually updated and offers advanced search methods to help customers quickly locate inventory. Mouser.com also houses data sheets, supplier-specific reference designs, application notes, technical design information, and engineering tools.
About Mouser Electronics
Mouser Electronics, a Berkshire Hathaway company, is an award-winning, authorized semiconductor and electronic component distributor focused on rapid New Product Introductions from its manufacturing partners for electronic design engineers and buyers. The global distributor's website, Mouser.com, is available in multiple languages and currencies and features more than 4 million products from over 600 manufacturers. Mouser offers 22 support locations around the world to provide best-in-class customer service and ships globally to over 550,000 customers in 170 countries from its 750,000 sq. ft. state-of-the-art facility south of Dallas, Texas. For more information, visit https://www.mouser.com/.
About Molex
Molex brings together innovation and technology to deliver electronic solutions to customers worldwide. With a presence in more than 40 countries, Molex offers a full suite of solutions and services for many markets, including data communications, consumer electronics, industrial, automotive, commercial vehicle and medical.
Trademarks
Mouser and Mouser Electronics are registered trademarks of Mouser Electronics, Inc. All other products, logos, and company names mentioned herein may be trademarks of their respective owners.
– 30 –
Further information, contact:

Kevin Hess, Mouser Electronics

Senior Vice President of Marketing

(817) 804-3833

For press inquiries, contact:

Nick Foot, BWW Communications

PR Director

+44 (0)1491 636393