26. august 2022
Now at Mouser: Microchip PIC16F18x MCUs Optimised for Sensor Node Applications
Mouser Electronics, Inc., the industry's leading New Product Introduction (NPI) distributor with the widest selection of semiconductors and electronic components, is now stocking the PIC16F18015/25/44/45 and the PIC16F18126/46 families of microcontrollers from Microchip Technology. Specifically designed for developers requiring an 8-bit microcontroller to accompany their sensor designs, these two families deliver a variety of feature-rich capabilities that support sensor signal conditioning and real-time control functionality at an affordable price.
For the more cost-sensitive sensor and control applications, the PIC16F18015/25/44/45 microcontrollers provide a balance of flash memory (ranging from 7 KBytes to 14 Kbytes), robust control and peripheral capabilities, and speeds up to 32 MHz. All devices in this family include up to 256 bytes of EEPROM, a 10-bit analog-to-digital converter with computation (ADCC), automated capacitive voltage divider (CVD) techniques for advanced capacitive touch sensing, an 8-bit digital-to-analog converter (DAC) module, three PWMs with two additional capture/compare PWMs, and a complementary waveform generator (CWG). Also included are four configurable logic cells for further control functionality and a healthy array of communication peripherals.
By contrast, the PIC16F18126/46 microcontrollers, though similar in memory and operating speed to the PIC16F180xx family, provides a feature set geared more toward higher-end sensor applications requiring additional digital functionality, higher resolution and precision timing. Features in this family include 28 KBytes of program flash memory, a 12-bit differential ADCC, two 8-bit DACs, a 16-bit PWM peripheral and a CWG. This family of devices also provides four configurable logic cells for further control functionality and various communication peripherals.
To learn more about the PIC16F18015/25/44/45 family, visit https://eu.mouser.com/new/microchip/microchip-pic16f18015-25-44-45-mcus/. For more information on the PIC16F18126/46 family, go to https://eu.mouser.com/new/microchip/microchip-pic16f18146/.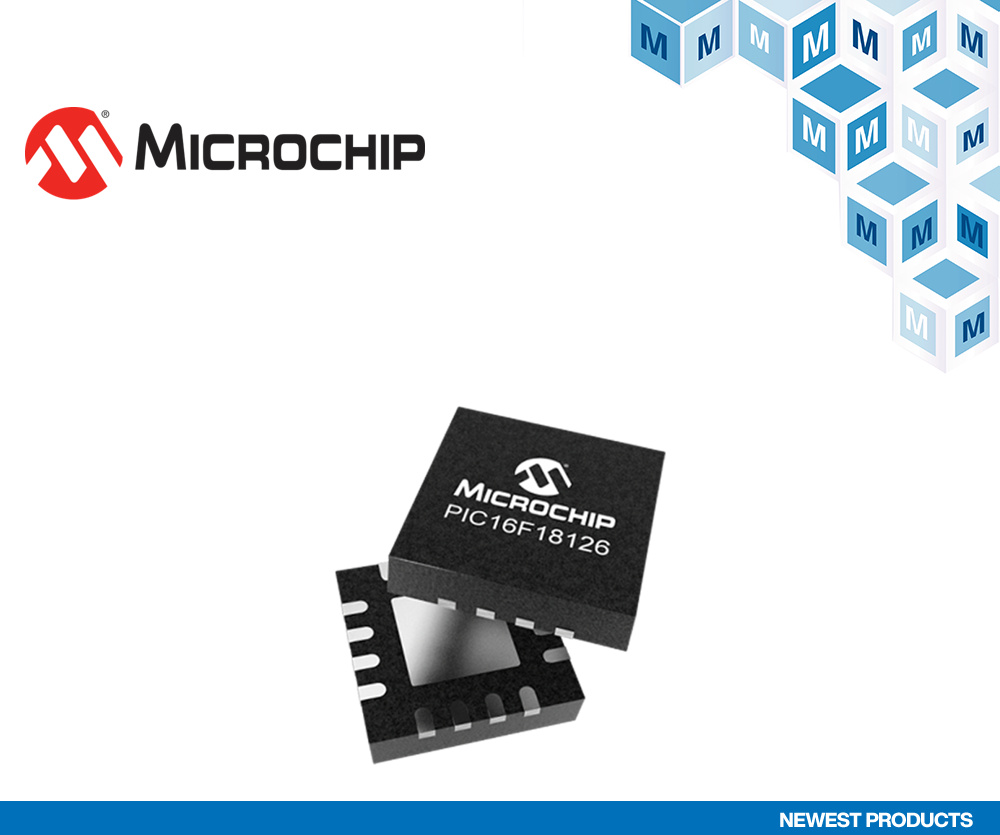 As a global authorised distributor, Mouser offers the world's widest selection of the newest semiconductors and electronic components — in stock and ready to ship™. Mouser's customers can expect 100% certified, genuine products that are fully traceable from each of its manufacturer partners. To help speed customers' designs, Mouser's website hosts an extensive library of technical resources, including a Technical Resource Centre, along with product data sheets, supplier-specific reference designs, application notes, technical design information, engineering tools and other helpful information.
About Mouser Electronics
Mouser Electronics, a Berkshire Hathaway company, is an authorised semiconductor and electronic component distributor focused on New Product Introductions from its leading manufacturer partners. Serving the global electronic design engineer and buyer community, the global distributor's website, mouser.com, is available in multiple languages and currencies and features more than 6,8 million products from over 1.200 manufacturer brands. Mouser offers 27 support locations worldwide to provide best-in-class customer service in local language, currency and time zone. The distributor ships to over 650.000 customers in 223 countries/territories from its 93.000 square-meter, state-of-the-art facilities in the Dallas, Texas, metro area. For more information, visit https://www.mouser.com/.