3. august 2017
Now at Mouser: Maxim MAX77650/51 Ultra-Low Power PMICs Increase Battery Life and Efficiency for Wearables
Now at Mouser: Maxim MAX77650/51 Ultra-Low Power PMICs Increase Battery Life and Efficiency for Wearables
August 3, 2017 – Mouser Electronics, Inc., the global distributor with the widest selection of semiconductors and electronic components, is now stocking MAX77650 and MAX77651 power management ICs (PMICs) from Maxim Integrated. These ultra-small, ultra-low-power PMICs integrate voltage regulators with a charger and current regulators to reduce external component count when designing small lithium-ion battery-operated products.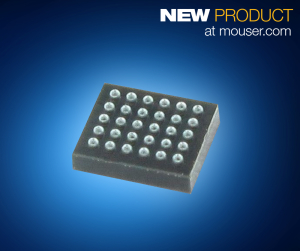 Maxim's MAX77650 and MAX77651 PMICs, available from Mouser, offer a flexible and configurable power management solution in a compact total size of 28 × 28 mm. The devices achieve the small size through a single-inductor, multiple-output (SIMO) buck-boost regulator that offers three independently programmable power rails. For design flexibility, the MAX77650 operates up to 3.3V and the MAX77651 operates up to 5V. Both products include an analog multiplexer output for safe battery monitoring, making them ideal for low-power designs.
The devices offer a standby current of just 0.3 µA and an operating current of only 5.6 µA when all three SIMO channels and the low dropout (LDO) regulator are enabled. The devices' wide array of programmable options makes them ideal for many battery-powered devices, such as Bluetooth®-enabled headsets, fitness monitors, portable devices and Internet of Things (IoT) nodes.
To learn more, visit http://www.mouser.com/new/maxim-integrated/maxim-max77650-max77651-pmics/.
Mouser / Maxim MAX77650/51 Ultra-Low Power PMICs
Page Two
With its broad product line and unsurpassed customer service, Mouser strives to empower innovation among design engineers and buyers by delivering advanced technologies. Mouser stocks the world's widest selection of the latest semiconductors and electronic components for the newest design projects. Mouser Electronics' website is continually updated and offers advanced search methods to help customers quickly locate inventory. Mouser.com also houses data sheets, supplier-specific reference designs, application notes, technical design information, and engineering tools.
About Mouser Electronics
Mouser Electronics, a Berkshire Hathaway company, is an award-winning, authorized semiconductor and electronic component distributor focused on rapid New Product Introductions from its manufacturing partners for electronic design engineers and buyers. The global distributor's website, Mouser.com, is available in multiple languages and currencies and features more than 4 million products from over 600 manufacturers. Mouser offers 22 support locations around the world to provide best-in-class customer service and ships globally to over 550,000 customers in 170 countries from its 750,000 sq. ft. state-of-the-art facility south of Dallas, Texas. For more information, visit http://www.mouser.com.
About Maxim Integrated
Maxim is the leader in analog integration. From mobile to industrial solutions, Maxim is making analog smaller, smarter and more energy efficient.
Trademarks
Mouser and Mouser Electronics are registered trademarks of Mouser Electronics, Inc. All other products, logos, and company names mentioned herein may be trademarks of their respective owners.
– 30 –
Further information, contact:

Kevin Hess, Mouser Electronics

Senior Vice President of Marketing

(817) 804-3833

For press inquiries, contact:

Nick Foot, BWW Communications

PR Director

+44 (0)1491 636393