9. januar 2019
Nordic's nRF91 SiP, Now at Mouser, Offers Compact, Low-Power Cellular IoT Solution
Nordic's nRF91 SiP, Now at Mouser, Offers Compact, Low-Power Cellular IoT Solution
January 9, 2019 – Mouser Electronics, Inc., the authorized global distributor with the newest semiconductors and electronic components, is now stocking the nRF91 system-in-package (SiP) from Nordic Semiconductor. Featuring an integrated application microcontroller, full LTE modem, RF front end, and power management in a single device, the nRF91 SiP is ideal for low-power cellular Internet of Things (IoT) applications.
The Nordic nRF91 SiP, available from Mouser Electronics, provides globally compatible narrowband (NB) IoT and LTE-M support in bands ranging from 700 MHz to 2.2 GHz. The device boasts an integrated Arm® Cortex®-M33 processor with Arm CryptoCell and Arm TrustZone security technology, providing secure performance in worldwide operation. The nRF9160 SiP leverages Qorvo's state-of-the-art, proven RF front-end, advanced packaging, and MicroShield™ technology to deliver a unique, ultra-compact solution that combines high performance with low power consumption. The GCF-certified, 3GPP LTE-compliant module is available with built-in GPS support, offering a cost-effective solution for asset tracking applications.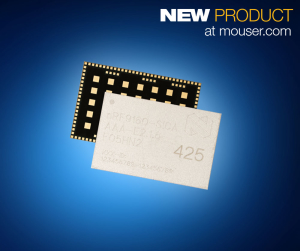 The nRF91 SiP is housed in a miniscule 10 × 16 × 1 mm package and features 32 general-purpose input and output (GPIO) pins and a broad range of peripherals and interfaces to provide a flexible solution for a wide variety smart devices. Software examples and hardware reference designs simplify the design process and significantly reduce time-to-market. The nRF91 SiP offers extended battery life and low-cost maintenance and installation, making it suitable for smart city products as well as industrial, medical, and agricultural applications.
The Nordic nRF91 SiP is supported by the nRF9160 Development Kit. The development kit enables rapid prototyping and allows access to all interfaces and IO via connectors. The nRF9160 kit features four LEDs, two switches, and two buttons, which are user-programmable for tailored performance.
To learn more, visit http://www.mouser.com/nordic-nrf91-series.
Mouser / Nordic nRF91
Page Two
With its broad product line and unsurpassed customer service, Mouser strives to empower innovation among design engineers and buyers by delivering advanced technologies. Mouser stocks the world's widest selection of the latest semiconductors and electronic components for the newest design projects. Mouser Electronics' website is continually updated and offers advanced search methods to help customers quickly locate inventory. Mouser.com also houses data sheets, supplier-specific reference designs, application notes, technical design information, and engineering tools.
About Mouser Electronics
Mouser Electronics, a Berkshire Hathaway company, is an award-winning, authorized semiconductor and electronic component distributor focused on rapid New Product Introductions from its manufacturing partners for electronic design engineers and buyers. The global distributor's website, Mouser.com, is available in multiple languages and currencies and features more than 5 million products from over 750 manufacturers. Mouser offers 23 support locations around the world to provide best-in-class customer service and ships globally to over 600,000 customers in more than 220 countries/territories from its 750,000 sq. ft. state-of-the-art facility south of Dallas, Texas. For more information, visit http://www.mouser.com.
About Nordic Semiconductor
Nordic Semiconductor provides class-leading levels of wireless performance and sophistication at a price that enables the company's ultralow power (ULP) wireless chips to be used in even the most cost-sensitive consumer products. Nordic Semiconductor's chips can be found in products such as wireless PC peripherals, gaming controllers, sports and fitness sensors, toys, advanced multi-media controllers, and digital/satellite TV (set-top box) remotes and much more.
Trademarks
Mouser and Mouser Electronics are registered trademarks of Mouser Electronics, Inc. All other products, logos, and company names mentioned herein may be trademarks of their respective owners.
– 30 –
Further information, contact:

Kevin Hess, Mouser Electronics

Senior Vice President of Marketing

(817) 804-3833

For press inquiries, contact:

Nick Foot, BWW Communications

PR Director

+44 (0)1491 636393