24. februar 2022
New eBook from Würth Elektronik and Mouser Untangles the Complexities of Electromagnetic Compatibility Design
Mouser Electronics, Inc., the authorised global distributor with the newest semiconductors and electronic components, announces a new eBook in collaboration with Würth Elektronik, exploring the ways in which new electronic designs incorporate high-speed data transfer, connectivity, wireless power, battery management and near-field communication into a single device. In Behind the Mystery of Electromagnetic Compatibility Design, subject matter experts from Würth Elektronik and Mouser offer rich analyses of some of the most important breakthrough technologies in electronic component design, and how those solutions can improve electromagnetic behaviour.
While modern electronic designs have evolved to incorporate an increasing number of components and applications, they must still contend with the same electromagnetic environment that carries a huge risk of interference. The Behind the Mystery of Electromagnetic Compatibility Design eBook features four detailed articles plus product information for more than a dozen Würth Elektronik solutions, allowing readers to quickly find and learn more about the components needed for advanced electromagnetic compatibility design.
WCAP-CSGP general-purpose MLCCs are high-performance ceramic capacitors suitable for temperature compensation, filtering, coupling, decoupling, and bypass applications. Würth Elektronik's WE-XHMI Xtreme high current inductors feature an insulated flat wire coil for low copper losses, as well as composite core material for high saturation currents. The inductors can be used in a range of devices including graphics cards, multiphase converters, laptops, and battery-powered devices.
The WE-CMB common mode power line inductors deliver high suppression of asymmetric interferences, even at low-frequency ranges, while also providing broadband screening through a low-capacitance winding technique. The inductors are an ideal choice for power electronics and radio interference suppression in motors.
Mouser stocks a wide range of Würth Elektronik products, including capacitors, transformers, power modules, and automotive-qualified passive components. To learn more about Würth Elektronik, visit https://eu.mouser.com/manufacturer/wurth-elektronik/. To read the new eBook, go to https://eu.mouser.com/news/wurth-elektronik-Electromagnetic/Wurth-passive-design-ebook.html.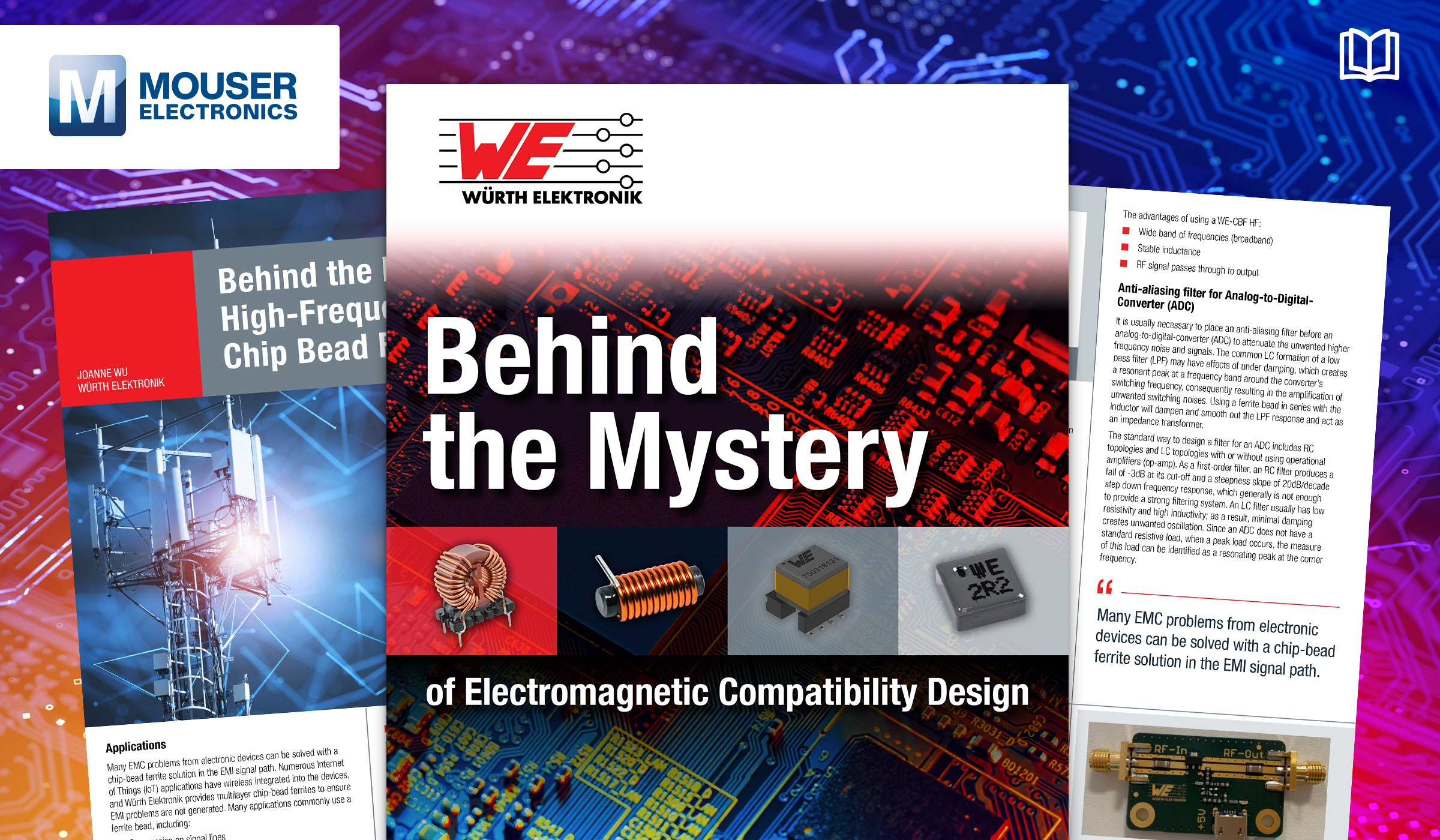 About Mouser Electronics
Mouser Electronics, a Berkshire Hathaway company, is an authorised semiconductor and electronic component distributor focused on New Product Introductions from its leading manufacturer partners. Serving the global electronic design engineer and buyer community, the global distributor's website, mouser.com, is available in multiple languages and currencies and features more than 5 million products from over 1.200 manufacturer brands. Mouser offers 27 support locations worldwide to provide best-in-class customer service in local language, currency and time zone. The distributor ships to over 630.000 customers in 223 countries/territories from its 93.000 square-meter, state-of-the-art facilities in the Dallas, Texas, metro area. For more information, visit https://www.mouser.com/.
About Würth Elektronik
Würth Elektronik eiSos GmbH & Co. KG is a manufacturer of electronic and electromechanical components for the electronics industry. Production sites in Europe, Asia and North America supply a growing number of customers worldwide. The product program encompasses EMC components, inductors, transformers, HF components, varistors, capacitors, power modules, LEDs, plug connectors, power supply elements, wireless power coils, switches, connection technology and fuse holders. Würth Elektronik eiSos GmbH & Co. KG, together with its specialised affiliated companies, form the Würth Elektronik eiSos Group. the Würth Elektronik eiSos Group.