13. november 2020
New eBook from Mouser and Bourns Showcases High-Performance Power Conversion Components
Mouser Electronics, Inc., the industry's leading New Product Introduction (NPI) distributor with the widest selection of semiconductors and electronic components, announces a new eBook in collaboration with Bourns, exploring best practices for working with power conversion components. In Achieving Enhanced Performance and Reliability, Bourns and Mouser offer a series of technical articles designed to help readers choose the right components for specific power applications, including multiple related to high-voltage energy storage.
The growing importance and prevalence of technologies such as electric vehicles, renewable energy sources, and advanced communications networks require reliable components to support developments in energy storage and power conversion. Achieving Enhanced Performance and Reliability, the new eBook from Mouser and Bourns, presents deep dives into topics including rechargeable batteries, battery management systems (BMS) in high-voltage energy storage, and reducing winding loss in a ferrite inductor.
The new eBook includes convenient links and ordering information for Bourns power conversion products designed to meet the needs of these emerging technologies. The SRP-C high-current, shielded power inductors meet the high density current requirements of modern consumer electronics applications, offering low buzz noise for DC/DC converters and power supplies. Bourns' SRP0xxx shielded power inductors feature a metal alloy powder core and flat wire, delivering exceptional temperature stability, low core loss, and low DC resistance. The HCT AEC-Q2000-compliant power transformers offer elevated isolation from high-voltage hazards, making them an ideal choice for automotive battery management systems, automotive gate drivers, and digital input modules.
To learn more about Bourns, visit https://eu.mouser.com/manufacturer/bourns/. To read the new eBook, go to https://eu.mouser.com/news/bourns-power-ebook/mobile/index.html.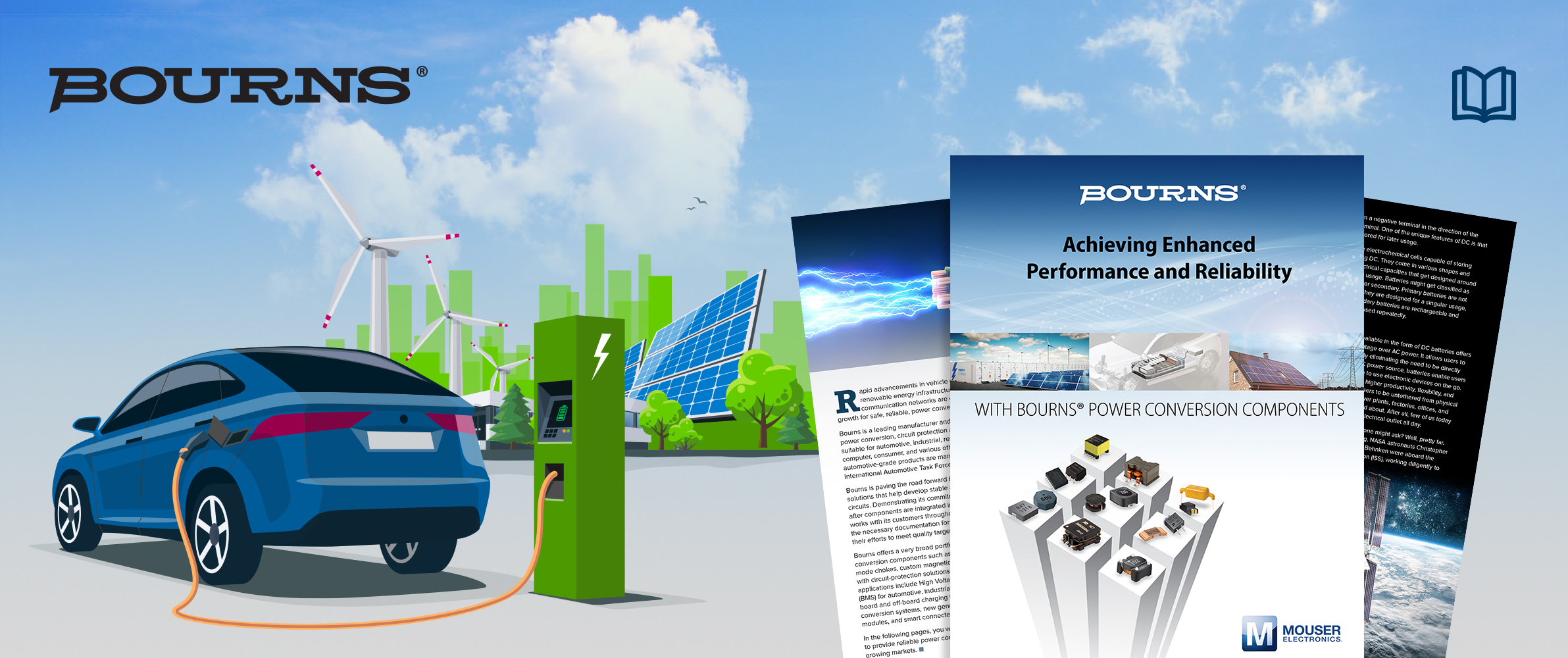 About Mouser Electronics
Mouser Electronics, a Berkshire Hathaway company, is an authorised semiconductor and electronic component distributor focused on New Product Introductions from its manufacturing partners for electronic design engineers and buyers. The global distributor's website, Mouser.com, is available in multiple languages and currencies and features more than 5 million products from over 1,100 manufacturer brands. Mouser offers 27 support locations around the world to provide best-in-class customer service in local language, currency and time zone. The distributor ships to over 630,000 customers in more than 223 countries/territories from its 93,000 square-metre, state-of-the-art facilities in the Dallas, Texas, metro area. For more information, visit http://www.mouser.com.