17. april 2023
New eBook from Apex Microtechnology and Mouser Offers Expert Perspectives on High Reliability Designs
Mouser Electronics, Inc., the industry's leading New Product Introduction (NPI) distributor with the widest selection of semiconductors and electronic components™, announces a new eBook in collaboration with Apex Microtechnology, exploring the challenges and nuances involved in designing high reliability components. In An Engineer's Guide to High Reliability Components, subject matter experts from Apex Microtechnology offer rich insights into the most difficult aspects of high reliability design. The eBook includes five detailed articles, covering topics including thermal management, hermetically sealed packaging, and silicon carbide.
New electronic devices are enabling significant performance improvements in industrial, medical, and aerospace applications. However, these critical industries require the highest levels of reliability; any technology failure could result in disastrous consequences. An Engineer's Guide to High Reliability Components, the new eBook from Mouser and Apex Microtechnology, addresses the specific design challenges involved in analogue power electronics for high reliability devices. The eBook also includes product information for 10 relevant Apex Microtechnology solutions, connecting engineers with the specific components needed to improve the reliability of their device designs. The Power Operational (Linear) Amplifiers from Apex Microtechnology support applications that require high current and high voltage, with output currents ranging from 0.01 A to 100 A (peak) and slew rates of up to 3000V/µs. The power operational amplifiers are an ideal choice for precision power analogue applications including electrostatic/magnetic deflection and DC/servo motion control.
The new eBook from Apex Microtechnology and Mouser also features information on the SA310 Brushless DC Motor Driver. Leveraging silicon carbide MOSFET technology, the SA310 motor driver offers improved efficiency with 30 A continuous output per phase. The SA310 Brushless DC Motor Driver supports a range of applications including motor control, test equipment, power inverters, and variable frequency drives.
Apex Microtechnology's range of products, available from Mouser, includes amplifiers, power modules, and evaluations kits.
To learn more about Apex Microtechnology, visit https://eu.mouser.com/manufacturer/apex-microtechnology/.
To read the new e-book, go to https://eu.mouser.com/news/apex-engineer-guide/apex-high-reliability-ebook.html.
For more Mouser news, visit https://eu.mouser.com/newsroom/.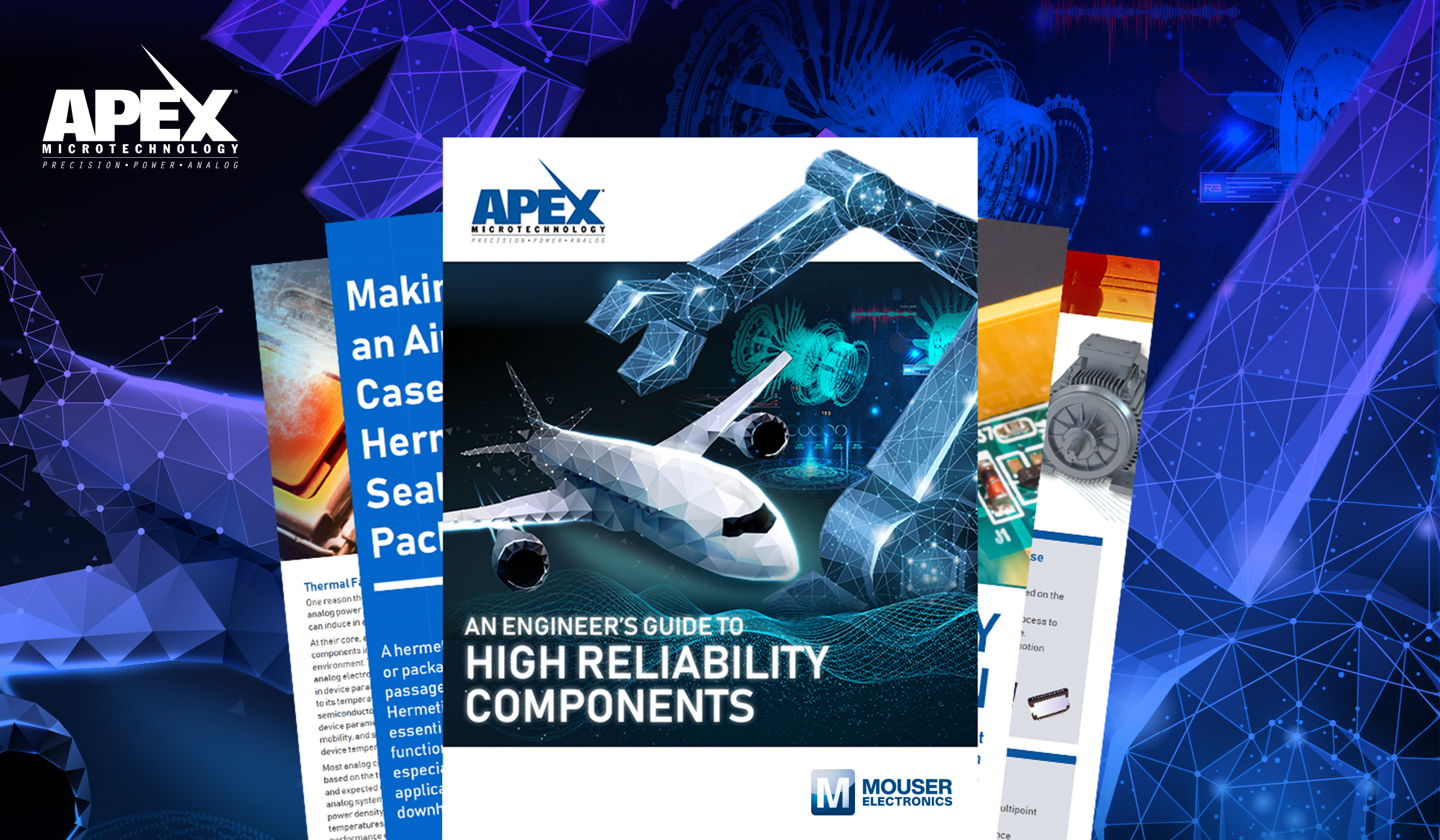 About Mouser Electronics
Mouser Electronics, a Berkshire Hathaway company, is an authorised semiconductor and electronic component distributor focused on New Product Introductions from its leading manufacturer partners. Serving the global electronic design engineer and buyer community, the global distributor's website, mouser.com, is available in multiple languages and currencies and features more than 6.8 million products from over 1,200 manufacturer brands. Mouser offers 27 support locations worldwide to provide best-in-class customer service in local language, currency and time zone. The distributor ships to over 650,000 customers in 223 countries/territories from its 1 million-square-foot, state-of-the-art distribution facilities in the Dallas, Texas, metro area. For more information, visit https://www.mouser.com/.
About Apex Microtechnology
Apex Microtechnology offers industry-leading power analogue innovation for applications requiring high-precision control of current, voltage, and speed in the industrial, defence and aerospace, medical, and semiconductor capital equipment markets. The Apex product families include power operational amplifiers (linear amplifiers), PWM amplifiers (pulse width modulation, Class D amplifiers, and switching amplifiers), and precision voltage references.