21. marts 2023
Mouser's Resource Site for Development Kits and Engineering Tools Helps Jumpstart Product Design
Mouser Electronics, Inc., the New Product Introduction (NPI) leader™ empowering innovation, provides a wealth of services and tools to help engineers and purchasing professionals find the right products for their designs, including a resource site for development kits and a page devoted to the latest engineering tools. The development kits resource site includes many articles, videos, and how-to guides, connecting engineers directly with the products and know-how necessary for developing new products. The engineering tools page offers an up-to-the-minute collection of new evaluation kits, reference designs, and more, allowing engineers to discover the latest products from leading manufacturers.
Mouser's development kit resource site offers a diverse collection of resources to inform the development of applications ranging from Internet of Things (IoT) devices to Bluetooth® mesh networks to wearable medical devices. The robust site also includes articles addressing challenges and use cases for specific components, such as home automation using the Microchip Technology SAM E51 Integrated Graphics and Touch (IGaT) Curiosity evaluation kit or device monitoring using the Arduino Portenta H7 development board. The resource site also includes convenient product information for a variety of evaluation boards and development kits, allowing engineers to find components for their new designs easily.
The engineering tools page features a constantly updating list of new tools for evaluating semiconductors and other electronic components. With tools for embedded processors, RF wireless, sensors, and more, the rolling catalogue makes it possible for engineers to find the newest solution to their complex design challenges.
To begin reading content from Mouser's development kit resource site, visit https://resources.mouser.com/development-kits.
To see the latest engineering tool products, go to https://eu.mouser.com/new/embedded-solutions/engineering-tools/n-8mwys.
Engineers can stay abreast of today's exciting product, technology and application news through Mouser's complimentary e-newsletter. Mouser's email news and reference subscriptions are customizable to the unique and changing project needs of customers and subscribers. No other distributor gives engineers this much customization and control over the information they receive. Learn about emerging technologies, product trends and more by signing up today at https://sub.info.mouser.com/subscriber.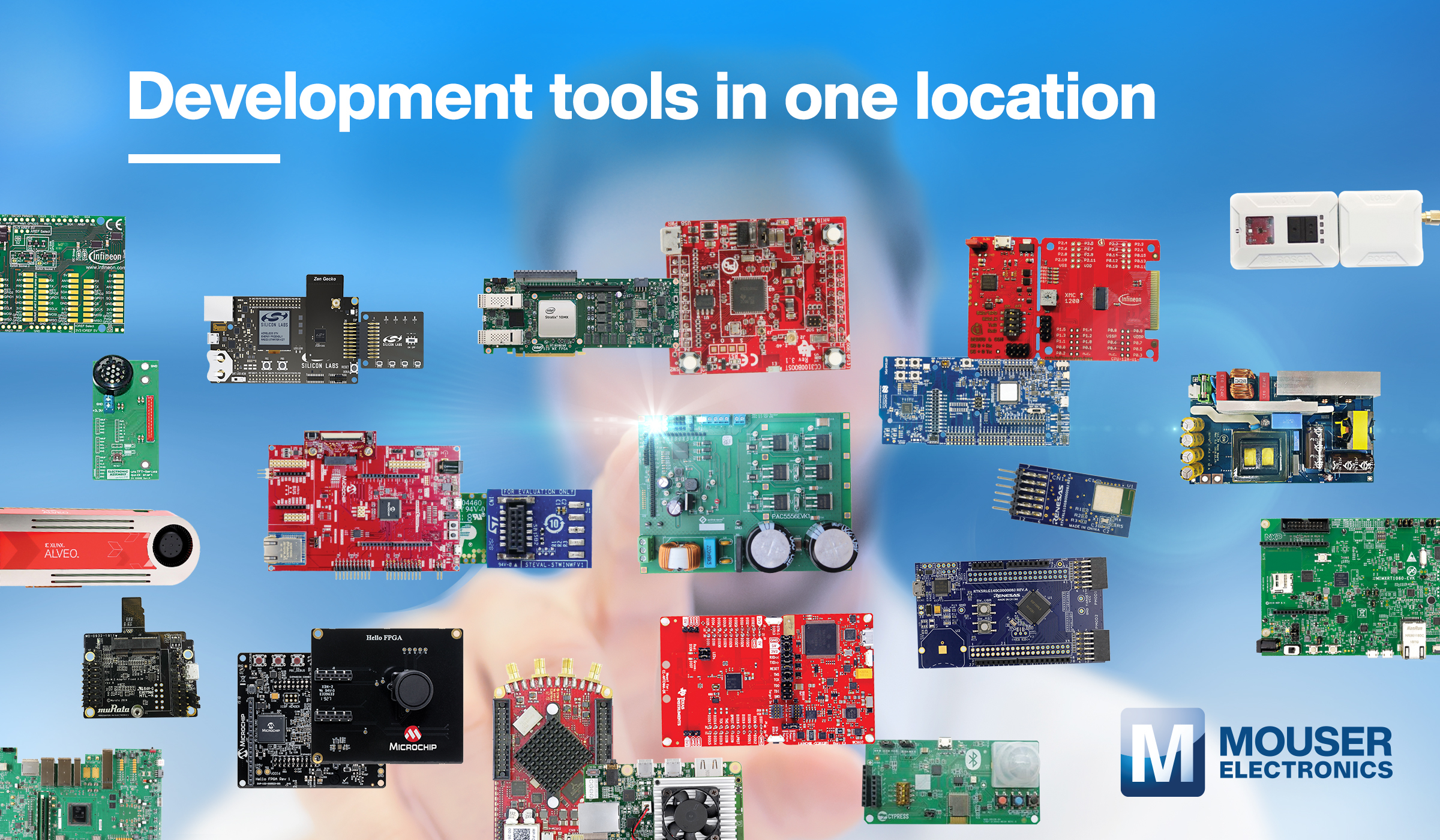 About Mouser Electronics
Mouser Electronics, a Berkshire Hathaway company, is an authorised semiconductor and electronic component distributor focused on New Product Introductions from its leading manufacturer partners. Serving the global electronic design engineer and buyer community, the global distributor's website, mouser.com, is available in multiple languages and currencies and features more than 6,8 million products from over 1.200 manufacturer brands. Mouser offers 27 support locations worldwide to provide best-in-class customer service in local language, currency and time zone. The distributor ships to over 650.000 customers in 223 countries/territories from its 93.000 square-meter, state-of-the-art facilities in the Dallas, Texas, metro area. For more information, visit https://www.mouser.com/.